It's official: Microsoft [MSFT] is the world's most valuable company once again. 
Following the announcement of a new cloud-based videogame streaming service, shares in the Washington-based company went on an uninterrupted five-day climbing streak – rising over 9% to $131.40 on 7 June – that propelled its market value above $1tn. The last time the tech behemoth broke the $1tn mark was on 30 April. 
The share price rose a further 0.9% to a new all-time high of $132.60 on 10 June (which has since been surpassed), as the company revealed more details of 'Project Scarlett' (Microsoft's next-generation Xbox platform) at the Electronic Entertainment Expo. It also said that it will begin publicly testing a new videogame streaming initiative dubbed xCloud.
Shareholders were given even more to cheer about on 12 June when Microsoft declared a quarterly dividend of $0.46 per share that will be payable by 12 September, with the ex-dividend date being set for 14 August.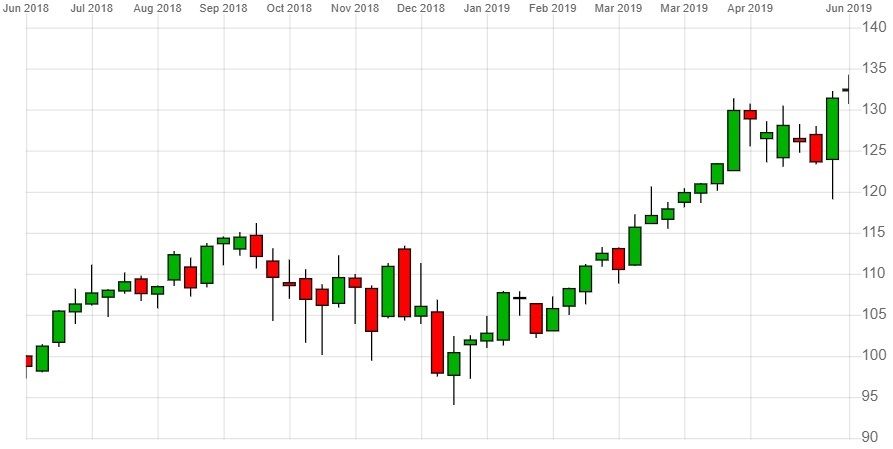 Microsoft 1-year share price performance, CMC Markets, 19 June 2019
Betting on the spikes
No proposed launch date for xCloud has been given yet, but that didn't stop option traders buying up bullish short-term calls, according to Dan Nathan, co-founder and editor of RiskReversal.com. 
Rather than being overly bullish, Nathan suggests that investors looking to make a directional bet on Microsoft should also buy some protection against the trade through put options, for example.    
He says the company's upcoming fourth quarter results are likely to be the next catalyst for a share price spike. "It could be a good time to buy, maybe, some protection against that long as you keep rolling up some puts," he told CNBC.
"It could be a good time to buy, maybe, some protection against that long as you keep rolling up some puts" - Dan Nathan, co-founder and editor of RiskReversal.com
Plotting Microsoft's gaming announcements 
Indeed, not all of Microsoft's Xbox announcements have triggered an upward spike in share price.
For example, when Bill Gates first introduced a prototype for the Xbox console at the Game Developers Conference on 10 March 2000, Microsoft's shares reacted negatively, dropping by 1%. By the time the console was ready to launch in the US by 15 November 2001, its shares only rose by 0.2%. 
And four years later – when Sony's [6758] PlayStation 3 sales were starting to compete nose-to-nose with Microsoft's in Xbox 360 sales – the highly anticipated next generation Xbox 360 was released on 22 November, sending Microsoft's share price down again, by 0.8%. It happened once more when the Xbox One X was released on 9 November 2017, with shares falling 0.5%.
By 2018, Microsoft's Xbox One sat behind its competitors Sony's PlayStation 4 and Nintendo's [7974] Switch in sales, according to data from Statista. 
-1%
Microsoft's share price reaction to the introduction of the Xbox console prototype on 10 March 2000
Investors weren't even impressed when Microsoft and Sony, by then long-time videogame rivals, stunned the gaming industry in May of this year by announcing a partnership to explore joint development of future cloud-based tech, news which sent Microsoft's shares down by 0.6%.
However, each could prove vitally important to the other, especially given that Sony still makes twice the amount of money from selling discs and downloads than it does from its cloud-based subscription services.
Beyond Microsoft, Sony and Nintendo
Other gaming stocks, meanwhile, have been under pressure as big tech incumbents show interest in the market. With Apple [AAPL] announcing its own gaming subscription service dubbed Arcade, and Google's [GOOGL] Stadia project expected to launch in November, revenue growth is now a concern for the sector. 
Indeed, over the last two quarters, most gaming companies have missed Wall Street earnings estimates. Tencent [TCEHY], which reported its first-quarter earnings last week, also missed consensus revenue estimates.
Microsoft has come a long way since its bodged announcement for the Xbox One and will likely win back the core gamer audience that made its Xbox 360 such a success with its Project Scarlett. With 63 million monthly active Xbox users and cloud computing revenue of $11.6bn, the gaming giant is a formidable player in the cloud gaming space.