Facebook [FB] unveiled its ambitious new cryptocurrency – a so-called 'stablecoin' that's tied to government-issued money dubbed Libra – on Tuesday, attracting a mixed bag of reactions. 
While investors and analysts showed optimism ahead of the announcement, with Facebook's share price rising 4.2% on Monday, its stock dipped following the release of a whitepaper outlining how the cryptocurrency will operate – falling nearly 0.3% or $0.54 to $188.47.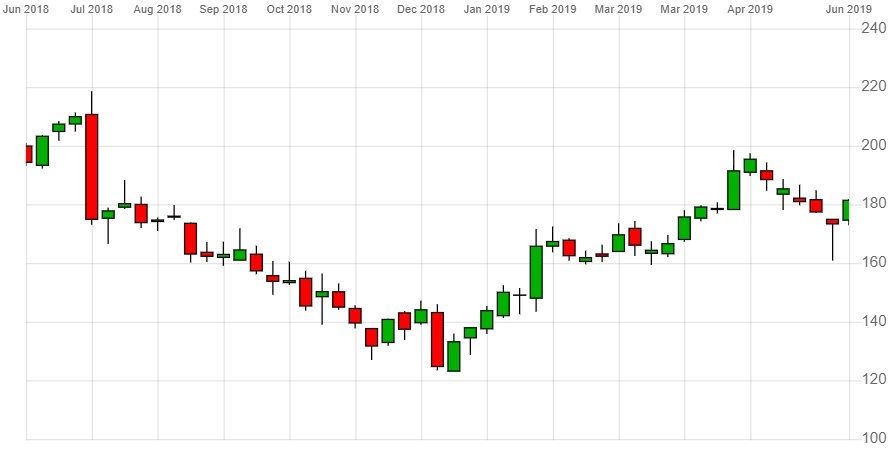 Facebook 1-year share price performance, CMC Markets, 20 June 2019
Facebook quickly attracted the attention of regulators from around the world, who raised questions surrounding financial data collection, management process and whether its system will meet legal requirements. 
Despite the prominent headwinds Libra already faces, its arrival has raised awareness of cryptocurrencies – sending bitcoin's price to a year-to-date high of $9396.33 on Monday. Other cryptocurrencies such as ethereum and litecoin also rose to multi-month highs, as the news increased optimism among analysts that digital currencies would increasingly be adopted.  
Jim Migdal, head of business development at Coinbase, believes Facebook's Libra "could bring cryptocurrencies to the hundreds of millions", as people increasingly warm to the idea of digital money.
"[Libra] could bring cryptocurrencies to the hundreds of millions" - Jim Migdal, head of business development at Coinbase
Farfetch among crypto's new oligarchy 
Set for a 2020 release, Facebook's Libra is backed by over $1bn in funds through a consortium of companies across a range of sectors; from payment providers such as Visa [V], PayPal [PYPL] and Mastercard [MA] to technology companies such as eBay [EBAY], Lyft [LYFT], Spotify [SPOT], as well as blockchain services, telecommunication companies, venture capitalists and NGOs.    
Ebay saw its share price spike 1.4% on Tuesday, while Lyft enjoyed a 1.4% boost.
Another of the 28 founding members of the Libra Association – a not-for-profit governing body for the new cryptocurrency – Farfetch [FTCH], too, saw its share price spike 2.7% intraday on Tuesday, extending a five-day rally that's seen its stock rise 9% since it launched a flagship store on JD.com on 11 June. 
The luxury online retailer has had its eyes on blockchain for a while now, as it sees its potential to help solve a range of fashion industry issues. CEO José Neves believes blockchain will benefit the luxury industry "by improving IP protection, transparency in the product lifecycle and – as in the case of Libra – enable global frictionless e-commerce".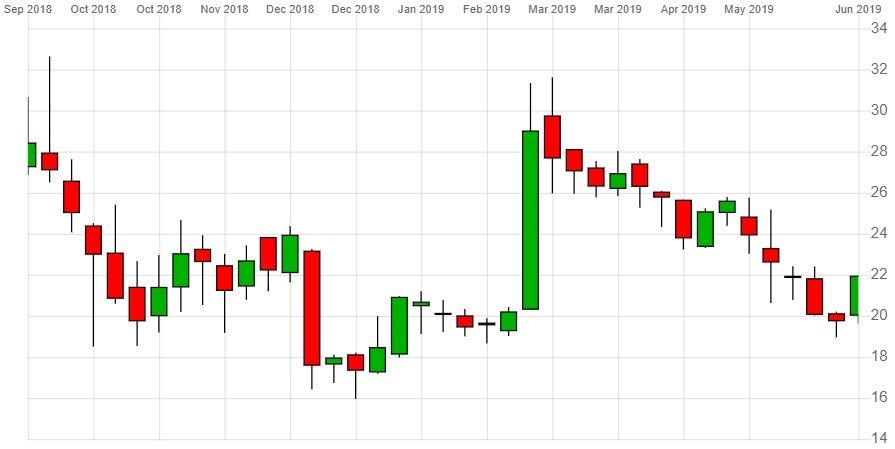 Farfetch share price performance since IPO, CMC Markets, 20 June 2019
According to Facebook, Libra will be available to buy through its platform, which has more than 2.6 billion users across all of its apps, and can be stored in its digital wallet, called Calibra. David Marcus, who runs Calibra and heads up the Libra project, says "Libra's mission is to be a simple, global currency and financial infrastructure that empowers billions of people".
 
Inspired by the success of other social messaging apps offering their own payment services, such as China's WeChat and Japan's LINE, Facebook's efforts to build its own financial network will open multiple new revenue streams, according to Forbes' Michael del Castillo. 
"With plans to integrate its own cryptocurrency wallet in with Facebook-owned WhatsApp and Messenger when the cryptocurrency goes live in 2020, Facebook will instantly bridge the world's largest social network with the brave new world of cryptocurrency. All that's left is for users to use it," Castillo wrote.