Advanced Micro Devices [AMD] was the S&P 500's best performing stock in 2018, trouncing the competition with gains of 69%. Some have now picked AMD to repeat this feat in 2019, believing strong leadership, an enviable product pipeline and flagging competitors will again see it rip higher.
Back in January 2018, AMD's share price opened at $10.42 before rocketing to an intraday high of $34.14 by mid-September. However, AMD missed third-quarter revenue expectations in November, pinning the blame on the cryptocurrency crash that dented graphic chip sales. In a further blow, fourth-quarter revenue guidance also came in lower than forecast. The stock took a tumble, falling over 23% in a day. But that wasn't enough to wipe out the impressive gains, and it is still trading 65% higher than it was this time last year.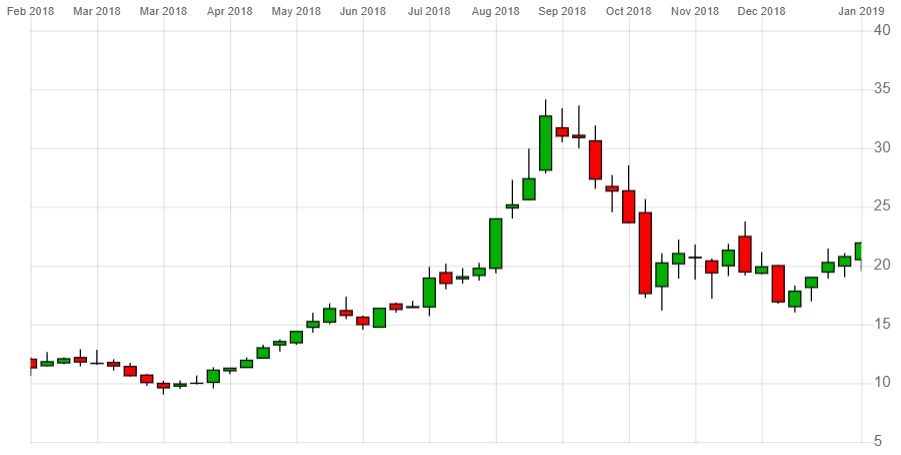 Powered by CMC Markets, as at 28 January 2019
Why is AMD a growth stock in 2019?
1. The CEO effect
AMD CEO Lisa Su joined the company as a vice-president in 2012. At the time the company had just lost over $1billion and cut 15% of the workforce. When Su took the top job in 2014, she outlined a strategy to take back market share from rivals that would "build great products, deepen customer relationships, and simplify everything we do."
Shareholders seem to be buying into this. Since Su took charge, the share price has leapt from $2.70 to $19.76. In comparison, Intel [INTC], which has been without a CEO since Brian Krzanich left six months ago, has gained a more conservative 27%.  
"build great products, deepen customer relationships, and simplify everything we do." - AMD CEO Lisa Su
2. Pipeline of new products
One reason AMD shares are back on investor wish lists is the company's plans to release 7nm processors for three different markets. (In chip jargon, nanometres or nm is how small a manufacturer can make the transistors that go onto a chip. The smaller the transistors, the faster the performance.)
February sees the release of the Radeon VII graphics chip as AMD makes further inroads into PC gaming. The release also comes at a time when market leader Nvdia is experiencing hardware issues, much to the chagrin of the very vocal PC-gamer customer base. Mid-year will then see the third generation Ryzen CPU chip for desktop and laptops arrive. Smaller and more powerful than previous generations, the Ryzen chip will compete for market share with competitor Intel's offering.   
3. Rivals Nvidia and Intel continue to lose ground
While AMD is preparing to launch new chips, Intel has been forced to delay the launch of its own 10nm chips, with former CEO Brian Krzanich admitting that the company had bitten off more than it could chew. Intel have had a tough time of late: 2018 saw the share price flat, while recently released fourth-quarter revenues failed to meet expectations.
Nvidia [NVDA] also has reason to fear AMD. Technical problems have seen the market leader in graphic chips fall out of favour with PC gamers. After unexpectedly cutting its fourth-quarter revenue forecast by half a billion dollars, its share price plummeted by nearly 16% in early trading on Monday. Still, the company must have some faith that it can get things under control having announced plans to buy back $7.94bn worth of stock by the end of 2022.  
$7.94bn
Amount of stock AMD have pledged to buy back by the end of 2022
Is there opportunity in AMD's share price?
The stock has recently been trading above its 50-day moving average and 46% off September's high. Trading volumes are also higher on the stock's up days than on its down days, indicating positive market sentiment. However, with a PE ratio (TTM) of 65.71 the stock isn't cheap compared to the competition. Intel has a 15.23 PE ratio, while Nvidia is a little steeper at 20.54.
| | |
| --- | --- |
| Market cap | $20.35bn |
| PE ratio | 65.89 |
| EPS (TTM) | 0.309 |
AMD stock vitals, Yahoo finance, as at 28 January 2019
Whether the company will once again top the S&P 500 will depend on how Su's focus on gaming and data-centre markets works out. Already, AMD has been siphoning off market share from Intel in the high-margin data centre business. The chipmaker will also be supplying Google with Radeon graphic chips to power the search giant's videogame streaming service. Promising stuff for a stock in the ascendance once again.