Amazon.com Inc. (AMZN) is Wall Street's tech growth story par excellence. Investors are so used to double-digits year-on-year growth rates that any revision, no matter how conservative, for the following quarter can trigger a sell-off in the stock, as shareholders fret about the company finally losing steam.
That is what happened last Thursday when Amazon posted results for the fourth quarter, covering the key festive season. Net sales for the quarter were up 20% to $72.3bn year-on-year, while operating income rose 77% to $3.7bn. That would have been enough to send shares flying, were it not for the fact that Amazon forecast sales for the coming quarter to total between $56bn and $60bn, at the low end of analysts' consensus of $59.8, according to Reuters data.
Amazon's stock, which had gained almost 5% in the 48 hours leading to the official results, plummeted to $1,622.27 on Friday, down 5.58% for the day and 3.3% on the previous week.
It wasn't such a dissimilar scene in October when Amazon also set forecasts below-consensus sales for the festive season, sending the stock down some 15% over the following days – even though the company eventually delivered at the top of its guidance.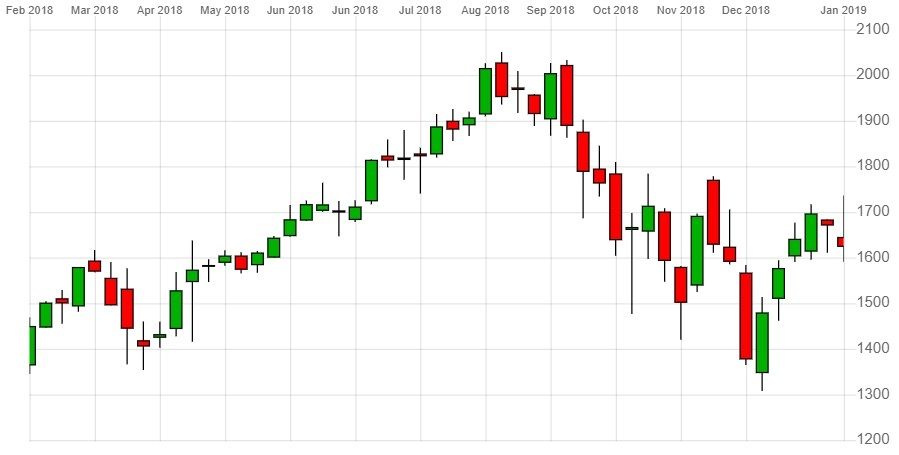 Powered by CMC Markets, as at 7 February 2019
Competitive pressures pose challenges to growth
Amazon's track record when it comes to analysts' estimates is not the best on Wall Street: fourth quarter 2009 was the last time it beat forecasts, according to SunTrust Robinson Humphrey. Yet the company fares much better when it comes to its own guidance, beating the mid-way point four out of the last five end-year quarters, according to SunTrust analysts.
That may leave investors wondering whether internally, the company has embarked on a trend of slowing growth. Pressure has been mounting in the North American market, where emerging rival Walmart is rapidly stepping up its e-commerce operations, as well in the international business, which remains loss-making – by several hundred-million dollars. Amazon was betting big on India to grow international revenues, but Prime Minister Narendra Modi's policies to protect the country's small businesses have been crippling the American giant's efforts, favouring homegrown rival Flipkart, which Walmart now owns 75% of.
There's also the issue of rising expenses. Amazon has pledged to raise wages at its fulfilment centres worldwide – a long-standing sore point in its Corporate Social Responsibility (CSR) record – and is spending heavily to transform Whole Foods, which it acquired in mid-2017, into a network of physical pick-up branches. Across the board, operating expenses totalled $220.4bn in 2018, up almost 27% from a year earlier.
"2018 was about banking the efficiencies of investments in people, warehouses, infrastructure that we had put in place in 2016 and '17," Amazon head of investor relations Dave Fildes said in last week's earnings call. "I would expect these investments to increase relative to 2018 and we've reflected what we see so far in Q1 in our guidance." 
"2018 was about banking the efficiencies of investments in people, warehouses, infrastructure that we had put in place in 2016 and '17" - Amazon head of investor relations Dave Fildes
Retail's not everything
Still, the Amazon of today is far from a mere online retailer. The company has successfully diversified into vertical B2B markets, growing operating income from its cloud business, AWS, 60.8% year-on-year to $2.18bn in 2018. In doing so Amazon have provided a platform that a growing number of third-party sellers are tapping into, providing a steady stream of fees through sale commissions and advertising.
Additionally, the company has created a whole ecosystem of products around its Prime subscriber base, ensuring brand loyalty that could provide resilience in case the retail landscape is hit hard by a recession. According to Stifel analysts, more than half of all US households now have a Prime account.
Is there opportunity in Amazon's share price?
Amazons' "successful track record of capitalising on consumer and IT department spending," as Pivotal analyst Brian Wieser recently put it, is the reason why analysts remain bullish by and large, even if Wall Street is periodically spooked by the retail engine eventually losing steam. Share price targets range from Pivotal's $1,920 to Goldman Sachs' $2,400, and of the 48 analysts tracked by Reuters, 45 rate the stock "outperform" or "buy".
| | |
| --- | --- |
| Market cap | $805.70bn |
| PE ratio (TTM) | 81.44 |
| EPS (TTM) | 20.14 |
Amazon stock vitals, Yahoo finance, as at 7 February 2019
"We continue to believe Amazon represents the best risk/reward in Internet given the relatively early-stage shift of workloads to the cloud, the transition of traditional retail online, and share gains in its advertising business, the long-term benefits of each we believe the market continues to underestimate for Amazon," Goldman Sachs analyst Heath Terry wrote in a note to investors, as the bank raised its price target for the stock by $100.