Alibaba Holding Group [BABA] has proposed a one-to-eight stock split, amid reports the Chinese ecommerce giant is planning a listing in Hong Kong later this year, which is expected to raise $20bn. 
The initiative has been approved by Alibaba's board, which is recommending that shareholders vote positively on the offer during the company's annual general meeting on 15 July. 
15%
Alibaba's share price decline since May's YTD high
Alibaba seem to be clearing the way for a second listing for the company, which initially went public in the US in 2014.
"The Board of Directors is proposing the share subdivision to increase the flexibility for the company in future capital market activities," reads the filing, released on Monday.
"Among other reasons, the one-to-eight share subdivision will increase the number of shares available for issuance at a lower per-share price, and the Board of Directors believes that this will increase flexibility in the company's capital-raising activities, including the issuance of new shares."
Alibaba's share price has sunk more than 15% from a year-to-date high in early May of $195. The drop was exacerbated as one of its largest stakeholders, Altaba, exited the stock, adding further downward pressure amid a turbulent period for tech stocks.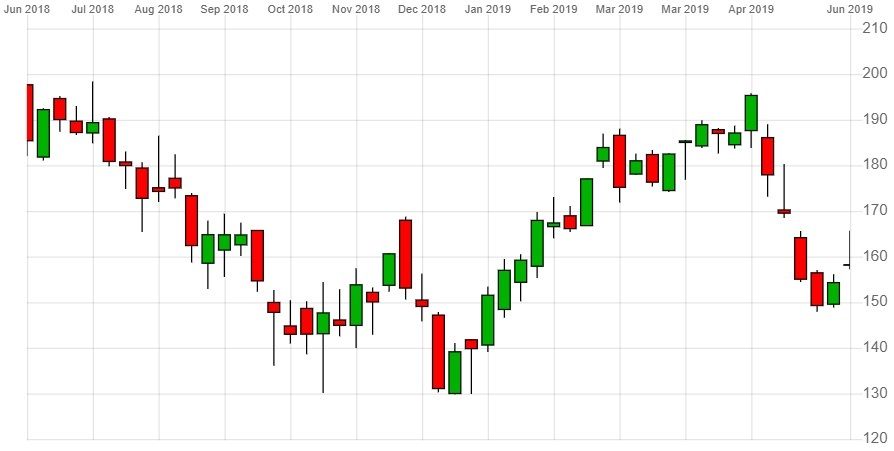 Alibaba 1-year share price performance, CMC Markets, 19 June 2019
What now?
When Alibaba started trading in the US in 2014, it became the largest public offering in history and raked in $25bn. If it manages to recreate this success in Hong Kong, the firm could be well on its way to recovering lost share price and adding more cash to its war-chest.
Market cap
$

429.69bn

PE ratio (TTM)
47.19
EPS (TTM)
3.50

Quarterly Revenue Growth

 

(YoY)

51.00%
Alibaba share price vitals, Yahoo finance, 19 June 2019
A Hong Kong float could also help the company attract investors closer to home, as tensions between China and the US continue to escalate. The disputes mean Beijing will likely be relieved to have a star tech company back in its market. Alibaba would join Chinese tech stocks Razer, Xiomi, Tencent's China Literature and selfie app Meitu, in recently entering the market.
Investors are already showing signs of optimism, as Alibaba shares climbed by 1.37% after the news was announced.  Shares currently have a PE ratio of 45.14 and analyst consensus is a 'strong buy'.