Unilever's [ULVR] share price has been on the rise in 2019, as it adds to the number of start-up wellness and beauty brands in its portfolio.
Unilever's laser focus on growth acceleration has boosted its shares for 2019, which have gained 17.25% in value up to 5 June – ahead of the FTSE 100 which gained just 7.21% in the same period.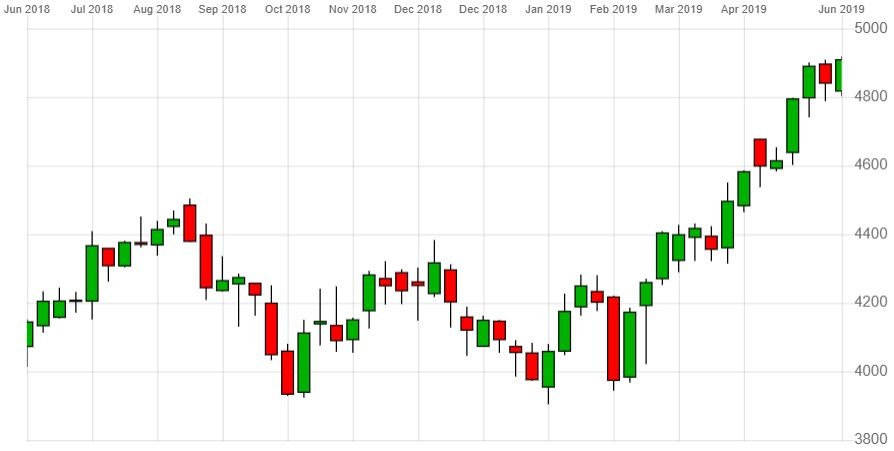 Unilever 1-year share price performance, CMC Markets, 11 June 2019
The consumer goods giant's growth-by-acquisition strategy seems to be keeping investors happy. In the first six months of the year, Unilever has acquired four popular food and beauty start-up brands including supplements seller Olly Nutrition, French derma-cosmetic company Garancia, online snack retailer Graze and home cleaning brand The Laundress, as it looks to a "strategic shift into faster growth segments and channels".
Last month, it was also revealed by the Sunday Telegraph that the company is exploring a $1bn purchase of natural skin-care brand Drunk Elephant, which would allow the seven-year-old brand to widen its footprint to new territories. In the five days following the news, Unilever's share price rose by 4% to 4,796.5p. 
Growth is essential to the financial health of Unilever, which is seeing slower uptake of its leading brands such as Dove and Lipton in developed markets. It means it must look for new and profitable lines and encourage emerging markets growth – a segment which generated 58% of its total global revenue in 2018.
Market cap
£

128.49bn

PE ratio (TTM)
19.47
EPS (TTM)
252.70

Return on equity

 

(TTM)

75.53%
Unilever share price vitals, Yahoo finance, 11 June 2019
Unilever's acquisition efforts have so far been well received by analysts, with Credit Suisse upgrading its investment rating from neutral to 'outperform' and raising its price target to 5060p from 4325p at the start of May. In April, Berenberg reaffirmed its 'buy' rating for the company and raised its price target to 5050p from 4800p.
Unilever: in good health
The Anglo-Dutch group's Q1 results for 2019 also highlight that the company is in good financial health. In April, it beat analyst expectations by posting underlying sales growth of 3.1% for the quarter, driven by strong emerging markets growth of 5%. Meanwhile, developed market sales grew by 0.3%, highlighting its need for new and innovative approaches.
Recent acquisitions such as men's shaving subscription service Dollar Shave Club, natural deodorant brand Schmidt's and the cosmetics and home care brands of Latin American consumer goods company Quala, have also proved to be successful, with post-2015 additions collectively posting double-digit growth. 
Looking at full-year figures, the company said that underlying sales growth for 2019 should be in the lower half of its multi-year 3% to 5% range – news which initially sent its stock down before bouncing back to the health we see it in today. The company is currently on track to achieve operating margins of 20% by 2020 up from 16.4% in 2016. 
20%
2020 operating margin target
Part of Unilever's success is down to the fact that its earnings are boosted due to Sterling weakness, due to the fact that the majority of the consumer giant's assets and revenues come from overseas.
Steady returns ahead for shareholders
Unilever's quarterly results particularly benefit shareholders after the company administered a dividend hike of 6%. Over the past five years to 31 December 2018, the dividend has steadily lifted from €1.02 to €1.53 per share, a total increase of 50%. 
Such figures have led analysts such as RockEstra Research to believe the company provides value for long-term investors. Commentators on Seeking Alpha also pin this down to the company's growth in emerging markets and diversified product portfolio as particularly beneficial to investors in the long-run.
Investors Chronicle's Phil Oakley argues that while Unilever is a large, lumbering and complex business unlikely to deliver stellar rates of long-term growth, investors like its dependability and high-quality cash flows that contribute to a rising dividend pay-out. It has delivered dependable and predictable profits and cash flows since the recovery from the financial crisis began a decade ago, he says.
"With perhaps the exception of its free cash flow (FCF) margin, Unilever has many of the hallmarks of a very high quality business. It consistently turns its profits into cash flow and earns high operating margins and returns on capital employed (ROCE)," says Oakley.