Investors are worried that AMD [AMD] and other computer chip manufacturers will get sucked into the escalating US-China trade war. It's a legitimate concern. $39 million of AMD's revenue comes from its supply deals with Huawei, representing 2% of total business. While similar deals bring in $21 million for rivals Nvidia and $83 million for Intel.
Yet despite the potential disruption, AMD's stock hasn't dropped off a cliff. In fact, compared to its competitors, the stock looks resilient. So far this month, AMD's share price is flat at around $26 while Intel and Nvidia's shares have nosedived 13% and 16% respectively.
What separates AMD's stock from its rivals?
A big reason for the stock's strength is AMD's upcoming pipeline of products. This has given investors confidence that the chipmaker's business model is able to withstand macroeconomic events outside its control.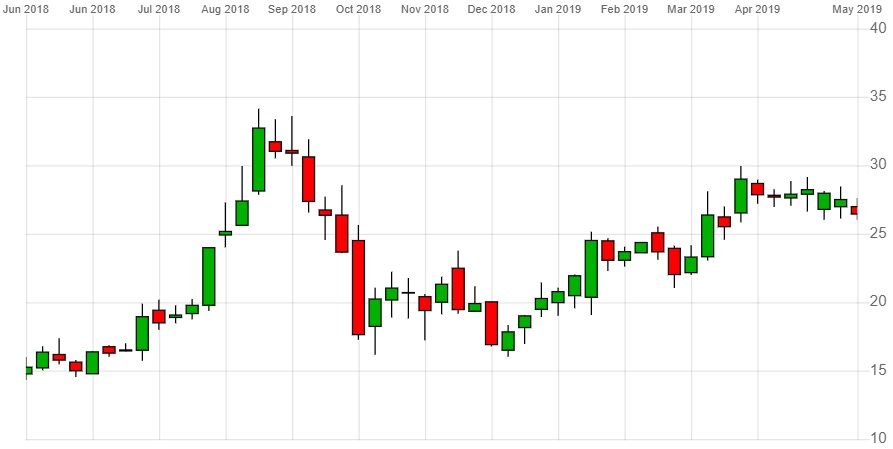 AMD 1-year share price performance, CMC Markets, 28 May 2019
Later this year, AMD will launch its third generation of 7-nanometer Ryzen chips. Leaked performance tests reveal that the chips will be able to run PC games at blistering speeds, leaving Intel's 10-nanometer chips looking sluggish in comparison. The net effect could see gamers swapping out Intel for AMD's faster option. 
AMD is readying its Navi RX 3080 too, this will compete for the mid-range market where gamers typically spend their money. The Navi will go up against Nvidia's counterpart, the RTX 2070.
AMD's data centre business is also dominating the competition. In its Q1 results, sales of data centre GPUs had more than doubled year-on-year. Again, this comes at the expense of Intel which saw demand for its data centre GPUs weaken in the first quarter of the year. Intel blamed China for the slowdown in sales, where they have a large inventory of unsold processors.
Market cap
$

31.53bn

PE ratio (TTM)
117.07
EPS (TTM)
0.25

Return on Equity

 

(TTM)

21.73%
AMD stock vitals, Yahoo finance, 28 May 2019
How is the stock performing?
Since the start of the year, AMD's stock is up around 40%. This is far above the PHLX Semiconductor Sector's 17.93% rise. Most of these gains came in the first four months, with AMD's stock touching a high point of $29.39 on 4 April. Since then it has been trading in a narrow range between $26.24 and $28.48. 
40%
AMD stock's year-to-date increase
How much the trade war will bite into the AMD share price is debatable. The stock experienced some movement after President Trump's national security order to effectively place Huawei and other Chinese tech companies on a blacklist. Yet it has clawed back losses to trade around $26.44. At this stage, it seems that the overall rhetoric around the trade spat has muted sentiment, rather than outright destroyed it. 
More problematic were AMD's lacklustre earnings results on 30 April. These saw revenues down 23% year-on-year. AMD pinned the blame on the cryptocurrency crash which had led to an overproduction of GPUs. The underwhelming results saw the share price dip 1.5%, which didn't help Nvidia and Intel who saw 4.1% and 2.2% falls respectively on the day.
Nvidia was also punished in the crash. But unlike AMD, worries persist over Nvidia's data centre revenues, and the company didn't post a full-year outlook during its Q1 results, spooking shareholders.
Looking for an entry point
CMC Markets analyst David Madden told Opto, "the stock has been pushing higher since December 2018, and if it retakes the 50-day moving average at $27.11, it might target the $30.00 mark. Support might be found at $24.00 – the 200-day moving average."
"the stock has been pushing higher since December 2018, and if it retakes the 50-day moving average at $27.11, it might target the $30.00 mark. Support might be found at $24.00 – the 200-day moving average" - CMC Markets analyst, David Madden
Deutsche Bank's Ross Seymore has a price target of $25 for AMD stock in 2019. If hit, the move would represent a 5% dip on the current price. Yet the wider consensus is for the stock to hit $29.41, which would represent a healthier 11.5% upside.