Investors in Warren Buffett's Berkshire Hathaway [BRK] got a glimpse of a shifting approach to investments at the firm's AGM on 4 May, as the holding company, headed by 88-year-old Warren Buffett, rethinks its playbook for the bull market and looks at sectors the "Sage of Omaha" previously snubbed.
Among the biggest surprises, Buffett revealed in an interview with CNBC ahead of the event that the company bought into Amazon [AMZN], seemingly marking a departure from Berkshire's traditional stock-picking approach, which favours dividend-paying, low-PE stocks.
Berkshire's vice-chairman Charlie Munger also decried his and Buffett's choice not to buy Google stock earlier. "I don't mind not having caught Amazon early," Munger said at Berkshire's event on Saturday. "But I feel like a horse's ass for not identifying Google earlier … We screwed up."
Market cap
$

508.95bn

PE ratio (TTM)
19.01
EPS (TTM)

16,328.66

Return on Equity

 

(TTM)

7.50%
BRK stock vitals, Yahoo finance, 09 May 2019
Buffett also said "the jury is still out" on loss-making companies going to market. Asked on the viability of cash-burning businesses like furniture retailer Wayfair [W], a competitor to Berkshire holding Nebraska Furniture Mart, Buffett said: "Investors are willing to look at losses as long as sales are increasing and hope that there will be better days ahead." He later told CNBC that he wouldn't invest in highly-valued, unprofitable public companies like Uber [UBER] and Lyft [LYFT].
What now? 
While Buffett and Munger have traditionally shied away from tech stocks – dumping most investments other than Apple just after a few quarters – younger executives in its team may be showing better appetite for the sector. Buffett stressed it was one of Berkshire's portfolio managers – not himself or Munger – that bought into Amazon.
"The considerations are identical when you buy Amazon versus some, say, bank stocks which look cheap against book value," he told shareholders.
"The considerations are identical when you buy Amazon versus some, say, bank stocks which look cheap against book value" - Warren Buffett
But Buffett's words still hold sway, even in a sector like tech where he as a mixed record. The day after he disclosed the Amazon investment, the tech firm's stock jumped as much as 3% the following morning, while Google momentarily gained over 1% in the Monday after Berkshire conference. Lyft, meanwhile, lost 2% barely an hour into trading the same morning.
Sky-high valuations in the bull market have also been starving Berkshire of the M&A transactions that made its fortune throughout the 20th century. While Buffett did say in February he was looking for an "elephant-sized" acquisition, Berkshire is currently having to find alternative uses for its cash reserves, which stood at a mammoth $114bn at the end of the first quarter.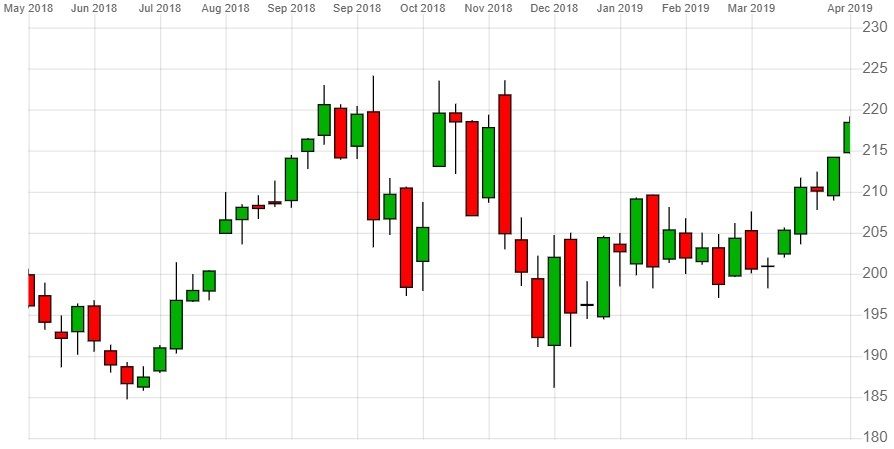 BRK 1-year share price performance, CMC Markets, 09 May 2019
Berkshire bought back $1.7bn in shares during the quarter, up from $1.3bn during the second half of 2018. The pace is likely to pick up: "I predict we'll get a little more liberal in repurchasing shares," Munger said.