Walmart Inc.'s [WMT] share price has traded sideways since the retailer reported earnings last Thursday, so what's likely to drive growth over the short- to mid-term? At Walmart the future it seems, is omni-channel.
This was confirmed in an earnings call last week, where Walmart reported strong revenue growth across its domestic US e-commerce business in the three months to April, vindicating management's "omni-channel" strategy – which blends customers' digital and physical retail experiences – and potentially gives the big box retailer some elbow room to refocus its operations abroad.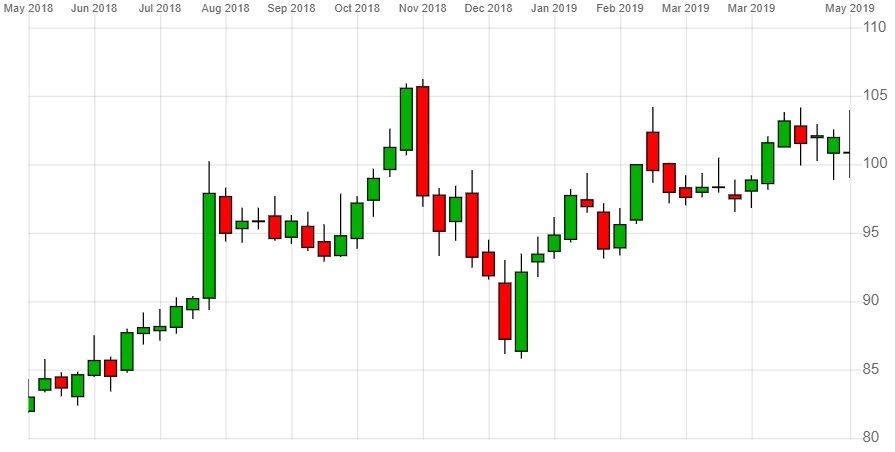 Walmart 1-year share price performance, CMC Markets, 21 May 2019
US "comparable" store sales – more commonly referred to in the retail industry as "same-store" sales – grew 3.4% year-on-year, marking the best Q1 performance in nine years. E-commerce revenues jumped 37%, driven not only by groceries but merchandise in the home and apparel categories. Earnings per share were $1.33, ahead of analysts' forecast $1.04.
Not all of this success is down to Walmart's strategic nous, though. Serendipity has been at work too, with US consumer spending also on the up. "The consumer [is] in pretty good shape at the moment, based on what we're seeing," Walmart CEO Greg Foran said in a media briefing. "Unemployment is pretty low, and we think [consumers] feel good about their personal finances."
But Foran was still keen to highlight customers' positive responses to the omni-channel shopping experience. "Market share gains this quarter in key grocery and general merchandise categories reflect our progress" in this sense, he said in a prepared statement.
Market cap
$

291.07bn

PE ratio (TTM)
35.52
EPS (TTM)
2.86

Quarterly earnings growth

 

(YoY)

80.00%
Walmart share price vitals, Yahoo finance, 21 May 2019
E-commerce, the Walmart way
While refraining from naming Amazon [AMZN] directly, Foran and colleagues have repeatedly pointed to Walmart's existing brick-and-mortar network as one of the main advantages it has over rivals, and analysts seem to agree.
"The company appears to be catching the online retail wave that many brick and mortar stores aren't," wrote Christian Magoon, founder of ETF provider Amplify, while Neil Saunder, managing director at consultancy GlobalData Retail, said: "Walmart's logistics capability and its use of stores as points of distribution give it a major advantage over other players in the market, particularly Amazon".
Walmart can count on its physical network to provide not only traditional home delivery, but also a click-and-collect service for online orders. By year end, the board wants to grow the number of stores that can offer same-day delivery from 1,000 to 1,600 and pick-up locations from 2,450 to 3,100, out of Walmart's total network of 4,700 stores.
1,600
Targeted number of stores that will offer same-day delivery by year end
This push is likely in response to Amazon upping the ante by announcing free next-day delivery for all US Prime members last month. Matching that offering could cost Walmart up to $215m, according to UBS. But e-commerce division CEO Marc Lore is adamant: "We need to use our stores to do things only Walmart can do."
International refocus
Despite such successes in Walmart's domestic market, this performance has been somewhat blemished by weaker results abroad. Currency headwinds meant that international net sales declined 4.9% in Q1, and the acquisition of online retailer Flipkart in India brought international operating income down 42% year-on-year. Additionally, tighter regulations around foreign investment in online retail brought about by the Indian government cast uncertainty around the viability of Flipkart as a Walmart subsidiary.
-4.9%
International net sales decline in Q1
In the UK, Walmart needs to find another way of extracting cash from the Asda unit after the Competition and Markets Authority blocked a buyout by rival supermarket chain Sainsbury's. Rumours have floated in the media of a private equity bid, while Walmart management last week officially acknowledged that an IPO was a possibility – though it could take years.
Regardless, Walmart CFO Brett Biggs made clear that the UK – unlike, say, Brazil, where Walmart exited e-commerce in May – is an attractive market to have exposure to. "Our assumption is we were going to be in the UK market anyway," he told the audience at a Bank of America Merrill Lynch event in March, when the Asda divestment already looked doomed. "We were going to have an ownership in Sainsbury's."