Editor's note: The Stock Trader's Almanac has been one of the market's best references for historical data on the cycles, trends and patterns for over five decades. Originally written by Yale Hirsch in 1967, the book has since been carried on by his son Jeffrey Hirsch, who is the chief market strategist at Probabilities Fund Management.
"I was born and raised on stock market cycles, patterns, trends and technical analysis," Hirsch tells Opto. He officially took over the family business in 2001 and since then has been the editor-and-chief of this four-year cycle book, which is a day-to-day guide for investing in the markets.
"I was born and raised on stock market cycles, patterns, trends and technical analysis"
The following is an excerpt* from Jeffrey Hirsch's fifty-third edition of 2020 Stock Trader's Almanac.
Introduction to the fifty-third edition
Once again, we have the honor of introducing the Fifty-Third Edition of the Stock Trader's Almanac. The Almanac provides you with the necessary tools to invest successfully in the twenty-first century.
J.P. Morgan's classic retort "Stocks will fluctuate" is often quoted with a wink-of-the-eye implication that the only prediction one can make about the stock market is that it will go up, down, or sideways. Many investors agree that no one ever really knows which way the market will move. Nothing could be further from the truth.
We discovered that while stocks do indeed fluctuate, they do so in well-defined, often predictable patterns. These patterns recur too frequently to be the result of chance or coincidence. How else do we explain that since 1950 the Dow has gained 23053.95 points during November through April compared to just 3324.63 May through October? (See page 52.)
The Almanac is a practical investment tool. It alerts you to those little-known market patterns and tendencies on which shrewd professionals enhance profit potential. You will be able to forecast market trends with accuracy and confidence when you use the Almanac to help you understand:
How our Presidential Elections affect the economy and the stock market—just as the moon affects the tides. Many investors have made fortunes following the political cycle. You can be sure that money managers who control billions of dollars are also political cycle watchers. Astute people do not ignore a pattern that has been working effectively throughout most of our economic history.
How the passage of the Twentieth Amendment to the Constitution fathered the January Barometer. This barometer has an outstanding record for predicting the general course of the stock market each year with only ten major errors since 1950 for an 85.5% accuracy ratio. (See page 16.)
Why there is a significant market bias at certain times of the day, week, month and year.
Even if you are an investor who pays scant attention to cycles, indicators and patterns, your investment survival could hinge on your interpretation of one of the recurring patterns found within these pages.
One of the most intriguing and important patterns is the symbiotic relationship between Washington and Wall Street. Aside from the potential profitability in seasonal patterns, there's the pure joy of seeing the market very often do just what you expected.
The Stock Trader's Almanac is also an organizer. Its wealth of information is presented on a calendar basis. The Almanac puts investing in a business framework and makes investing easier because it:
Updates investment knowledge and informs you of new techniques and tools.
Is a monthly reminder and refresher course.
Alerts you to both seasonal opportunities and dangers.
Furnishes a historical viewpoint by providing pertinent statistics on past market performance.
Supplies forms necessary for portfolio planning, record keeping and tax preparation.
2020 outlook
Bareknuckle politics promises to heighten market volatility in 2020 as the battle for control in Washington kicks into high gear.
But even the most pugnacious campaigns by both parties will be hard-pressed to derail this secular bull market. Incumbency is a powerful phenomenon and the driving force behind the 4-Year Presidential Election Cycle.
This quadrennial quadrille is what has made the Pre-Election Year the best year of the 4-year cycle.
As for our outlook for 2020, we could easily join the throng of skeptics and bears that are forecasting recession and a down market for 2020 and stoke investor's fears, but we have three main observations that have guided us toward a more bullish outlook for Election Year 2020.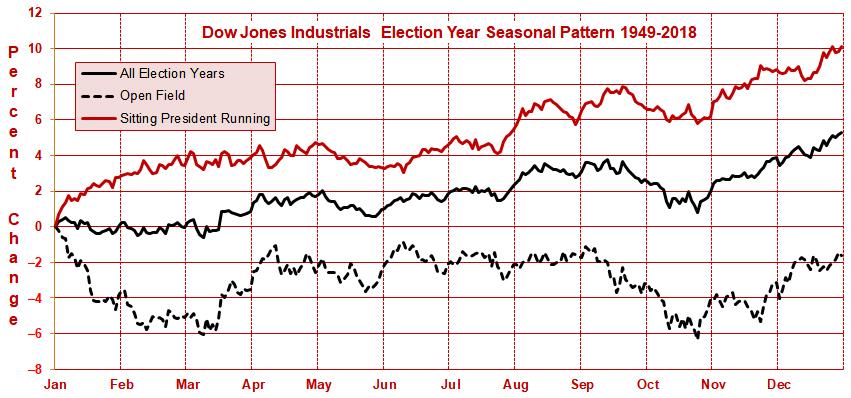 The Power of Incumbency. As you can see in the accompanying chart the stock market has performed much better in election years when a sitting president is running for reelection. Since 1949 the Dow is up 10.1% in election years when a sitting president is running for reelection vs. 5.3% in all election years and –1.6% in election years with an open field and no incumbent commander-in-chief running for a second term.
Fiscal and Monetary Policy Synchronicity. After several years of conflicting policy, the Federal Reserve and the US Federal government are finally getting in synch. Interest rates are historically low, and the Fed is on the brink of lowering rates at the same time as fiscal policy has been lowering taxes and increasing spending. These dual pro-growth policies should continue to propel the stock market higher.
Recent Pattern of 50% Moves Following Extended Consolidations. An interesting pattern has materialized following the past few market consolidation phases. After bouncing around a base for 2-3 years the S&P 500 has rallied 50% higher. Following the 2009 secular bear market low, the market rose to the 1200 level on the S&P 500 in April 2010 and then moved sideways for more than 2 years up and down and around 1200, Then it took off in Election Year 2012 rising 50% to 1800 by November 2013. S&P 500 stayed close to 1800 until the mini-bear market bottom in February of Election Year 2016. Then it jumped up another 50% to 2700 in January 2018. Since then S&P has moved back and forth through 2700 dozens of times. If this pattern continues, the next 50% move higher can be expected to gain momentum in 2020.
These gains will of course not come without pause and correction. The world stage will continue to feature some challenging geopolitical, diplomatic, trade-related and economic storylines.
US presidential campaign politics will increasingly focus on domestic political disputes, standoffs and unfinished business. But when all is said and done, we expect 2020 to be an up year based on the historical patterns and cycles and current favorable policies, healthy economics, and positive market behavior.
*This excerpt has been modified for publication. Published by Wiley. 
Get your copy here. 
By Jeffrey Hirsch, who is the chief market strategist at Probabilities Fund Management and editor-in-chief at Stock Trader's Almanac, a financial market analysis service. He is the author of two previous books on the markets including The Little Book of Stock Market Cycles and Super Boom: Why the Dow Will Hit 38,820 and How you can profit from it.