On display at the Shanghai Auto show was Nio's [NIO] ET Preview - the Shanghai manufacturer's answer to the Tesla Model 3. Nio needs something to inspire investor confidence, having seen its stock drop 47% in March.
The Shanghai Auto Show is the mecca for the electric car industry. Held in a city that sees more electric vehicle sales than whole countries, the show is a place for manufacturers to launch their latest offerings, and the crown jewel in China's world-beating industry. 
47%
The amount Nio shares dropped in March
China has held pole position as the planet's biggest market for electric vehicles for four years, having surpassed the US in 2015, and accounts for half of all sales worldwide. 
Spurred on by government subsidies, the number of Chinese electric vehicle manufacturers has tripled to 486 in the past three years, all fighting over a market worth $1.6bn. And with J.P. Morgan predicting that by 2025 30% of all vehicles sales will be either electric or hybrid, the country's innovative automobile industry should enjoy a considerable advantage over western competitors who have been sluggish to enter the market, with the notable exception of Tesla. 
But all's not well in the industry. Share prices have skidded as manufacturers fight for position and dwindling government support.
Why investors are concerned about China's electric car market
1. Cuts in government subsidies
China's Ministry of Finance has slashed the subsidies its electric car manufacturers receive by 50%. Justifying the decision, the ministry said it wanted to encourage innovation as the industry matures. It also upped the qualifying range for a vehicle from 150km to 250km. China's top manufacturers saw their share prices slide on the news, with BAIC Motor Corp falling 3.5%. 
2. Oversaturated market?
The Chinese market for electric vehicles could already be oversaturated. Electric vehicle annual sales only hit 1bn last year, accounting for just 4% of overall passenger vehicles in the region. 
Price is obviously one pain point. But with the cost of electric cars expected to be comparable to internal combustion engine motors by 2025, more people could be persuaded to go electric. For investors, this could present a long-term opportunity.
4%
Percentage of EVs as a proportion of overall passenger vehicles in China
3. Battery limitations
Currently pure battery electric cars don't have the same range as their gasoline or hybrid counterparts. Throw in extensive recharging times and higher costs, and getting behind the wheel of one becomes less alluring.
If electric cars are to replace their gasoline cousins, then these issues need to be addressed. Already China's manufacturers are looking at ways to get battery costs down, including cutting cobalt out of lithium-ion batteries.
China's electric car stocks to watch
At one point in 2017, BYD's stock was the best performing on the planet when it jumped 41% in September that year. In 2019, investors have enjoyed a comparatively pedestrian 23% climb since the year began.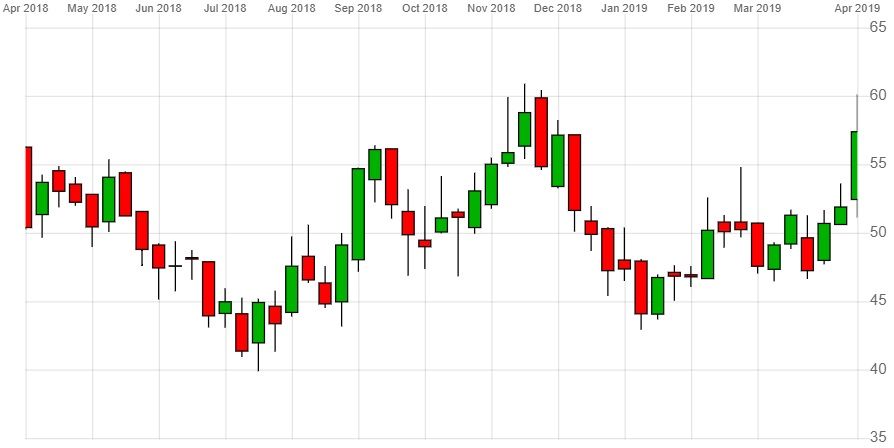 BYD 1-year share price performance, CMC Markets, 24 April 2019
Having started as a company that specialised in building electric public transport vehicles, BYD has grown to be the biggest electric vehicle manufacturer on the planet. It has a quarter of a million employees and sells around 30,000 electric vehicles or hybrids every month.
Unlike Tesla, it hasn't done this by cranking out luxury offerings. Instead it has firmly targeted the mid-market. Its cheapest model, after subsidies, costs just 60,000 yuan ($8,950).
With such an established base, BYD looks set to benefit if more people make the switch from gasoline to electric cars. Investors buying into the stock won't be in bad company - Warren Buffett picked up a 10% stake in the firm last year.
In terms of growth, electric car manufacturer BAIC has outrun the rest of the Hong Kong-based automobile industry. Last year, the company's earnings grew by 91.6%. A turbo charged performance when compared to its competitors' paltry 2.3%.
But this wasn't enough to stop the share price skidding over the course of 2018. Despite reaching an all-time high at the start of last year, investors put the brakes on and shifted into sell mode, causing the share price to crash around 68%.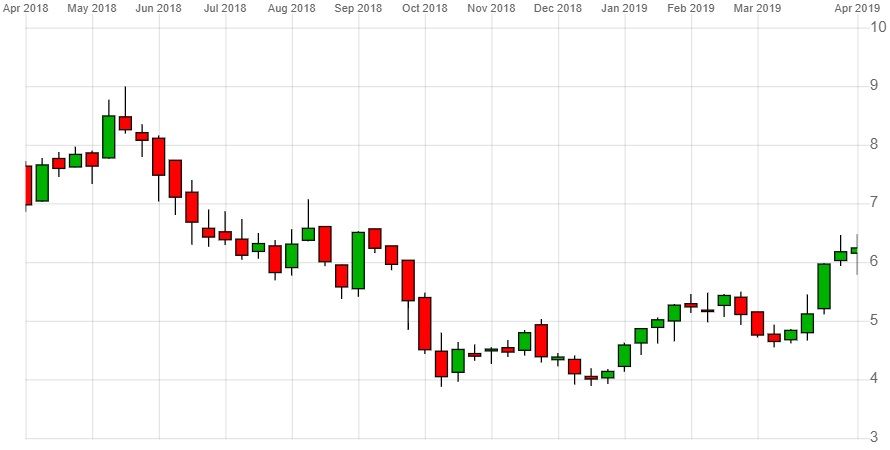 BAIC 1-year share price performance, CMC Markets, 24 April 2019
Fortunately, 2019 hasn't been a repeat of last year. The share price has roared back, gaining 53.92% since the start of the year, and over 33% since the beginning of April.
If it keeps momentum, the stock could be something of a bargain. A price to earnings ratio of around 9.56x makes it cheaper than some of its rivals. And with profits expected to soar 47% over the next two years, the stock could see more gains in the long term.