When Tesla [TSLA] announced a blowout profit of $312m on $6.8bn in revenue for the third quarter in 2018, its stock soared 30% reaching a high of $376.79 on 13 December.    
But while it seemed that the upstart had finally turned a corner into sustainable profitability after burning through cash, Tesla's stock has fallen again as investors' and traders' enthusiasm began to soften.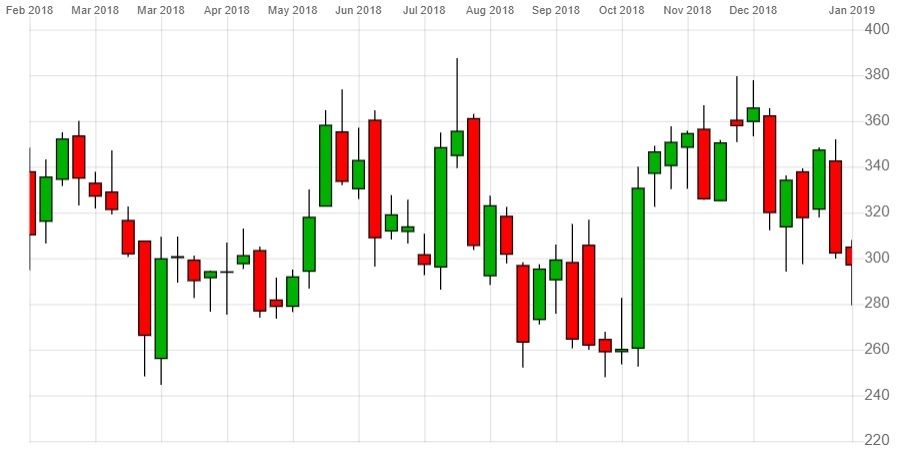 Powered by CMC Markets, as at 1 February 2019
The clincher came on 18 January when Musk sent an email to employees saying that 2018 had been the most "challenging in Tesla's history".
Musk said in the email that the company had a "very difficult road ahead" and had to cut full-time staff by around 7% due to pressure on profits and its attempt to make the Model3 - its best selling premium vehicle of 2018 in the US - more affordable.
"Tesla will need to make these cuts while increasing the Model 3 production rate and making many manufacturing engineering improvements in the coming months," Musk said in the note. "Higher volume and manufacturing design improvements are crucial for Tesla to achieve the economies of scale required to manufacture the standard range (220 mile), standard interior Model 3 at $35k and still be a viable company."
Musk affirmed that the job cuts as well as cutting the price of its Model S, Model X and Model 3 were necessary to balance costs from slowing vehicle sales in China, saying "there isn't any other way" to bring the company back to profit, especially following its best quarter ever.
The drastic measures were to ensure that its financial results for the full year were in the green, making it Tesla's fourth profitable quarter overall since it went public in 2010.
Q4 report: earnings miss, revenue beat
Elon Musk is no stranger to controversy. Public relation fiascos, hints at taking Tesla private, and production and delivery holdups have immersed the stock in murky water throughout 2018 and continued to weigh it down in the run up to its earnings announcement, falling 14% over the seven days prior.
Despite Tesla's fourth quarter earnings being less profitable than some expected with EPS at $1.93 instead of analysts' estimates of $2.20, its stock rose 3.8% after its announcement on 30 January.
3.8%
Stock gains after Tesla's Q4 earnings announcment
Earnings were hit on a number of fronts, including a decline in revenue from the sale of regulatory credits, higher import duties on parts from China, lower prices on the Model S and Model X in China and a lower priced midrange version of the Model 3.
However, operating income for the fourth quarter remained stable at $414m and total revenue came in at $7.23bn, which is more than double its $3.29bn in revenue during the same quarter in 2017. 
Musk also announced the retirement of long-time chief financial officer Deepak Ahuja, who will be replaced by the company's previous vice president of finance Zach Kirkhorn.
Banking on Musk's ability to turnaround business profits, analysts are beginning to look past the media's discussion about Tesla's debt obligations and challenging cash flow situation.
"He's one of those CEOs that will get it done, no matter whether they have to work double time, cut costs, whatever they have to do on either the top line or the expenses. If he said it, he's going to try to get it done," Motley Fool's senior analyst, Ron Gross, said.
"He's one of those CEOs that will get it done... whatever they have to do on either the top line or the expenses. If he said it, he's going to try to get it done" - Motley Fool's senior analyst, Ron Gross
The company's main priorities for 2019 include reducing costs, shipping as many cars as possible until more tariffs hit and developing its main projects such as Gigafactory Shanghai, Model Y and Tesla Semi.
"This release was a mixed bag," CFRA analyst Garrett Nelson said. "The company generated strong free cash flow, which should ease balance sheet-related concerns, which is the biggest positive from this release in our view. Vehicle sales guidance for 2019 was a bit short of expectations, but not nearly the doomsday scenario some had expected resulting from the federal EV credit step-down."
Musk expects 2019 to be a "truly exciting one for Tesla", as he works to make the business sustainably positive.
"In total, we are expecting to deliver 360,000 to 400,000 vehicles in 2019, representing a growth of approximately 45% to 65% compared to 2018," Musk said.
WallStreet's long-running bull-bear clash
For the moment, the electric car company's share price is down around 7% to date since the start of 2019, and although its current earnings per share are -10.56%, it is forecasted to reach $2.12 per share in 2019.
Looking at its valuation, Tesla is holding a forward P/E ratio of 49.84, which compared to the wider industry's average of 15.91 is considered premium by analysts. There's still no indication that the company plans to pay any cash dividends in the foreseeable future.
| | |
| --- | --- |
| Market cap | $52.73bn |
| Forward P/E | 49.84 |
| EPS (TTM) | -10.56 |
Tesla stock vitals, Yahoo finance, as at 1 February 2019
For Jessica Caldwell, executive director at Edmunds, Tesla has a tough year ahead as "things really aren't going to get any better for Tesla in the US than they did at the end of 2018".
Despite the headwinds, many shareholders remain bullish on the stock as turning a profit, addressing production challenges and finalising the Model 3 were big milestones for Tesla.