Tesla [TSLA] CEO Elon Musk is once again attracting the Securities and Exchange Commission's (SEC) ire after a series of potentially liable tweets, sending the stock on a rollercoaster just days before a $920m convertible bond is due.
Musk said that Tesla would deliver 500,000 cars in 2019 on 19 February and was quick to specify, in a subsequent tweet, that the sales figure referred to an "annualized production rate", and that actual deliveries would be around 400,000 as per official guidance.
| | |
| --- | --- |
| Market cap | $50.92bn |
| EPS (TTM) | -5.72 |
| Quarterly revenue growth (YoY) | 119.70% |
Tesla stock vitals, Yahoo finance, as at 04 March 2019
But the correction did not stop the SEC from taking action and asking a judge to hold Musk in contempt for violating its settlement deal reached in September following the "taking Tesla private" saga, which required Musk to agree to any public forward-looking statements with his company's board.
"[Musk] once again published inaccurate and material information … and made this inaccurate information available to anyone with Internet access," the SEC's court filing read.
While the judge gave Musk until 11 March to defend himself, he has already escalated the feud, tweeting that the SEC oversight is "broken". The outspoken CEO is hardly new to hitting back at the regulator and called it the "Shortseller Enrichment Commission" in a tweet in October 2018, shortly after the settlement had been reached.
"Shortseller Enrichment Commission" - The label Musk gave the SEC in a tweet in October last year
What now?
Tesla's share price has been on a rollercoaster since the news of the SEC's actions after market close on Monday. The stock crashed 3.7% to $283 in after-hours trading, but had recovered much of its value by Tuesday, closing just under $298. In early Wednesday trading, it skyrocketed as much as 5% to $313, after Musk tweeted of "some Tesla news" to come the next day.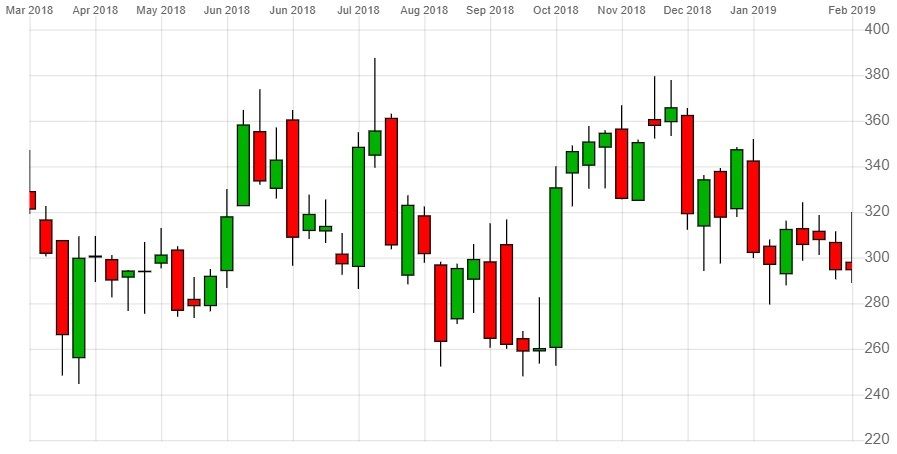 Powered by CMC Markets, as at 04 March 2019
The stock continued to rise 0.8% on Thursday, following the news that Tesla would start selling a version of its Model 3 (worth an average $50,000) in the US for $35,000 – a promise it made more than two years ago – and would shift its sales worldwide to online only to remain "financially sustainable".
The shift to selling online has enabled Tesla to lower all vehicle prices by an average 6% and increase investment in the Tesla service system to improve its operations. 
In the next few months, the electric car company will begin closing "many" of its physical stores, with a "small number" of popular locations remaining as "galleries", adding to the thousands of job cuts it has been announcing since June. Sales of the Model 3 will be critical to Tesla as it tries to balance its books after years of losses.