Rumours emerged over the weekend that Chinese tech giant Tencent [0700] had struck a partnership with Hyundai Motors to supply in-vehicle entertainment and information systems and self-driving tech. Tencent shares were up as much as 1.3% to HK$381 in early Monday trading. Hyundai later denied the reports, however.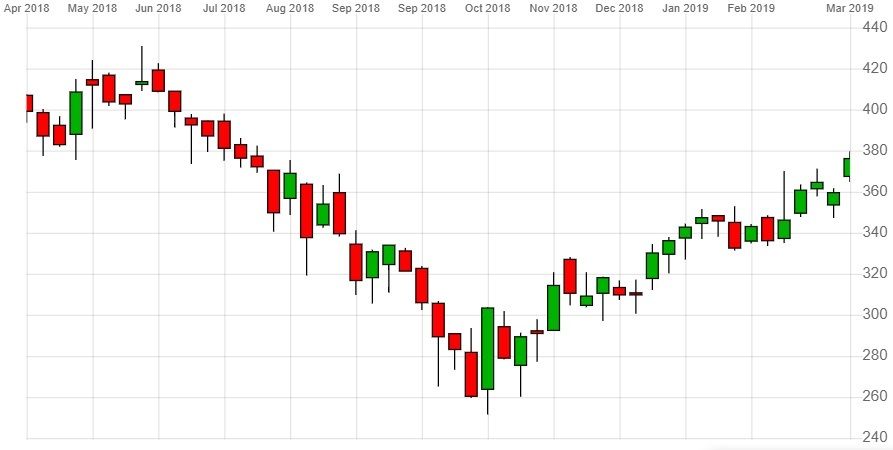 Tencent 1-year share price performance, CMC Markets, as at 10 April 2019
If confirmed, it would be the latest in a series of tie-ups between automakers and tech firms, as companies that have historically specialised in car manufacturing look to outside partners to develop the architecture for connected and autonomous vehicles.
In October, Intel stock jumped 5% on news it would partner with Volkswagen to develop and commercialise self-driving taxis in Israel as early as 2022. Separately, Volkswagen tapped Microsoft's Azure cloud platform to underpin its future mobility ecosystem, encompassing everything from on-board connectivity to pay-as-you-go services like car-sharing and parking reservations.
Geely-owned Volvo Cars has brought in Nvidia's chip to power AI-assisted car computers, while Hyundai Mobis – the components division of Hyundai Motors – said in March it was collaborating with Russia's Yandex to develop autonomous taxis.
What's next?
Not every partnership announcement has been a market mover: news of a big-name client in the automotive space did little to move Nvidia's and Yandex's share price. Investors are not quite as excited by the tie-ups as they would by, say, Qualcomm supplying chips to Samsung.
There's still widespread uncertainty around what form the market for self-driving cars will take. Will retail customers buy their own autonomous vehicles? Or will demand come from ride-hailing companies like Uber and Lyft, as they look to automate fleets?
While robo-taxis may yet take a while to make their commercial debut, automakers are already set to incorporate more assisted-driving and safety features, as bodies like the European Commission aim to eliminate road fatalities in the coming decade. 
Although Hyundai denies partnership with Tencent, the "infortainment" aspect of the rumoured deal – providing in-vehicle entertainment and information systems – presents a more immediate opportunity for tech firms to partner with automakers. In September 2018, Google announced a deal with the Renault-Nissan-Mitsubishi Alliance to put Android based "infotainment" systems into cars from 2021. The news caused stock of established automotive supplier TomTom to tank 25%
25%
TomTom's stock drop on news of Google's Renault tie-up
It's not just about the big names: in a column for Yahoo Finance, ETF provider Motif Investing pointed to component suppliers including
Texas Instruments, Stoneridge and Garmin, among others, as stocks that could see a windfall to a trend of increased connectivity in vehicles. Opportunities are still there for traditional players: TomTom in March won a contract extension to supply navigation data to the Volkswagen Group.
"With one-in-five cars expected to be equipped with wireless connectivity and real-time analytics by 2020, the opportunity for the automotive industry and its technology partners could be significant for capturing the imagination of the next generation of car enthusiasts," wrote Motif.