Standard Life Aberdeen's [SLA] share price once again found itself in analysts' crosshairs at the end of January, as Morgan Stanley cut its outlook for the stock from "overweight" to "equal-perform", lowering the target price from 330p to 255p.
The company's shares suffered through 2018, losing 40%. And after some moderate gains at the start of 2019, the stock returned to a downward spiral following the comments from analysts.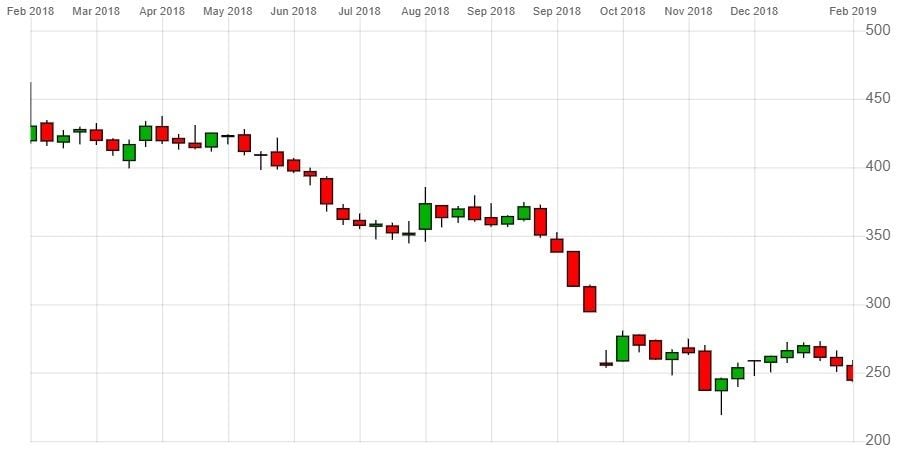 Standard Life share price performance, CMC Markets, as at 13 February 2019
Management has been hard at work pumping value back into the stock, pledging in June to return as much as £1.75bn to shareholders through a mix of buybacks and B share issuance. But analysts and investors could not overlook the dire situation at ASI, the main investment business, which saw outflows of £16.6bn in assets under management in the first half of last year alone.
£16.6bn
ASI outflows in the first half of 2018
SLA had already seen a downgrade by RBC Capital Markets in December, over the decision early last year to dispose of highly remunerative EU and UK life insurance operations to Phoenix. Not only was the £3bn price tag dubbed as £800m too cheap by RBC Capital Markets analysts, but they also noted that the sale came at a time when life insurers' dividend offered high security.
Instead, reliance on the asset management business alone, in a turbulent period for equities, would put SLA's payout policy "under pressure", they wrote. The stock currently offers a 9% yield, though that number was helped by the fact that the share price fell faster than quarterly dividends were hiked.
Conversly, Rathbones closed 2018 on an overall positive note, as investment management inflows for the year totalled £1.45bn, up 60% from a year earlier. While the result was for the most part attributable to the acquisition of Scotland's Speirs & Jeffrey in the third quarter, which brought in £6.7bn in assets, organic new business was still positive, with investment management inflows up 26% to £1.1bn.
Still, the company did not escape the markets' volatility, and was down 8.3% to 2,342p by the end of 2018. The stock saw substantially higher volatility than FTSE 250 in the first three quarters, before aligning with the index and ultimately beating it in the last.
| | |
| --- | --- |
| Market cap | £1.23bn |
| PE ratio (TTM) | 19.29 |
| EPS (TTM) | 118.20 |
Rathbone Brothers stock vitals, Yahoo finance, as at 13 February 2019
The full-year results on 10 January revealed that assets under management did however decrease 6.8% between the third and fourth quarter, and the company forecast volatility to persist in 2019. Shares dropped 8% to 2,286p following the announcement, as Peel Hunt maintained the "buy" rating on the stock in response, but lowered its target price from 3,075p to 2,900p.
Analysts' forecasts for the brokerage is generally bullish for Rathbones: Shore Capital reiterated a "hold" rating, while RBC Capital Markets, which rates the stock "sector perform", cut its target from 2,800p to 2,400p on 21 January. Since the results were posted, the share price has been swinging between 2,400p and 2,280p.
Ashmore found itself under pressure over the past year as emerging markets (EM) equities – the focus of its investments – lost steam from the 2017's bull run. Its stock was rallying along with the MCSI Emerging Market index [MSCIEF] until late January, when the latter peaked at 1,232p, but was dragged down in the index's subsequent rout all the way to mid-August.
Market cap
£

2.80bn

PE ratio (TTM)
19.58
EPS (TTM)
21.30
Ashmore group stock vitals, Yahoo finance, as at 13 February 2019
Still, the share price pulled an impressive recovery over the past six months. While the MSCIEF closed 2018 down almost 17%, Ashmore's stock stopped short of a 12% drop at 365.6p, and actually managed to recover 8.6% in value from August's low of 337p. 
Management's efforts to offset volatility in EM were quantified in a 15 January trading statement – covering the three months to December – which showed assets under management rising by $300m to £76.7bn from the previous quarter. As the results came out, the MSCIEF was picking up pace again, and Ashmore's stock rallied 10.5% to 404p, coming full circle to January 2018's price.
"The reduction in Emerging Markets asset prices despite improving economic growth suggests underweight investors will continue increasing allocations to Emerging Markets, and a return to the positive market trends experienced in 2016 and 2017," Ashmore chief executive Mark Coombs said in the earnings statement.
For the new year, analysts are adopting a wait-and-see approach. Berenberg cut the stock from "buy" to "hold", and lowered the price target by 12p to 413p. Citigroup, meanwhile, is still to reverse December's downgrade from "neutral" to "sell". Among the more bullish forecasts is Peel Hunt's, which reiterated a "buy" in February.