With an intuitive interface and smart integrations, Shopify Inc. [SHOP] allows small businesses to quickly open an online shop in minutes. Today over 600,000 businesses use the platform to sell everything from toys to jewellery.
When it went public in 2015, shares in the Ottawa-based company started trading at $28, more than 60% higher than the initial offering price. By August last year, the share price had gained 500%, beating the 20% gains of the S&P 500.
 
But momentum has recently cooled. Once one of the most sought-after tech stocks out there – nearly quadrupling in value between 2016 and 2017 – it had slumped 28% earlier this month after hitting an all-time high of $173.78 in the summer.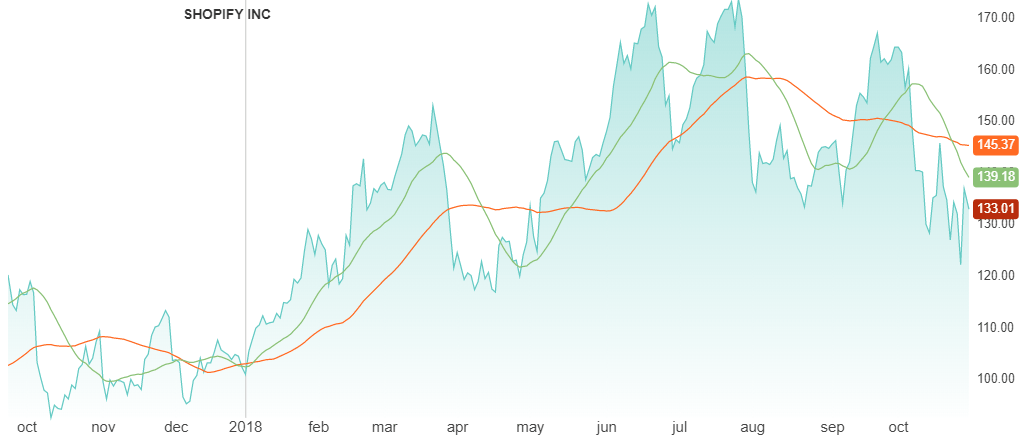 Source: NASDAQ interactive chart, as at 29 October
| | |
| --- | --- |
| Revenue percentage change, Q3 YoY | 89% |
| Earnings per share (EPS) percentage change, Q3 YoY | -20% |
| Performance YTD | 32.5% |
| Market cap | $14.2bn |
Source: Yahoo finance, as at 29 October
Setting up shop in new markets
One reason for the slump were second-quarter results that failed to impress investors, while investment in its merchant offering and international presence also took a toll.
Shopify has invested in expanding the sales channels available to merchants to include Google Pay, eBay [EBAY] and Amazon [AMZN]. An overhauled app store and forays into augmented reality continue efforts to further build engagement across devices and add to the top line.
Also cutting into the bottom line are the company's efforts to set up shop in non-English speaking countries. Currently being tested are localised versions of its platform in French, German, Japanese, Italian, Brazilian Portuguese and Spanish.
Not helping the share price is President Trump's threat to withdraw from the Universal Post Office Treaty, an agreement that lets Chinese companies ship small items to the US at a discount. A concern given that some of Shopify's customers will invariably rely on Chinese goods.
Shopify's earnings performance
 
Shopify has outperformed analysts' expectations for the past four quarters, with second-quarter results delivering adjusted earnings per share of $0.2, beating estimates by 4 cents. 
Before Thursday's Q3 announcement, the company had forecasted revenue of between $253 million to $257 million for the quarter, a 48% year-on-year growth. Analysts' expectations were a shade higher at $257.7 million, a 50% rise.
The results topped forecasts with $270.1 million in revenue, up 58% from the previous year. Quarterly earnings came in at $0.4 per share, surprising some analysts expecting a $0.4 loss. 
Operating losses, however, continued to grow, coming in at $31.1 million, up from the previous quarter and above the expected $24.4 million. 
Investors were looking for third-quarter results to more than beat expectations – after all, just because a company has had a decent quarter doesn' t necessarily mean investors are about to fill their boots.
By the end of trading Shopify's shares rallied over 12% on the day to close at $136.99, up 30% since the start of the year. However, it remains to seen whether this is a short-term pop in price or the start of a longer-term trend.

Where next for Shopify's share price?
A bigger presence in international markets could see Shopify further increase its customer base and share price. Despite being operational in 175 countries, the majority of merchants are still based in the US and Canada.
Other ventures, such as a move into bricks and mortar stores and the recent legalisation of cannabis in Canada – which has seen businesses choose Shopify to bag up online orders – could also propel the stock forward.
Shopify is expected to benefit from growth in global retail e-commerce sales, which are forecast to grow over 70% in the next three years. But even its own research shows that online sales represent just under 12% of the wider retail market. 
With the company now expecting full-year revenues of $1.05 billion to $1.06 billion, up from earlier guidance of $1.03 billion, easing the strain on profits could be key to maintaining momentum.