The Royal Bank of Scotland Group [RBS] has been a bank in transition throughout 2018 as it focused on settling historic legacy issues, returning to profit and restarting dividend payments. 
Despite efforts to remain attractive to investors and traders, the bank's share price has been on a downward trend since the beginning of 2018, falling by more than 28% by the close of the year from a high of 302.40p reached on 12 January, as Brexit turmoil and the risk of a UK recession took hold. 
However, as the positives of an important settlement reached last year and a reinstated dividend begin to sink in, its stock may be showing signs of a rebound. Its price has climbed near 5% since the start of 2019.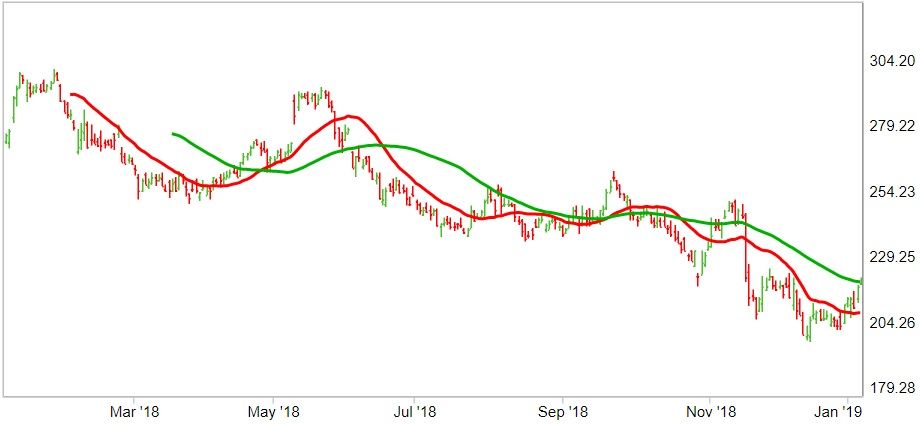 RBS share price performance, London Stock Exchange interactive chart, as at 8 January 2019
Ironing out legacy issues
RBS is nearing the end of a decade-long restructuring programme that has focused on growing its income, cutting costs, strengthening capital and resolving legacy issues. 
The bank reached a milestone in May 2018 when it agreed to pay $4.9bn to the US Department of Justice to settle the long-running investigation into mortgage-backed security mis-sellings, paving the way for the UK government to begin selling its 70% stake in the bank. The government has a 62% stake in the bank as of December 2018.  
"This marks a watershed for RBS – for as long as this investigation cast a pall over earnings and forecasts there was nowhere for investors to really go," Neil Wilson, chief analyst at Markets.com, told Reuters. 
Once the world's largest bank by assets, RBS has been involved in several other scandals since the financial crisis, including the mis-selling of payment protection insurance, its disgraced Global Restructuring Group and a proven systematic mistreatment of small businesses.
"This marks a watershed for RBS – for as long as this investigation cast a pall over earnings and forecasts there was nowhere for investors to really go" - Neil Wilson, chief analyst at Markets.com
The settlement also meant that RBS could confirm its first dividend payout since its near-collapse in March 2008, paying out an interim dividend of 2p per share on 12 October 2018. RBS is expected to set up dividend payments next year and a share buyback is also a possibility in 2019, according to analysts at Morgan Stanley.  
Brexit-proofing 
As the fourth largest bank in the UK, RBS has had Brexit contingency plans in place for some time and as market volatility has increased, the bank has begun to ramp up its plans.
After spending the past decade transforming itself into a smaller lender by closing operations in 41 countries to focus on the UK and Ireland, RBS is now seeking to cement its European foothold.  
In an effort to further ensure RBS maintains access to European markets, it applied for a German banking licence and confirmed plans to replace its existing Frankfurt branch with a newly licensed unit specifically for payments.
41 countries
Number of countries that RBS have closed operations in, with aim of focusing on UK and Ireland
RBS also lodged an application at Scotland's supreme civil court in December to move a third of its clients, £6bn worth of assets and £7bn in liabilities out of the UK to its new EU hub in Amsterdam, which would allow it to still serve its European customers even if the UK were to leave the EU without a deal.     
The court hearing to approve the UK bank's application is set for 22 February 2019. 
RBS's chief executive Ross McEwan has meanwhile expressed concerns about the outlook for the UK economy if it were to leave the EU without a deal. "We are assuming 1-1.5% growth for next year but if we get a bad Brexit then that could be zero or negative and that would affect our profitability and our share price," he told the BBC. 

Investment opportunity: stable income and strong capital   
While RBS isn't expected to release its financial earnings report for the year 2018 until 15 February 2019, its quarterly earnings results have reported a continued track record of stable income, stronger capital and lowering overheads. 
For the third quarter of 2018, RBS's income increased by 15.4% compared with the same quarter in 2017. Its tier one common capital ratio (CET1) of 16.7% increased by 60 basis points as a result of further deleveraging of risky assets, inciting hopes that the company can maintain a CET1 ratio in excess of its 13% target for 2020.
| | |
| --- | --- |
| Attributable profit % change, Q3 YoY | +14% |
| Performance YTD | 3.9% |
| Market cap | £27.27bn |
| PE Ratio (TTM) | 35.95 |
| EPS Ratio (TTM) | 6.30 |
RBS stock vitals, Yahoo finance, as at 8 January 2019
In addition, RBS continues to decrease its expenses by as much as 3.3% for the year-to-date through its growing transformation from physical to digital services, which has seen digital sales increase by 22% year-to-date. 
With the banking group forecasted to deliver a strong financial performance over the next couple of years, its dividend growth prospects are in turn expected to receive a boost. RBS has a forward annual yield of 1.87%, which is forecast to reach 6% in 2019. 
Can an end to scandals, a reinstated dividend and a solid Brexit plan be enough to improve investor and trader sentiment on RBS's stock?