Since being spun off from eBay [EBAY] in 2015, PayPal Holdings Inc [PYPL] has dominated the online payments space. 
During this time the company has managed to triple the gains of the S&P 500 as 250 million customers use the service to pay for goods, send money and even take out loans.
Growth has been spurred on by stellar earnings results and savvy strategic partnerships with Uber and Facebook [FB], while innovations like PayPal OneTouch have seen an increase in the active customer base and transaction volumes. 
Similar to internet heavyweights Amazon [AMZN] and Netflix [NFLX], PayPal enjoys "high and rising market share, untapped pricing power, and significant margin expansion" according to Third Point fund manager Daniel Loeb in a letter to investors. 
| | |
| --- | --- |
| Revenue percentage change, Q3 YoY | 14% |
| Earnings per share (EPS) percentage change, Q3 YoY | 17% |
| Performance YTD | 14.8% |
| Market cap | 100.20B |
| PE Ratio (TTM) | 50.42 |
Source: Yahoo finance, as at 19 October
A platform to do business
To keep momentum up PayPal has been making its business platform – which already has over 17 million users – more enticing through acquisitions.
Back in May, the company bought iZettle, which provides small businesses with tools to take cashless payments, for $2.2billion. This was followed by Hyperwallet for $400 million and fraud prevention provider Simility for $120 million.
Developing its merchant offering creates a self-perpetuating business model: the more businesses who provide PayPal as a payment option, the more transactions made by users.
The biggest threat to all this comes from eBay, which has started to replace PayPal with its own payment processing service in the US, with an expansion planned in 2019. PayPal will move to a 'lesser role' on the online marketplace in 2020.
Square [SQ], which allows small businesses to take card payments, has also been making moves into the world of digital payment platforms for customers, a serious challenge considering its large customer base. 

PayPal's market performance
Despite the robust growth, shares in PayPal have fallen almost 17% since September when the stock reached an all-time high of $92.33.
After Q2 earnings were announced in July, the share price fell by 4% in after-hours trading as revenue expectations for Q3 came in short of analyst expectations.
However, over a two-year period its stock has soared from $39 a share to $77, crushing the 13% industry growth rate. Most analysts that cover the stock rate it a 'Buy'; none rate it a 'Sell'.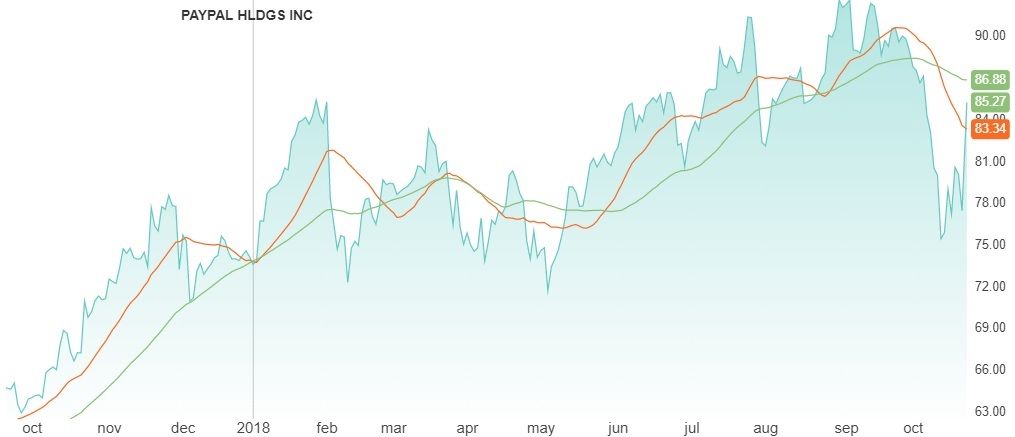 Source: NASDAQ interactive chart, as at 19 October
Coming into PayPal's Q3 earnings announcement on Thursday, analysts had predicted revenue to come in at $3.67 billion for the quarter, with adjusted earnings per share at 54 cents. 
PayPal outperformed these expectations. Revenue came in at $3.68 billion, up 14% for the quarter, while earnings per share was 58 cents. Payment volumes for its mobile payment platform Venmo jumped 78% to $17 billion. This was good news for PayPal, which has so far struggled to monetise the platform.
Buoyed by these results, it has upped its Q4 guidance from $4.19 billion to $4.27 billion.
In after-hours trading the stock climbed almost 7.5% at one point, to trade around $83.
PayPal's future post-Q3 earning results
Instinet's Bill Carcache has described the stock as an "oasis in a challenging market" and sees PayPal's ability to respond to customers and earnings performance as a sign of sustainable growth.
Strong earnings results may indicate that the recent dip in share price could be attributed to the wider sell-off in global markets, rather than an indication of flagging momentum within the company.
Upcoming plans to further monetise Venmo and a partnership with Walmart could stimulate upward movement in the share price – providing these initiatives don't eat into profit margins.
What looks to be certain is that we are moving to a cashless society, with online payments in the UK forecast to grow by 56% over the next decade. PayPal could be well-placed to capitalise.