For UK retailers, the tough times are showing no signs of abating. Stalwarts of the high street are undergoing company voluntary arrangements (Debenhams, New Look) or slow-moving turn-around plans (Marks and Spencer). Meanwhile, the FTSE 350 General Retailers index ended 2018 at its lowest level in six years, and is currently valued at 12% off its year-to-date high in April.
But despite the gloom, a handful of retail stocks have bucked the trend. Shares in Next [NXT], JD Sports [JD], Primark [ABF] and Zara [INDITEX] have grown in value in 2019. Next's share price, which closed 21 June trading at 5,624p, is up more than 32% on the beginning of the year and its P/E ratio of 12.66 – compared to industry average of 19.34 – suggests decent value relative to its peers. 
Rupert Hargreaves of Motley Fool described Next as "coping really well with the current retail environment". 
Full-price sales in the 13 weeks to 27 April – Next's Q1 for fiscal 2020 – were up 4.5% on the previous year. Next management is also planning a £300m share buyback this year and expects EPS growth of 3.4% on £4.35 for FY 2019.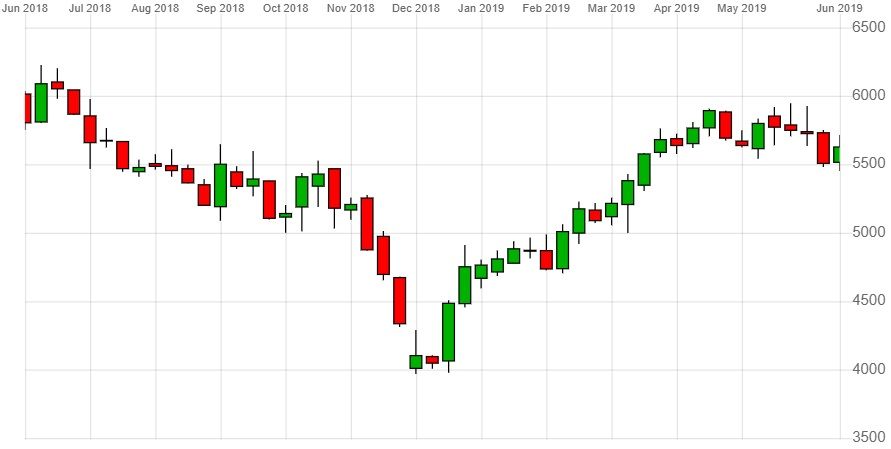 Next 1-year share price performance, CMC Markets, 26 June 2019
Success for sports retail and value apparel 
JD Sports is another company that continues to flourish in the current market. The firm reported revenue for the financial year ending 2 February 2019 of £4.72bn, growth of almost 50% on the previous year's income. Profits were also up for the year, growing 15% on the previous year. 
The sports apparel retailer's share price is up more than 67% since the start of the year, closing Friday 21 June at 583.60p. A key factor in the stock's favour is JD's growth potential in the US – the world's largest athleisure market – following its acquisition of American retailer Finish Line.
Market cap
£

5.65bn

PE ratio (TTM)
21.59
EPS (TTM)
26.90

Quarterly revenue growth

 

(YoY)

60.00%
JD Sports share price vitals, Yahoo finance, 26 June 2019
Similarly, value apparel retailer Primark is enjoying growth in both the US and Europe, which has helped boost revenue to £3.63bn and operating profit to £426m in the 24 weeks to 2 March 2019. Its sales accounted for almost half of owner Associated British Foods total revenue. 
The parent company's stock has gained some 19% since the start of the year, and analysts see it as a 'strong buy', thanks to its diversified portfolio. With a P/E ratio of 20.90, it could be a good value option in a beleaguered retail sector.
Zara weathers underperformance 
Zara parent company Inditex continues to grow revenues. Its full-year results, for the 12 months to 31 January 2019, saw sales of €26.1bn across its brands – an increase of 7%. Meanwhile net profit grew 2% to €3.4bn.
€3.4bn
Inditex's FY18 net profit
However, as the largest retailer in the world by foot print, with an estimated 7,500 stores worldwide, it has high overheads to manage and according to data from Refinitiv, its operating margins are falling – from 19.5% in 2013 to 16.7% in 2018. 
Morgan Stanley analysts dropped their price target for Inditex last August – to €21 from €26 – the first time they have ever rated the stock 'underperform'. The investment bank said the business is rapidly maturing, and financial performance is increasingly "ordinary."