After crushing it non-stop since 2015, fortunes for the FAANGs began to change in the second half of 2018, with Netflix [NFLX] the only one of the group to outperform as Facebook [FB] started the period losing 20% after a terrible earnings report, wiping $120bn off its market cap – the biggest one day loss of any company in US history. 
The F of the group was quickly followed by its AANG counterparts in the fourth quarter of the year, with all of them dropping dramatically. It meant that there was a huge number of US tech stocks that were able to step in and surpass the FAANGs, with two cloud computing firms – Twilio [TWLO] and Okta [OKTA] – taking the top two spots, with gains of 278.39% and 149.12%, respectively. 
Netflix was the only FAANG to make the 40 top-performing Russell 1000 stock-list, gaining 39.44% and placing number 31. Incredibly, hot on its heals was entertainment industry veteran Twenty-First Century Fox in the number 32 spot, up 39.36%.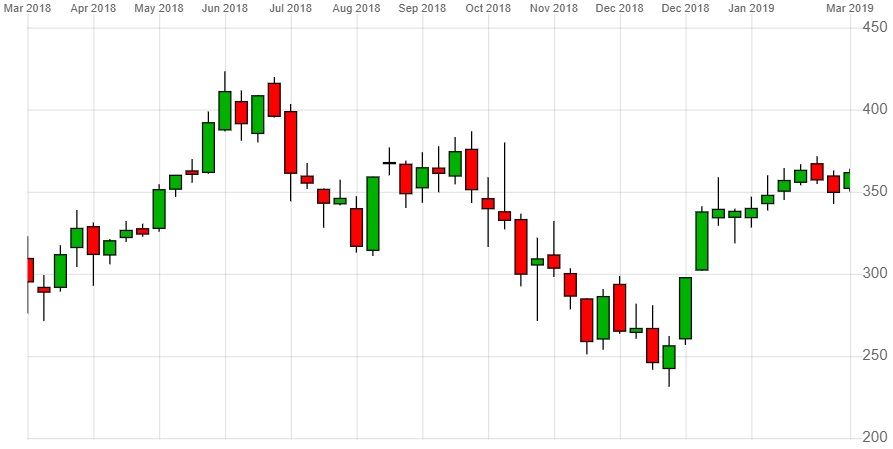 Netflix 1-year share price performance, CMC Markets, as at 21 March 2019
Out of the top 40, the majority of the companies came from either tech or healthcare. Heading up the healthcare stock top performers were DexCom [DXCM] and Abiomed [ABMD] which gained 108.75% and 96.14%.

After Netflix, the only other FAANG to see growth was Amazon [AMZN], up 28.43%. Google [GOOG], Apple [AAPL] and Facebook [FB] all ended the year down – by 1%, 6.7% and 25.7%.
Microsoft [MSFT] was able to beat rivals Apple and Google, gaining 18.74%, and has since been in a tight race with the pair, as well as Amazon, to be the highest valued company in the world. 
Other notable winners were Advanced Micro Devices [AMD], which despite plunging in October, still ended near 79.57% up, Square [SQ] which gained 61.78% and Zendesk [ZEN] which was up 72.5%. 
79.57%
AMD's share price increase in 2018
Outside of tech and healthcare, big consumer winners were Herbalife Nutrition [HLF], Advance Auto Parts [AAP], Lululemon [LULU] and Chipotle Mexican Grill [CMG], which gained 74.1%, 57.95%, 54.74% and 49.39%, respectively.