Morrisons [MRW] share price fell by more than 3% on 8 January after it warned of "changes in consumer behaviour during the [Christmas] period", despite reporting like-for-like sales growth for the fourth consecutive quarter.
The UK grocer's total sales rose by 4%, excluding fuel, for the nine weeks ending 6 January, and while its wholesale business contributed 3% – the bulk of the growth – to its total sales, it was still below forecasts, with the markets expecting gains of 3.6%.
| | |
| --- | --- |
| Market cap | $5.21bn |
| PE Ratio (TTM) | 21.83 |
| EPS (TTM) | 10.10 |
Morrisons stock vitals, Yahoo finance, as at 11 January 2019
Although it broadly beat analysts' expectations, the UK grocer's warning was seen as confirmation that discount supermarkets such as Aldi and Lidl are continuing to corner the market, after achieving 9.4% and 10.4% sales growth respectively for the 12 weeks ending 30 December.
Chief executive David Potts meanwhile told reporters on a conference call that customer feedback had indicated a more cautious and careful sentiment towards spending because of Brexit uncertainty.  
Morrisons, the fourth biggest grocer in the UK, has left its outlook for the full year unchanged, with Potts reassuring investors and traders that the company was "well set to keep improving the shopping trip and become more and more relevant for more customers".
While tough competition and Brexit uncertainty are taking their toll on the company's share price, which is down 20% in the last four months, Morrisons looks to have a solid business strategy in place.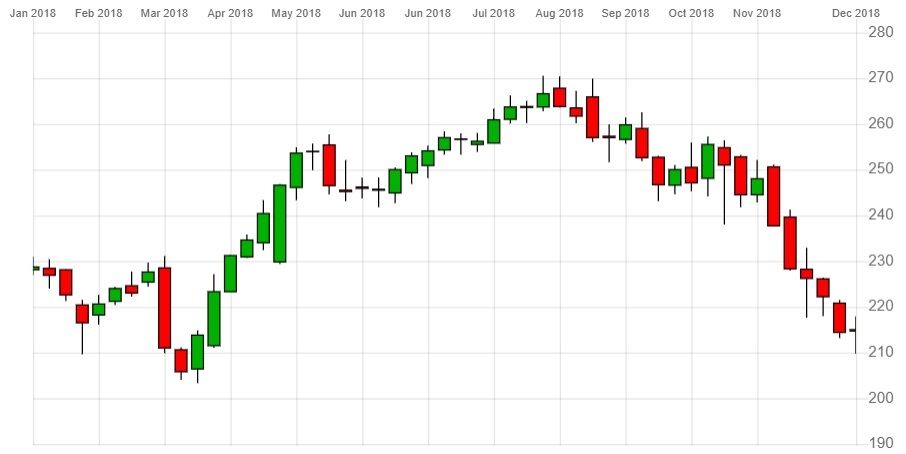 Powered by CMC Markets, as at 11 January 2019
In an effort to realign its core business, the retailer is focusing on growing its wholesale arm as it looks to become a major food supplier. It's also investing heavily into a new loyalty scheme and is increasing staff pay. 
As for Brexit, Potts said the company was "working with strategic partners in logistics and our suppliers, [and] they are making what plans they can".
"working with strategic partners in logistics and our suppliers, [and] they are making what plans they can" - Morrisons CEO David Potts on the company's plans for Brexit
Robert Stephens, equity analyst at Stephens Ventures, believes Morrisons' share price has optimistic long-term prospects, but he "feels that volatility may be high in the near time".  
Sainsbury's [SBRY] meanwhile reported a 0.4% fall in total sales for the 15 weeks ending 5 January and Tesco [TSCO] is expected to release its financial report for the same period on 10 January, while Asda will update sometime in February.