Microsoft's [MSFT] share price jumped 19% last year thanks, in part, to the success of its cloud computing and gaming businesses. While last week's second-quarter earnings narrowly missed analyst expectations, they reflect the growing importance of these areas to Microsoft's bottom line.
Tech investors have taken notice. In 2018, the stock was one of the top five components of the Dow Jones Industrial Average. November also saw Microsoft overtake Apple as the most-valuable company by market cap, before being overtaken in January by Amazon. This year, the company's share price has edged higher to the $102 level, up 8.5% from the same time last year.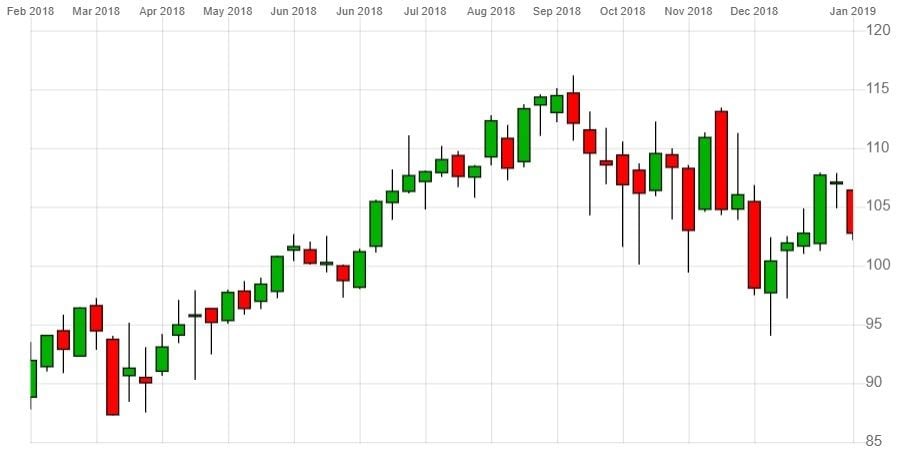 Powered by CMC Markets, as at 4 February 2019
What happened in Microsoft's recent earnings announcement?
Analyst expectations were smashed in the first-quarter of the year when the company reported revenue of $29bn, up 19% from the previous year. Net income of $8.8bn and a $1.14 diluted EPS also beat expectations. Coming into Wednesday's second-quarter announcement, analysts were expecting revenue of $34.44bn, up from $28.92bn a year ago. Earnings per share was pegged at $1.09, up from 96 cents last year.
Unfortunately, Microsoft wasn't able to repeat the previous quarter's performance. While $1.10 earnings per share were slightly above expectations, revenues of $32.47bn missed forecasts. In its More Personal Computing division – which includes search advertising, Xbox and Windows – Microsoft saw $12.99bn in revenue, missing Wall Street's $13.08bn consensus.
Gaming continues to be an important area for the company with December seeing 64 million monthly active Xbox Live users, up from 57 million in September.
7million
Increase in monthly active Xbox live users since September last year
Microsoft closes cloud computing deals
Microsoft has recently sought to expand its cloud business by joining forces with Walgreens Boots Alliance [WBA]. The deal will see Microsoft migrate the healthcare provider's IT infrastructure to the cloud and see the two companies collaborate on digital health solutions, including 12 in-store digital health corners. With rival Amazon also making inroads into the online healthcare market with the purchase of internet-based pharmacy PillPack, it looks like Microsoft doesn't want to get left behind.
The Walgreens deal was quickly followed by one with Albertson Cross. The three-year agreement saw the grocer pick Microsoft over Amazon – who own competitor Whole Foods – for its cloud computing and ecommerce needs.
Gaming business continues to grow
Growing Xbox One sales and digital downloads powered Microsoft's gaming business to an 8% jump in revenue in the most recent quarter. The personal computing division, which includes Xbox, is now the company's biggest business segment, contributing almost $13bn in revenue, up 7% from the previous quarter.
8%
Jump in fiscal Q2 revenue for Microsoft's gaming business
After Xbox One's sluggish release, Microsoft have now shifted over 41 million consoles, according to Niko Partners' analyst Daniel Ahmad. While this is some way off sales of rival Sony's PlayStation 4, hardware sales have continued to grow thanks to the release of the Xbox One X. This increases an already sizable customer base, which Microsoft can tap for digital sales and Xbox Live subscriptions across a digital eco-system that includes consoles, phones and Windows 10 PCs.
What's the opportunity in Microsoft's share price?
Microsoft's stock has doubled in the past two years, outperforming the S&P 500's 42% gain. However, its forward PE of 20.83 is expensive compared to rival IBM's 9.50. Big Blue – which is also moving into cloud computing – offers a dividend yield of 4.7% from $12.7bn in free cash; Microsoft is lower at 1.72% from $32bn in free cash flow.
| | |
| --- | --- |
| Fiscal Q2 revenue, % change YoY | +12% |
| Market cap | $789.09bn |
| PE ratio (TTM) | 23.84 |
| EPS (TTM) | 4.31 |
Microsoft stock vitals, Yahoo finance, as at 4 February 2019
Moves into cloud computing and gaming have continued to drive revenue and could continue to send the share price higher. Amazon's dominant position in cloud computing – where it accounts for over 50% of market share – might mean that Microsoft will have to be content for second place for some time, yet that's still a highly lucrative position. On the gaming front, next year sees Microsoft launch streaming service Project xCloud as it seeks to compete with Google and Amazon in offering gamers a Netflix of gaming. With a pre-existing customer base through Xbox Live subscriptions, Microsoft should hope to capitalise.