For Lloyds Banking Group [LLOY], it seems that once one controversy goes, in comes another.
Just as Britain's biggest consumer lender was about to draw a line under the PPI scandal – which has seen costs grow to a total of £19.4bn after the bank set aside an extra £750m last year – allowing investors to look forward to a quarterly report free of unexpected charges, the bank could again be on the hook for compensatory payouts.
On Friday, MarketWatch revealed that the lender would payback millions to customers who, over seven years, were not informed of lowered interest rates due to an administrative error that caused savers to miss out on millions of pounds. The interest payment mistake comes just a few days before Lloyds is due to report Q1 results on 2 May, leaving little time to organise a response before facing analysts. Questions are also likely to revolve around Lloyds' defeat in court at the hands of Standard Life Aberdeen [SLA].
Lloyds' stock, which rebounded 22.5% through January and February, has shown renewed signs of volatility over the past 60 days. The share price touched 66.57p on 17 April – a level that was last seen in May 2018 – but subsequently went into freefall, closing at 63p last Friday.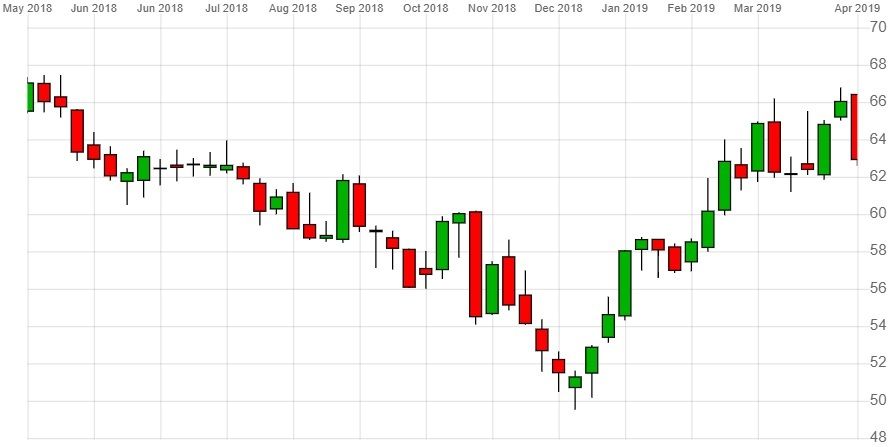 Lloyds 1-year share price performance, CMC Markets, 30 April 2019
Interest rates blunder
As revealed by MarketWatch, Lloyds, Halifax and Royal Bank of Scotland [RBS] are in the process of paying back up to 200,000 customers who, since 2012, did not receive a notice that the interest rates on their accounts would be slashed. Compensation could cost the banking group some £6m, according to a spokesperson from Lloyds Banking Group. "If we had sent this information to you at the time, you may have chosen to put your money in a different savings account. I'm sorry this happened," an email sent to customers reportedly read.
The article stated that the Financial Conduct Authority had been informed. While there has been no talk of fines or enforcement by regulators, the case leaves a blemish on chief executive António Horta-Osório's funding strategy. IG Group's Chris Beauchamp noted that the bank has cut interest expenses on deposits by 60% since 2014, as customers moved from savings accounts to current accounts, which pay lower rates. This, in turn, allowed the bank to grow their net interest margin, which it expects to be around 2.9% this year.
Market cap
£

45.01bn

PE ratio (TTM)
11.55
EPS (TTM)
5.50

Operating margin

 

(TTM)

34.59%
Lloyds stock vitals, Yahoo finance, 30 April 2019
"A bit of mix and match"
Another strain on Lloyds' Q1 results could stem from its defeat in the legal showdown with Standard Life Aberdeen [SLA]. Lloyds had argued that the £11bn merger of Standard Life and Aberdeen Asset Management to form SLA in 2017 allowed it to end a £100bn investment management contract early because it considered Standard Life a "material competitor". Lloyds contested that the tie-up created a rival to its own insurance business and in February 2018 gave notice to terminate the contract. The matter escalated and eventually ended in court where SLA prevailed.
Amid the dispute, Lloyds announced plans to launch a financial planning joint venture with Schroders dubbed Schroders Personal Wealth and last week unveiled the executive team for the venture. 
The partnership had enthused analysts on announcement, but its launch now risks being marred by a "break fee" charge to SLA, over the £100bn Scottish Widows mandate, which could be as high as £250m, according to an analyst note from Jefferies. "A quick calculation of the possible value of the fees on the SWIP [Scottish Widows Investment Partnership] assets (assuming £100 billion at 11 basis points per annum) shows that this seems like a reasonable number," the note said.
Analysts will likely want to know whether Lloyds intends to wait until the end of the original Aberdeen contract in 2022 to move assets or as Hargreaves Lansdown analyst Laith Khalaf put it "there could even be a bit of mix and match". "To release some assets to get its joint venture with Schroders up and running, while leaving some funds with Standard Life Aberdeen," Khalaf wrote. 
"There could even be a bit of mix and match... To release some assets to get its joint venture with Schroders up and running, while leaving some funds with Standard Life Aberdeen" - Hargreaves Lansdown analyst Laith Khalaf
Brexit jitters
Finally, analysts will be interested to see whether Horta-Osorio is still as bullish on the UK economy's post-Brexit future, after Royal Bank of Scotland CEO Ross McEwan linked a decline in Q1 profit to Brexit uncertainty last week, referencing an "associated delay in business borrowing decisions".
"Lloyds looks better-placed than others to weather a downturn," wrote IG's Beauchamp, noting that low loan-to-value ratios and high credit quality in mortgages and credit cards. While UBS predicts that the bank will return dividends and share buybacks worth 8-9% of market capitalisation this year, shareholders will be keen to know if they can rest easy on the dividend front or if they should wait another couple of quarters.