Even amid the FTSE 100's miraculous rebound since the start of 2019, Lloyds [LLOY] is the winner most wouldn't have expected. Here is a stock that fell 34% to 47.5p in the two weeks following the 2016 Brexit vote; climbed back to pre-referendum levels within a year; and virtually lost all gains within the next year and a half, closing 2018 at 51.85p.
Fast-forward to the present day, and that roller coaster may as well have never happened: Lloyds' stock is up 25% since the start of this year, and while the share price hasn't moved much over the past month, it's been reliably stable around 63p.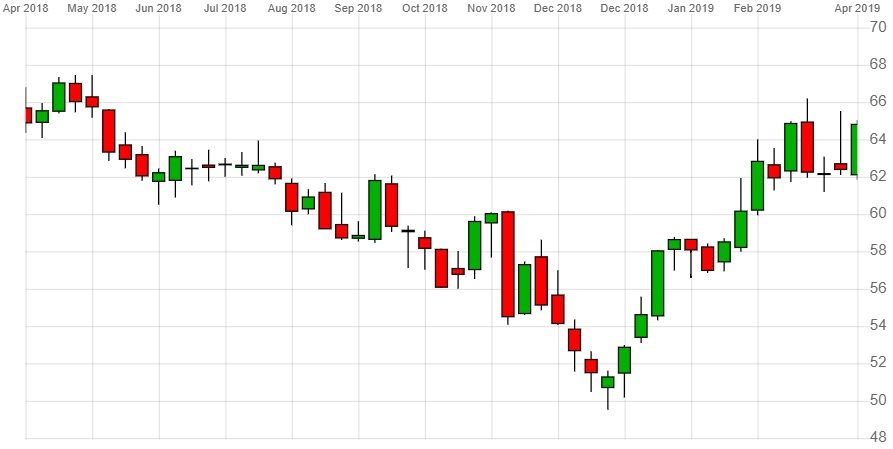 Lloyds 1-year share price performance, CMC Markets, 16 April 2019
Chief executive Antonio Hórta-Osório has made some fairly optimistic statements on the British economy's – and by proxy, Lloyds' – post-Brexit resilience, and analysts' consensus is that Lloyds' stock has been pushed well below what would have been a reasonably-discounted price, even when factoring in macroeconomic risks. At a paltry 11.95 P/E ratio, Lloyds trades well below Barclays's 17.55 and RBS's 18.98. As the Brexit endgame nears, how safe is Lloyds' ticker?
Too exposed to go unscathed?
The vast majority of Lloyds' books is made up of mortgages, personal loans, vehicle finance and credit cards – the kind of consumer lending that could rapidly turn sour if the economy materially deteriorates and unemployment rises. And sure enough, Lloyds scored pretty badly in the Bank of England's stress test last November, which explicitly incorporated the effects of a no-deal Brexit.
But in a January interview with CNBC, Horta-Osório downplayed the result as being the consequence of "the most severe stress test over the last few years" – implying that if the bank's capital buffer could withstand such a test, it was as prepared as it could be.  "We passed – under draconian assumptions," he said.
"We passed – under draconian assumptions" - Lloyds CEO Horta-Osório, on the bank's November stress test result
Morningstar analyst Derya Guzel wrote in an October 2018 note that even amid a slowdown in GDP growth, Lloyds' annual return on equity would still grow to an average 10% in the 2018-2022 period. (It was 7.21% in 2017 and 8.04% in 2018.) Should GDP actually shrink and Britain descend into recession – as the IMF said it would in the event of a "hard" Brexit – things at Lloyds would certainly get hairier.
But whereas an economic downturn is, for the moment, just one possible scenario, UK stocks such as Lloyds and peers' are already priced for the worst – unreasonably so, say some investors. "The UK market is trading, we believe, at the type of rating and yield that you see in a recession," Andrew Impey, director at OLIM Investment Managers, told Morningstar earlier this week. 
10%
Estimated annual return on equity for the 2018-2022 period
Braced for whatever may come?
Britain unilaterally leaving the world's biggest trading bloc is probably not the kind of contingency the BoE had in mind as it increasingly tightened banks' capital buffer requirements throughout the 2010s. But if worse comes to worst, and Brexit does impact Britain's GDP heavily, banks and their investors will be glad they prepared.
"Time was when we wouldn't touch large-cap UK banks with the proverbial ten-foot barge pole," Jamie Clark, co-manager at the
Liontrust Macro Equity Income fund, wrote in a guest post for Interactive Investor last week. He's referring to the immediate aftermath of the financial crisis, when "wafer-thin" buffers quickly evaporated, and the full extent of loan deterioration was still to manifest.
Market cap
£

46.68bn

PE ratio (TTM)
11.95
EPS (TTM)
5.50

Operating margin

 

(TTM)

34.59%
Lloyds stock vitals, Yahoo finance, as at 16 April 2019
The position of British banks today, however, is another story: "Balance sheets are smaller and less geared, capital cushions are more robust, loan funding is more sustainable and surplus capital is now returned to shareholders," Clark wrote.
Not everyone is a bull. In December, The Mail on Sunday reported that Steve Eisman's hedge fund at Neuberger Berman was shorting Lloyds, along with a bunch of other UK banks. In general, bears point to the risk inherent in a UK-focused retail bank, and to never-ending regulatory run-ins: no sooner had Horta-Osório drawn a line under PPI redress payouts, that earlier this week MPs accused him and other executives of obstructing an investigation into small business fraud at HBOS Reading.
Still, the general impression is that after a decade-long struggle to win back investors' confidence, it's going to take more than doomy forecasts to make Lloyds' board walk back on its bullish dividend policy. As Clark put it in his post: "The Brexit discount is offering us a margin of safety that's too good to miss."