Lloyds [LLOY] Q1 results came in relatively flat, as one-off costs saw it miss analyst expectations despite a rise in underlying profit.
Lloyds share price was flat as total revenue came in at £4.4 billion, up 2% year-on-year but below the £4.6 billion forecast by the City. Profit after tax of £1.2 billion also missed analyst predictions of £1.39 billion. Underlying profit came in at £2.2 billion, up 8% on the previous quarter. Lloyds cited lower operating costs and a bump in net income as reasons for the gain. In total, costs fell 4% to £1.98 million reflecting a focus on cutting expenses.
Earnings per share were 1.49p, up 2% from the previous quarter.
Market cap
£

44.59bn

PE ratio (TTM)
11.45
EPS (TTM)
5.50

Price/book

 

(MRQ)

88.54
Lloyds share price vitals, Yahoo finance, 03 May 2019
"In the first three months of 2019 we have again delivered a strong business performance with continued strategic progress, increased statutory and underlying profit and strong financial returns," Lloyds chief Antonio Horta-Osorio commented on the results.
Horta-Osorio pointed to Brexit uncertainty for the mixed results, stressing that the bank's efficiencies should see shareholder returns in the long run.

The results follow lacklustre Q1 performances from Barclays [BARC] and Royal Bank of Scotland [RBS]. Both of whom also referenced Brexit as a reason for slowing growth.
By the end of trading, Lloyds share price was relatively unchanged, down 1.26% to trade at 62.80.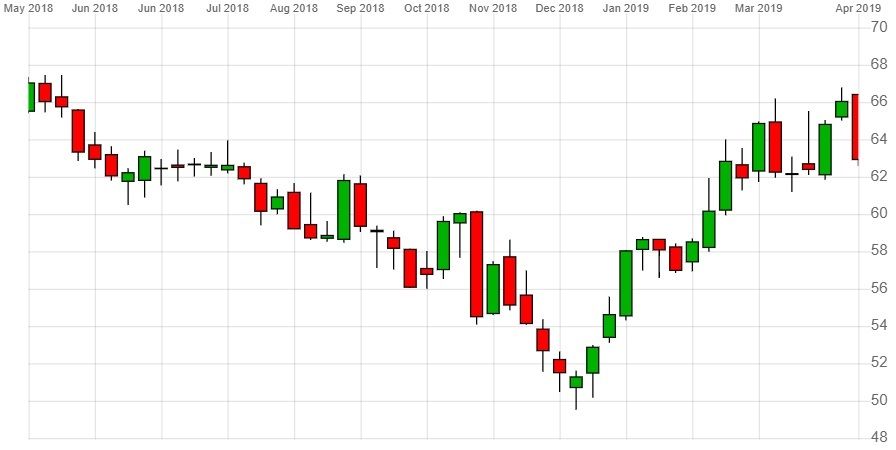 Lloyds 1-year share price performance, CMC Markets, 03 May 2019
Margins maintained, but one-off costs hurt revenue
Over the past five years, Lloyds has cut the interest expense on its deposits by 62% to help protect profits. Lloyds has achieved this by shunting customers from saving accounts to lower interest rate current accounts. This continued in Q1 with deposits held in retail savings accounts dropping, while current account holdings gained 2%.
It's a solid strategy. With interest rates unlikely to rise anytime soon, lowering costs while maintaining margins has helped preserve profits.
This was in evidence when Lloyds' net interest margin came in at 2.91%, a drop of just 1 basis point from the last quarter. Rivals Barclays and Royal Bank of Scotland saw much steeper falls in their Q1 results. Lloyds also reduced restructuring costs by 9% to £126 million. All contributing to a solid balance sheet.
9%
Reduction in restructuring costs
Despite the cost cutting, some one-off charges kept profits down. Among these was a £339 million charge for "volatility and other items", which included the estimated 'break fee' it will have to pay Standard Life Aberdeen after having pulled £100bn of its funds from the asset manager, on competition grounds, prior to the conclusion of their contract.
£100 million in PPI compensation also hurt. Triggering this was a last minute rush to get complaints in before the August 2019 deadline. The bank also had to take on more staff to deal with complaints.
All told, these costs contributed to Lloyds missing analyst revenue targets this quarter. 
Outlook for 2019
Among UK banking stocks, Lloyds seems to have found favour in 2019. Since the start of the year, the share price has climbed over 23%, outpacing both Royal Bank of Scotland (9%) and Barclays (9%). Although the stock still has a long way to get back to the levels seen in early December. 
23%
Lloyds share price increase year-to-date
Among analysts, the average price target on Yahoo! Finance is 75.37p, which would represent a significant 20% upside on the current share price.
Denting hopes of increased profits this year is the expectation that the Bank of England won't be hiking interest rates any time soon. Something that Chief Financial Officer George Culmer has come to terms with:
"Our planning assumption was that we expected a rate rise towards the back end of this year. The market is now pushing that out further into next year and beyond."
Then there's Brexit uncertainty which continues to be an existential threat weighing on the UK banking sector. But, for the time being at least, Lloyds is optimistic about its future having reaffirmed its guidance for full year results in the earnings announcement.