Since its 2019 peak of 66.57p on 17 April, Lloyds' [LLOY] share price has been on a downward trend – even though the bank has been putting in a better performance than other top UK and European banking firms. 
But while it may have dropped by 13% since its peak, overall in 2019 the share price's value has increased by 13.9%, as of 19 June. Over the same time period, HSBC [HSBA] has dropped by 0.58%, Santander [SAN] by 0.5% and Deutsche Bank's [DBK] share price is down by a significant 14.5%. BNP Paribas [BNP] stock has gained by 4.3%, still trailing behind Lloyds, while Barclays' [BARC] shares remains pretty much where they started the year. 
The bank is also outperforming competitors in regards to return on equity, with the firm's shares supporting a 9% ROE, compared to Santander's 8.48%, BNP Paribas's 7.74%, Deutsche Bank's 0.62%, HSBC's 8.1% and Barclays' 6.5%.
Nonetheless, analysts at HSBC and Barclays have revised Lloyds' share price target downwards this month. On 13 June, HSBC moved Lloyds' target from 59p to 58p, while Barclays trimmed its target price from 85p to 80p.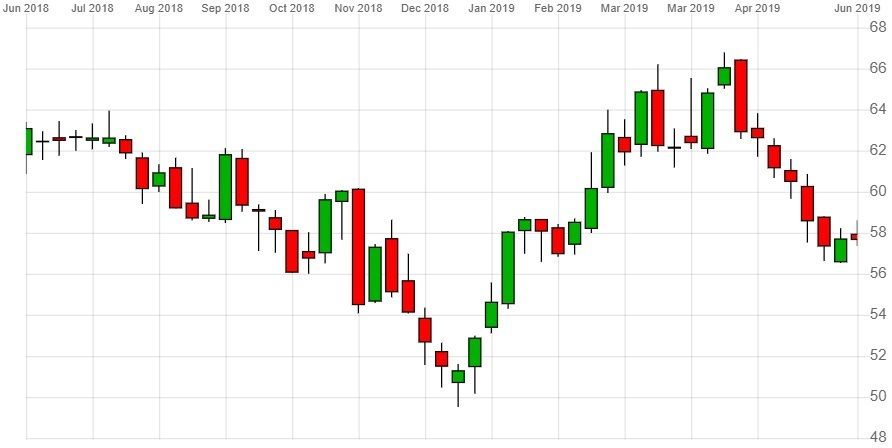 Lloyds' 1-year share price performance, CMC Markets, 19 June 2019
A struggling banking sector
Lloyds' depressed valuations may be down to the wider struggles in the world's banking sector. The UK in particular has had a tough time since the 2008 financial crash and is now facing new pressures as firms prepare to repay bailouts from the Bank of England. The sector is also facing subdued mortgage volumes due to Brexit uncertainty. 
In a note to clients, HSBC analysts said: "We are concerned that we could be on the cusp of a shift here, not least because the banks will need to begin repaying the BoE shortly as facilities mature."
Lloyds wasn't the only one to have its valuation given a dressing down by analysts. HSBC also reduced targets for RBS [RBS] and Barclays. Both banks remained a "buy" with their targets cut to 260p and 220p, respectively, down from 270p and 240p.
Brexit worries are priced in
Since Lloyds' financials are in good health, its dipping share price could also suggest the market is pricing in the impact of a potentially chaotic Brexit. 
In February, the bank posted a 24% rise in post-tax profits for FY 2018, while net income rose 2% to £17.8bn. This was followed by a proposal to boost its dividend by 5% to 3.21p per share and a buyback scheme up to £1.75bn. 
Earnings grew by 52% in 2017; 25% in 2018; and the firm foresees a 38% growth in 2019. Despite this, its forward P/E is in single figures at 7.67, lagging well behind the current industry average of 18.78.
24%
Lloyds' increase in post-tax profits for FY 2018
Writing on Motley Fool, Harvey Jones (who considers Lloyds a "buy") says this lack of confidence is largely due to the fact that Brexit worry has been priced in on valuations. The bank's performance is likely to suffer if there is a no-deal Brexit, or a global recession takes hold. 
In the past few years, Lloyds has proven that it can be resilient in tough market conditions, but its UK focus and reliance on the mortgage sector could see it face some difficulties in the near future.
A "buy" consensus
While analysts remain cautious on the bank, it has a consensus rating of "buy" and an average price target of 71.06p, a potential 22% upside on its price of 58.07 at the start of this week.
Market cap
£

41.53bn

PE ratio (TTM)
10.68
EPS (TTM)
5.50

Quarterly earnings growth

 

(YoY)

2.50%
Lloyds share price vitals, Yahoo finance, 19 June 2019
Earlier in June, Morgan Stanley – which also lowered Lloyds' target price to 70p from 78p – said the bank remains the most profitable in the UK and Europe. Additionally, and despite its downward revision, it said the bank is a top pick and thinks its valuation is "compelling".
Motley Fool writer Roland Head also said that Lloyds is a stock he'd be happy to buy and hold for life.
"At the time of writing, the bank's stock was trading on 7.3 times 2019 forecast earnings and at a premium of about 10% to its tangible net asset value of 53.4p. For a profitable, dividend-paying bank, I don't think that's expensive," he explains. As analysts shy away from Lloyds, those who are willing to take a chance on the banking stock may be rewarded.