Lloyds Banking Group [LLOY] is as vanilla as UK banks get. It doesn't have the capital markets business of Barclays, the global reach of HSBC or the sprawling legacy of RBS. Over half of its 2018 total £17.7bn revenue came from retail products like credit cards, personal loans, car finance and mortgages, and its brand image is still arguably associated with sleepy high-street branches and saccharine messaging of its television commercials.
Chief executive António Horta-Osório wants to leave all that behind. The £3bn digital investment programme, launched in February 2018, aims to counteract the fintech threat while also significantly reduce operating costs – to under £8bn by this year. The benefits are already showing up in the bank's bottom line: EPS were up 27% to 5.5p in 2018. And while that was below analysts' expectations, Horta-Osório's introduction of a share buyback scheme, along with a dividend hike, more than pleased shareholders; Lloyds' stock is currently up 25% since December.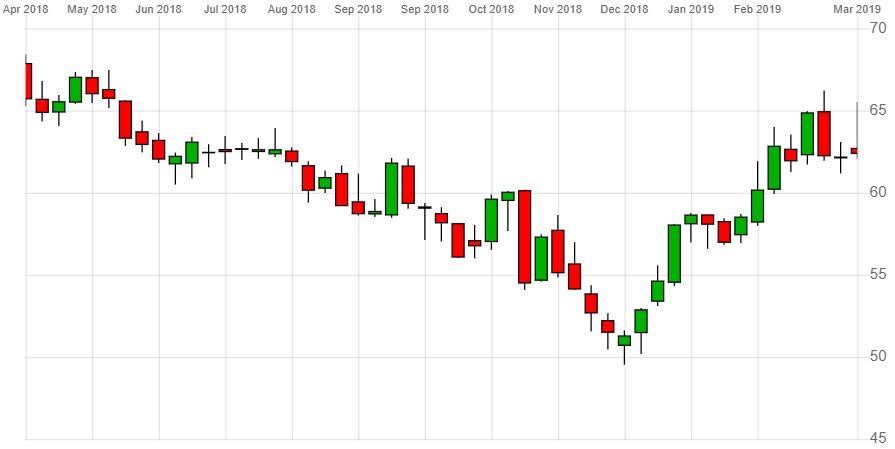 Lloyds 1-year share price performance, CMC Markets, as at 8 April 2019
The country's "biggest digital bank"
Lloyds already claims to be the biggest digital bank in the UK with 15.7m "digitally active" customers, and Horta-Osório says as much as two-thirds of banking products now begin with digital applications, – up from just 7% in 2014. Like other high-street banks, Lloyds has been under scrutiny from customers and policymakers alike for closing hundreds of branches throughout the country. That one of the country's biggest retail banks is managing to hold onto market share while virtualising interactions with customers has been a vindication of Horta-Osório's substantial investment programme, which began when he took on the CEO role in 2011.
Some of Lloyds' touted innovations are hardly ground-breaking though; features like spending notifications or alerts of higher upcoming bills have long been standard for online-only banking startups like Monzo, Starling and Revolut. But they do help cultivate Lloyds' image as a "bank that cares", at a time when regulators' scrutiny of hidden charges is high. When, at the end of February, Parliament's Treasury Committee criticised Lloyds' overhauled "tiered" overdraft fees, investors were so spooked by the prospect of intervention that the share price plummeted 2.5% over the following week.
2/3
Proportion of Lloyds banking products that now begin with digital applications
However, Lloyds knows it has an opportunity to be a one-stop shop, thanks to the breadth of retail products it offers, and its mobile app now allows customers to connect bank accounts from other providers – making it the destination for customers to get an overall snapshot of their finances. 
The bank is also betting big on automation, from machine learning in chatbots to automated credit decisions. Regulators will be keeping a close eye on any new features that involve algorithms and de-personalisation.
Investors start seeing the windfall
So does this emphasis on digitisation actually lead to freer capital for payouts? Luckily for shareholders, Horta-Osório has remained committed to dividends – thought he reiterated they would be reassessed on a yearly basis. Total dividends for 2018 increased 5% to 3.21p per share – on top of the previously announced £1.75bn share buyback programme, which the board intends to complete this year. Even at its year-to-date high of 65p, the share price is still well below analysts' average price target of 75p.
Market cap
£

44.60bn

PE ratio (TTM)
11.40
EPS (TTM)
5.50

Operating margin

 

(TTM)

34.59%
Lloyds stock vitals, Yahoo finance, as at 8 April 2019
"Only the banks that are able to ramp up [digital] investment producing benefits for customers – only the ones that are able to decrease BAU [business-as-usual] costs accordingly will be able to keep decent returns for shareholders. Otherwise one of the two has to give in," Horta-Osório told analysts on the 20 February earnings call. "We have been able to be doing the two."