The looming prospect of a no-deal Brexit has seen a host of British companies apply for regulatory approval within the EU in order to continue serving their European customers. Until now, the bank's Berlin office has run on a standard passporting licence, which it stands to lose if Britain leaves the EU. To change the Berlin office status from branch to full subsidiary, Lloyds [LLOY] will need to bolster the unit's capital by a few hundred million.
Investors and shareholders alike will be looking for the bank to proactively protect and sustain its ability to serve customers from the Bloc, so with licences for its Frankfurt and Luxembourg offices also pending, could improved market sentiment incite a surge in the company's share price?
How has Lloyds share price performed recently?
In 2018, Lloyds share price fell almost 24% on the back of Brexit turbulence that engulfed all of the UK's big banks. December was particularly painful, with the share price hitting a five-year low of 50.03p following Teresa May's decision to delay a vote on her exit deal.
However, analysts have suggested that December's falls could mean that a no-deal or hard Brexit scenario is now priced into the share price, with the stock having climbed over 13% since the start of 2019. Even when the rescheduled vote took place, the stock edged slightly higher.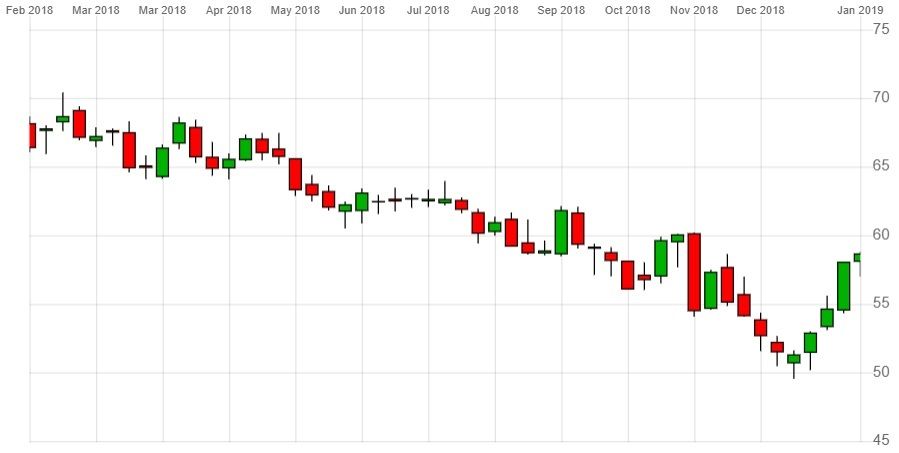 Powered by CMC Markets, as at 29 January 2019
Will the Bank of England finally hike interest rates?
It has been rumoured that the Bank of England will raise interest rates in May once the UK has left the EU. Although in the current political climate it remains unclear whether the UK will have actually exited the EU by then. Back in December, the Bank of England kept interest rates unchanged at 0.75% as inflation dropped to a near two-year low and the retail price index fell from 3.2% to 2.7%.
Any rise in interest rates would make mortgages more expensive. With the housing market currently subdued, banks are unlikely to be in favour of anything that affects sales. Conversely, no hike will weigh on long-term profitability for the likes of Lloyds, whose mortgages depend on decent interest rates to turn a profit. Right now, investors have adopted a position very similar to the BoE on this one: 'wait and see'.
End of the Brexit discount?
Shares in UK banks experienced drops of between 15% and 26% last year as Brexit weighed on investor sentiment. Despite these losses, UK-focused banks like Lloyds experienced more stable customer net interest rates and stronger fundamental news than their Eurozone counterparts. Deutsche Bank has taken notice, rising its price for UK bank equities by 1%, signalling that there could be more demand for UK banking stocks in 2019. In a recent interview, Simon Raedler, head of European equity strategy at Deutsche, told Bloomberg that he expects to see a 20% upside for UK stocks if there is a soft Brexit.
20%
Simon Raedler's, head of European equity strategy at Deutsche, prediction for the potential upside for UK stocks in the event of a soft Brexit
Mooted share buyback
Despite the economic and political uncertainty, Lloyds is expected to announce a £1.5bn share buyback in 2019. Usually investors look out for buybacks as a sign that a company is confident its own stock will rise. Certainly, recent results for Lloyds have been strong, with the bank delivering a pre-tax profit of £1.8bn in its most recent quarter. Whether this will be enough to sway investors concerned with a slowing economy, political turmoil and global trade woes is up for debate.
Is there opportunity in Lloyds share price?
| | |
| --- | --- |
| Net income Q3 2018, % change YoY | +2% |
| Market cap | £40.68bn |
| PE Ratio (TTM) | 10.03 |
| EPS (TTM) | 5.70 |
Lloyds stock vitals, Yahoo finance, as at 29 January 2019
This month JP Morgan Chase upped its target price for Lloyds stock to 85p. Jefferies Financial Group was even more optimistic, raising their target price from 91p to 99p. For the more value-minded investor, shares in Lloyds come with a dividend of 5.8% - above the FTSE 100 average of 4.8% - and a price to earnings multiple of 9.85. At the stock's current price, it could represent a bargain, especially if the effects of Brexit have genuinely been priced in and there is an upswing in sentiment when the terms of the UK's departure from the EU have been confirmed.