Legal and General [LGEN] beat analysts' expectations by a long shot in its 2018 results. Assets under management broke the £1tn milestone, up 3% from £983bn in 2017 to £1.015bn, following the group reporting net inflows of £42.6bn for the year. 
Market cap
£

15.97bn

PE ratio (TTM)
8.79
EPS (TTM)
30.60
Return on equity (TTM)
21.05%
LGEN stock vitals, Yahoo finance, as at 8 March 2019
Total gross written premiums were also up 3% at £2.62bn, as was pre-tax and operating profit, rising 1.8% to £2.13bn and 10% to £1.9bn respectively.  
Despite 2018's political uncertainty, the asset market's decline and slowing economic growth, Legal and General still delivered on its eight years of annual profit growth of over 10% by taking advantage of the "globalisation of asset markets" as part of its wider strategy within annuities, investment management and insurance. 
An increase in workers saving into their pensions also helped contribute to the record-breaking performance, as a record £9.1bn of pension risk transfer deals were made, up 57% from 2017's £3.9bn. Legal & General controls nearly a fifth of the £338bn contribution market. 
1/5
Legal & General's share of the contribution market
"Our strategy positions us well despite the broader environment, our current trading is strong, and we expect this momentum to continue in 2019," chief executive Nigel Wilson said in a statement.
Where next for LGEN shares? 
Surprisingly, the firm's share price fell near 4% on Wednesday, the day of the announcement, after analysts questioned whether the company can continue raising its dividend while funding its growing annuity deals.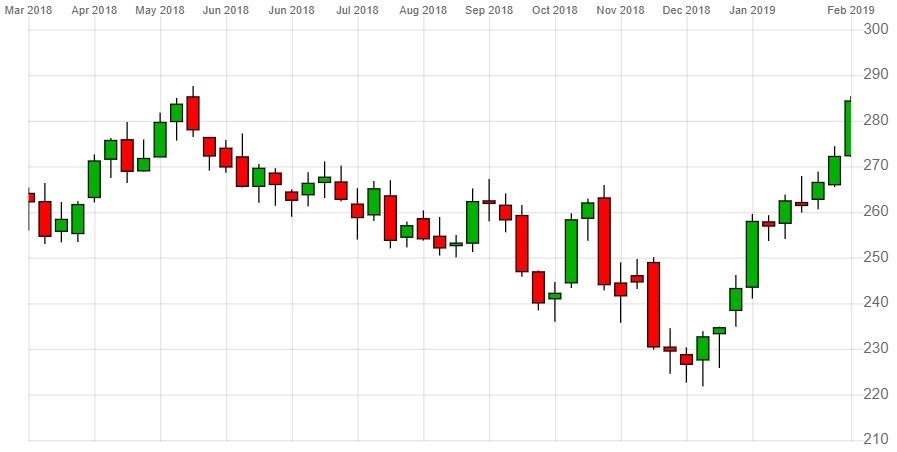 LGEN 1-year share price performance, CMC Markets, as at 8 March 2019
Legal & General raised its full-year dividend – for the sixth consecutive year – by 7% to 16.42p per share, but with annuities being capital-intensive, investors are concerned as to whether the fund manager can withstand the extra costs. 
The bulk annuity market is forecast to hit record levels of around £30bn this year, of which chief financial officer Jeff Davies says it is actively quoting around £20bn in bulk annuity deals. 
Due to some insurers such as Prudential already exiting the market in recent years due to the rising annuity costs, Barclays analysts asked if Legal & General "can fund this level of annuity volumes and continue to grow the dividend". Barclays maintains an overweight rating on the UK fund manager's shares. 
"A lower than hoped for solvency ratio, and a miss on cash generation, hit Legal & General's share price immediately after results were announced, but we think the underlying trends remain supportive of the long term investment case," Nicholas Hyett, equity analyst at Hargreaves Lansdown, said.