Controversially, Legal & General's (LGEN) investment arm has revealed that the pay gap between men and women went up last year. Legal and General Investment Management (LGIM) saw their gender pay gap rise from 21.4% in 2017 to 22.8% in 2018. According to company records, the already sizeable disparity between bonus payouts also increased from 55.2% to 59.3%.
What makes this surprising is that diversity campaigner Helena Morrissey heads up personal investing at LGIM. In fact, LGIM has done much to promote greater equality in its offices and has a stated policy that it will vote against any FTSE 350 company with a board made up of less than 25% women. LGIM is also led by Michelle Scrimgeour, who was made chief executive last month.
22.8%
LGIM's gender pay gap percentage in 2018
The problem, of course, isn't limited to LGIM. At Citigroup, female employees earn 29% less than men. Outside the financial services, GSK's CEO Emma Walmsley might be the highest paid female chief in the FTSE 100, but her pay lags behind that of male CEOs in the pharmaceuticals industry. 
How has Legal & General performed recently?
In their full year results posted last month, Legal & General's pre-tax profits came in at £1.9 billion, a lacklustre 2% gain from 2017. While return on investment sunk to 22.7%, down from the previous year's 25.6%. Despite this, investors were rewarded with a 7% bump in dividend payments.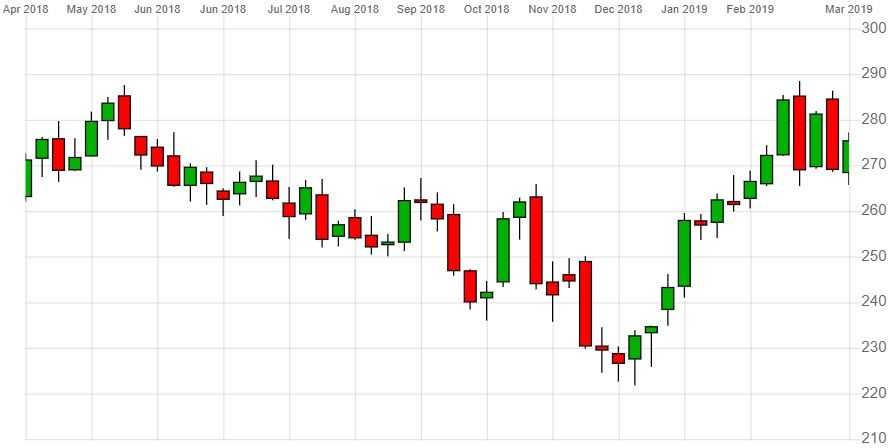 Legal and General 1-year share price performance, CMC Markets, as at 2 April 2019
"2018 saw political uncertainty, asset market declines and slowing economic growth, but we are resilient and performed strongly," Legal & General chief executive Nigel Wilson commented on the results.
The mixed announcement saw the share price drop 4% as analysts questioned whether the company could keep raising dividends.
Legal & General shares are up almost 17% since this time last year. Going back five years to 2014, the share price has gained an impressive 26.37%, far outpacing the FTSE All Share Index's 8.3% gain.
Can the stock keep this pace up? The stock's 1-year relative strength figure is 2.09%. Yet, this rises to 8.1% for the period covering the past 3 months. In this case, it looks like Legal & General's gains appear to be accelerating.
A further statistic to evidence the stock's upward trend, is a 14-ADX (or  average directional trend) that hit 28.43 on 26 March. Anything between 25 to 50 indicates a strong trend.
Market cap
£

16.42bn

PE ratio (TTM)
9.03
EPS (TTM)
30.60

Operating margin

 

(TTM)

20.42%
Legal & General stock vitals, Yahoo finance, as at 2 April 2019
Promisingly, the full year results show that the company is beginning to look beyond the UK for growth. In 2018, 43% of the money coming into its investment business came from overseas. Then there is the growing US final salary pension market. This is set to be worth $3.5 billion and Legal & General could clean up with its de-risking solution.

Will the controversy halt the stock's momentum?
LGIM has been vocal in calling for greater diversity and equal pay in the FTSE 350. So news that its own house isn't in order could concern investors worried about bad press weighing on the stock.
Legal & General won't want to see any resentment towards its investment arm build up and spill out at this year's AGM. Especially as 2018's full year results saw Legal & General become the UK's first £1 trillion investment manager. And it's worth noting that the company as a whole actually saw its gender pay gap narrow last year.
$1trillion
LGIM's assets under management
How much the turmoil over pay disparity affects the stock in the short-term is debatable. But in the longer-term companies will be operating in a world where shareholders demand more than just profit.