Legal & General's [LGEN] share price might be down 12% since mid-May, but it has at least outperformed its rivals over the past 12 months. Since June 2018, the share price has fallen 5.8%, while Aviva's is down a massive 21.24%. 
Year-to-date it's a more level playing field with L&G shares up 10%, and Aviva gaining 8%. Both sets of shares have been making up ground from December lows when Brexit fears hit most of the FTSE 100.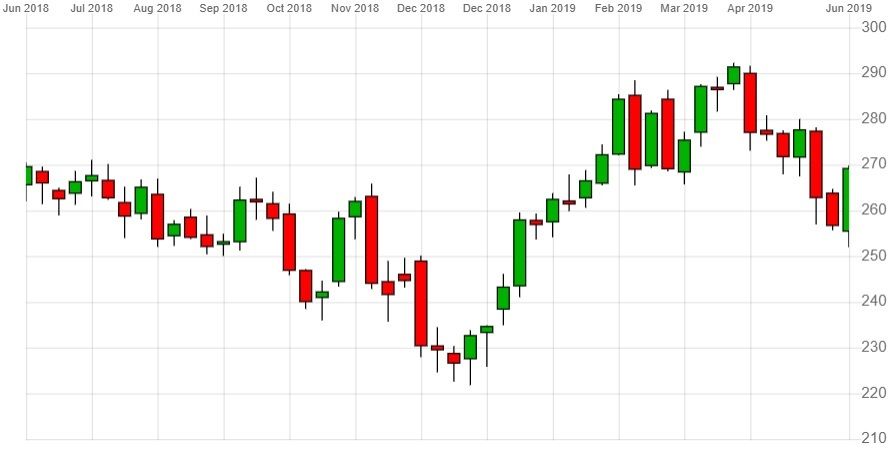 Legal and General 1-year share price performance, CMC Markets, 10 June 2019
L&G has made better work of this task by selling non-core assets, providing investors with some confidence that the company knows where its strengths are. But will the sale of its general insurance business see the bulls send the stock higher? Or will bearish traders decide the strategy has finally run out of steam and trigger a sell-off?
Legal and General sells general insurance business to Allianz
L&G has agreed to sell its general insurance business LV= to Allianz in a deal worth £243 million. Despite being the 'G' in L&G, the general insurance business hasn't been a huge money maker for the insurer.
Last year, the unit grossed £410 million in written premiums, yet operating profits dropped from £37 million to £0. L&G's corporate affairs director told S&P Global Platts that this side of the business has only ever generated 2% or 3% of total profits.
Market cap
£

16.02bn

PE ratio (TTM)
8.82
EPS (TTM)
30.60

Return on equity

 

(TTM)

21.47%
Legal and General share price vitals, Yahoo finance, 10 June 2019
The deal will increase the company's Solvency II ratio by 2% and see L&G receive further payments over the next three years depending on the unit's performance for Allianz.
KBW analyst Greig Paterson agreed with this assessment in a note to clients:
"This appears to largely complete L&G's disposal program of the last few years, leaving the company primarily focused on annuity, life protection and asset management. We see this as a positive."
The deal also frees up cash for L&G to reinvest in its core business. Under chief executive Nigel Wilson, the company has sold off non-core assets to save on costs and shore up its profitable business units. Last year, the insurer offloaded its mature savings business to Swiss Re for £650 million. In this light, selling LV= doesn't look like too much of a loss.
"This appears to largely complete L&G's disposal program of the last few years, leaving the company primarily focused on annuity, life protection and asset management. We see this as a positive." - KBW analyst Greig Paterson
This strategy has helped L&G largely shrug off the economic and political uncertainty seen in UK markets. In 2018 operating profits were up 10% year-on-year to £1.9 billion and earnings per share grew 7% to 24.74p.
All positive signals for bulls looking for reasons why the share price might climb higher.
Is the stock a "Buy"?
So, is now the time to invest? Shares are cheap with a single-digit P/E ratio of 8.82. Price to book ratio comes in at 1.88, lower than both the industry and sector averages (4.67 and 2.99 respectively). On a price to tangible book basis, these averages are even better.
Among analysts, the stock has an average price target of 288.79p. If hit, this would see the share price climb 13%. Yet the bears out there will note UBS have set their price target at 225p, which represents an 11% slide.
1.88
Price to Book ratio (MRQ)
For investors looking for an income generating option, the stock has a dividend yield of 7.1% and a forward yield that's over 5%. However, analysts at Barclays have asked how sustainable this is in light of L&G's £20 billion annuities pipeline; a capital-intensive product that could put investor income at risk.
Half-year results in August will provide further clues on how good an investment the insurer is. If these show that offloading the general insurance business has helped margins, then the bulls could have a field day. Any sign that the strategy hasn't filtered down will have the bears speculating on how much downside there is. 
With the share price 10% off its all-time high, now could be the time to buy for traders who think the stock will end the year positive.