Tullow Oil shares [TLW] have been recovering steadily since reaching a one-year low of 165p on 27 December, gaining almost 14% since. The London-headquartered oil exploration company found investors' favour again after its stock crashed 40% in the last quarter of 2018, following the company's remarks in July that it would use cash flows to reduce debt, rather than pay dividends.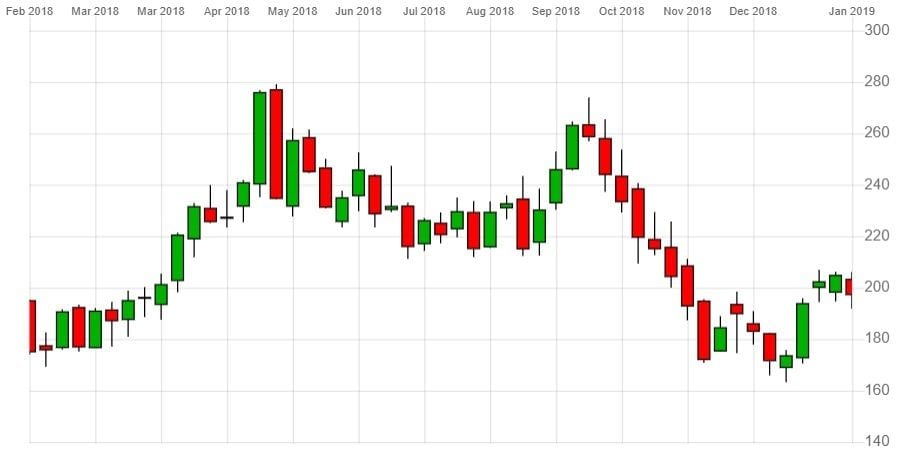 Powered by CMC Markets, as at 30 January 2019
Management said it expected revenues to total $1.8bn for 2018, with a bottom profit line of $1.1bn.
The company was hit hard by plummeting oil barrel prices since 2014, and only managed to turn a profit again in the first half of 2018. At the time, it held out from paying dividends, despite positive income, in order to reduce its $3.5bn debt pile and boost investment.
Cash flows for the year were saddled by a litigation with partner Seadrill, which cost Tullow $248m, and a delay in payment for the partial sale of a Ugandan oilfield that is intended to raise $205m.
The company also wrote off £250m in net costs relating to explorations in West Africa, Uganda and various new ventures in South America. In Kenya, it was forced to stop shipping barrels for a month due to civil unrest, but this was covered by a $200m payout from business interruption insurance.
£250million
Value of net costs in relation to explorations in West Africa, Uganda and South America, written off
What's next?
Tullow is eyeing a 5% to 14% increase in production for 2019, and aims to replicate the $400m annual cash flow result in order to further reduce its three-billion-plus debt.
Unlike last year, however, chief executive Paul McDade promised this would not be at the expense of dividends, and that payouts would finally resume after a five-year hiatus. The company wants to pay a minimum of $100m to shareholders by the end of 2019.
| | |
| --- | --- |
| Market cap | £2.79bn |
| PE ratio | 13.19 |
| EPS (TTM) | 15.20 |
Tullow oil stock vitals, Yahoo finance, as at 30 January 2019
Tullow aims to complete seven new wells in Ghana, which it says will pump out as much as 180,000 barrels per day at full production - more than twice as much as the company's current global production. Offshore drilling in Guyana will start this year, and talks with governments in Uganda and Kenya may lead to additional opportunities.
While management will keep reining in spending, analysts still see the potential for a growth boost in the year, firmly putting an end the company's post-oil crash woes.
"Tullow's portfolio offers the potential in 2019 for development- and exploration-led upside," RBC analyst Al Stanton wrote earlier this month. He was bullish on the company's stock, raising its price target from 275p - which would have already marked a return to early-2017 levels - to 300p.