The British public still owns a majority 62% share in the Royal Bank of Scotland [RBS] from when it had to be bailed out due to financial mismanagement during the 2008 financial crash. 
Were it not for the enormous £50bn bailout, RBS would have folded less than a decade ago. Since then, it has quietly been going about its business to maintain a steadily increasing share price throughout the first quarter of 2019.
62%
The British public's majority share in RBS
However, a key stipulation of the bailout was that RBS must sell payment processing firm WorldPay. 
Private equity firms Bain Capital and Advent International paid £2bn to acquire an 80% stake in WorldPay, before Vantiv bought the platform outright in 2018. 
When RBS bought WorldPay from rival bank Natwest in 2007, it looked to be a sound investment. The payment platform, which MoneyWeek described as "Britain's most spectacular success story" in 2019, was approaching 20 years since its inception in 1989 as 'Streamline'. 
Earlier this month, though, RBS would have been contemplating what could have been after Florida-based Fidelity National Information Services shelled out an eye-watering sum of $43bn (£32bn) for WorldPay. 
By comparison, that's roughly three-quarters of the £45.5bn amount the UK Government injected into RBS to save the bank.
Market cap
£

30.37bn

PE ratio (TTM)
18.82
EPS (TTM)
13.40

Operating margin

 

(TTM)

22.12%
RBS stock vitals, Yahoo finance, as at 27 March 2019
The story of WorldPay isn't one that RBS could have been involved in after its difficult time in 2008. Looking at the bank's performance recently, though, it seems to be surviving well without its old platform.
Share price rebounds after March sell-off  
After a December nadir of 203p, RBS' share price has rebounded to experience a strong start to 2019. Between 11 December and 19 March, the share price increased by a third, growing 33.2% to 270.4p. 
From 19 March to 22 March, RBS encountered its first obstacle of 2019. The stock fell 8.2%, ending the week at 248.2p. It was the first sign of volatility in RBS stock this year and has recovered well at the start of this week suggesting the hiccup, was exactly that.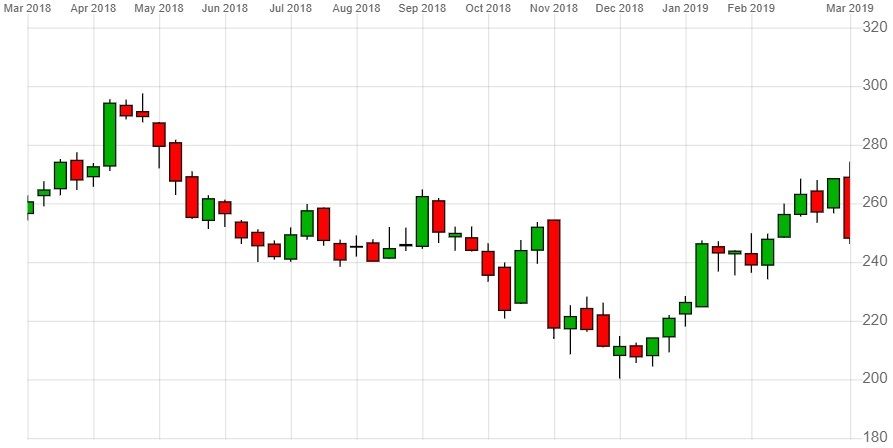 RBS 1-year share price performance, CMC Markets, as at 27 March 2019
And while the short-term has been promising for RBS, the long-term outlook is forecast as even brighter. 
Thomson Reuters predicts that the business is on course to grow 7.23% in the long-term, as its earnings per share are expected to grow by 4.14 from 28.08 in late 2019 to projections of 32.22 for December 2020. That is underlined by strong growth predicted for the second and third quarters this year of 8.41 and 8.35 respectively.
RBS' price to earnings ratio is currently outperforming the industry and sector averages, standing at 18.44. Industry and sector averages come in at 19.52 and 19.57, respectively. 
In addition, the company's price-to-book value is a further indicator that RBS is still being underrated in certain quarters. At 0.71, it seems there's value to be had here.
Winding down of council loans put on hold 
RBS is well-placed to continue its resurgence and it is now working on enhancing its public image through a £1bn wind down of highly controversial public sector loans.
£1bn
The value of RBS' wind down of public sector loans
The scheme was announced over the course of the last weekend. Loans issued to local councils had been heavily criticised for the high levels of interest that needed to be repaid. Detractors had said these were draining much-needed funds into the bank's coffers. 
Because the bank is already facing a number of significant pieces of litigation, RBS has decided to call time on the scheme as it looks to boost its public image.
RBS looks likely to continue its strong share price performance with several market backers providing healthy reassurance. Thus, a sustained underestimation of its share price would come at some surprise.