Despite a minor blip in late March, RBS's [RBS] share price can be considered one of 2019's success stories.
A tough December gave way to an impressive performance in the year's first quarter and early indications are that the second will see a sustained rise. The macroeconomic effect of Brexit's delay until 31 October will provide at least a modicum of security to investors in the short term and allow those in the C-suite some extra decision-making time.
The choices made by CEO Ross McEwan and the rest of the board have, to date, proven sage. Some say that those decisions have transformed RBS into a value stock that has become somewhat of an underrated investment opportunity.
Much has been written about the bank's legal troubles but, after reaching a $4.9bn settlement with the US Department of Justice in 2018 for its role in the financial crash a decade earlier, it appears to have put those troubles aside. Barring any further major scandals, this should pave the way for greater growth.
$4.9bn
Value of RBS's settlement with the US Department of Justice
A value stock  
It's worth considering RBS in terms of the excess return model, which determines the value of a company by how much income it can generate from its current level of equity capital, in excess of the cost of that capital; 'excess returns'.
So to derive the stock's excess return, its cost of equity - 8.83% - is subtracted from its return on equity, in this instance 9.6%, to give an ex-cess return per share of -0.09p.
Excess return can be used then to generate a true intrinsic value per share, which, when trading closed on Friday 12 April and shares were trading at 260.00p, Simply Wall Street calculated to be closer to the 318p level. Thus, on this basis the stock was undervalued by almost 68p, so could it offer significant value for money?
Market cap
£

31.63bn

PE ratio (TTM)
19.54
EPS (TTM)
13.40

Book value per share

 

(MRQ)

3.80
RBS stock vitals, Yahoo finance, 16 April 2019
Financials
One thing currently hamstringing RBS's performance is its debt-to-equity ratio, which is well above both industry and sector averages.
The RBS debt-to-equity ratio currently stands at 109.91%, while sector and industry ratios stand at 66.97% and 63.16% respectively. That figure is a constant reminder of the bailout it required to stay in business during the financial crash, and it is difficult to see that figure dropping in the short-term due to the repayments still outstanding by the UK bank.
However, RBS's price-to-earnings [P/E] ratio is slightly favourable compared to the other key averages. According to Bloomberg, RBS P/E stands at 19.30 as of 15 April, against sector and industry averages of 19.93 and 19.78 respectively. 
Indeed, the favourable P/E ratio indicates that the stock could be undervalued in comparison to the sector and industry as a whole.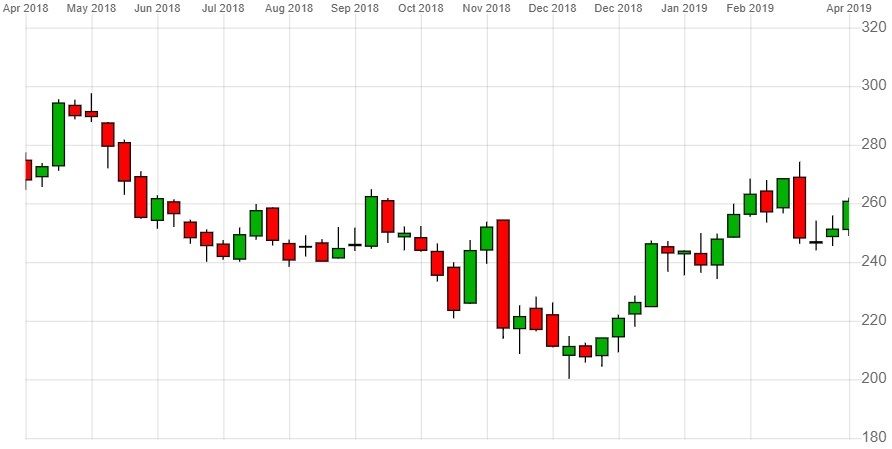 RBS 1-year share price performance, CMC Markets, 16 April 2019
Investor income
For investors, RBS currently pays out 41% of its earnings to its shareholders, based on trailing 12-month data, and going forward analysts expect the bank's payouts to increase to 51% of its earnings. 
If the stock were to stay around the current 262p mark, then this would equate to a dividend yield of 6.3%. The forward annual dividend yield currently stands at 2.76%.
10%
Expected increase in RBS's payout ratio in 3 years time
Furthermore, market sources indicate an expectation that the bank's yield will nearly triple in the next four years, representing further cause for investor optimism. At present, RBS's yield stands at a modest 2.76%, though by 2023 that figure is forecast to increase to a more respectable 5.88%.
This could prove to be a resilient measure for the share price, as the UK government has said it wants to sell its interest in RBS the following year. Bearing that in mind, it is in RBS's best interests to whip the bank into shape in order to secure investment interest, making the next few years crucial to its long-term viability.