B
arclays'
[BARC]
share price has underperformed many of the firm's wider industry peers over the past 12 months to 15 March, having declined 22%, compared to a 10.5% drop in the FTSE 350 banks index.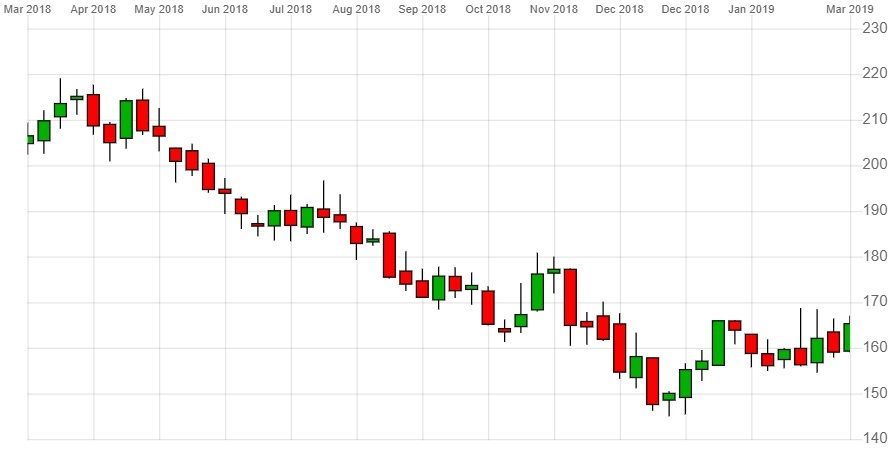 Barclays 1-year share price performance, CMC Markets, as at 19 March 2019
And despite a 10.2% rebound in 2019, the bank has failed to keep up with the gains experienced by many of its British banking peers: The Royal Bank of Scotland [RBS] is up 25% so far this year, while Lloyds Banking Group [LLOY] has gained 28%.
Barclays meanwhile currently trades 0.6% below its 200-day moving average and has a PE ratio of 13.58 – lower than the industry and sector averages of 18.95 and 18.99 respectively. 
With the recent decline and its current metrics, many do however view Barclays as a potential value stock and a buy at its current price. 
There's consensus among analysts that the group's stock is a firm buy with Deutsche Bank reiterating a buy rating and setting a price target of 216p. Other firms including JP Morgan, Berenberg Bank and Royal Bank of Canada have price targets as high as 220p, suggesting an upside of 31%.
Branch closures 
The recent share price activity comes as the closure of thousands of UK bank branches continues to rise – the total number of bank branches in the UK has fallen from 11,365 in 2017 to 7,207 in 2018 – the Banking Standards Board has warned.
In an effort to curb the unease of small firms being hit by the closures, three of the UK's largest banks including Barclays, Natwest and Lloyds have announced plans to build six business hubs across the country. 
7,207
Number of bank branches in the UK
The hubs will allow businesses to pay in large volumes of coins, notes, cheques and completed cash exchange transactions. The shared spaces will be facilitated by cash management vendors G4S [GFS] and Vaultex – which operates as a subsidiary of Barclays.  
Chief executive Ian Rand of Barclays Business Bank explains that the "pilot is designed to complement our existing branch network and innovative cash collect service, which enables businesses to schedule cash pick-ups when it's convenient to them".
While lenders have considered joint branches in the past, the business hubs are unusual in being jointly owned by the three largest legacy banks, and could be an indication of the rising concern surrounding a cashless society. 
In February, the UK's Treasury Select Committee called for urgent action to prevent the "collapse of access to cash" and in March a prominent report named "Access to Cash," that was authored by former financial ombudsman Natalie Ceeney, also called for changes to ensure cash was a viable option for the foreseeable future. 
"[The] collapse of access to cash" - The UK's Treasury Select Committee on the concern surrounding a cashless society
The total value of banknotes in circulation throughout the UK rose 58% from £43.4bn in 2017 to £68.9bn in 2018, according to data from Statista. 
For managing director at Lloyds, Paul Gordon, the business hubs are a way to appeal to firms that need more flexible banking and gives the firm the opportunity to work with other high-street banks to extend the offering of each. 
Indeed, already in the UK, the market share in current accounts of the four biggest legacy banks – Barclays, RBS, Lloyds, HSBC – has shrunken from 92% to 70% in the space of a decade, as the fintech sector continues to boom.
Strength in numbers 
Barclays' financial performance in 2018 was relatively strong with net profit reaching £1.4bn, swinging the group back into profit after 2017 saw it report a significant loss of £1.92bn due to a £901m charge for deferred US tax assets as well as litigation costs.
Market cap
£

28.56bn

PE ratio (TTM)
18.12
EPS (TTM)
9.20
Total debt (MRQ)
£

526.22bn
Barclays stock vitals, Yahoo finance, as at 19 March 2019
However, the bank lowered its earnings per share projection to $171 from $176 for 2019, after its EPS model forecast declined substantially. A further drop in headline inflation and inflation volatility also led to a lowering of its PE multiple target, as sluggish sales growth is expected.
The group's improved financial performance meant that its return on tangible equity was raised to 8.5% from last year's 3.6%, which is one of the most attractive in the market, along with an improved EPS of 21.9p. The performance brings the bank's 2019 target close to 9% return on tangible equity. 
The firm plans to remain attractive to investors by increasing its dividend by 23% to 8p per share in 2019, giving its stock a forward dividend yield of 3.95%. Barclays boosted its dividend last year to 6.5p per share.
When the firm begins to report profits free from misconduct charges, it's likely that the stock could surge by as much as 50% over the next couple of years, argues private investor Roland Head in an article published by the Motley Fool.