Asset management company Standard Life Aberdeen PLC [SLA] has seen its profits and ratings slashed after reporting heavy outflows from some of its highest-margin funds in the first half of 2018, according to its recent financial report. As UK political turmoil continues to scare investors, the Edinburgh-based firm saw £16.6bn in assets leak from the business in the first six months of 2018, up £4bn on the same period in 2017.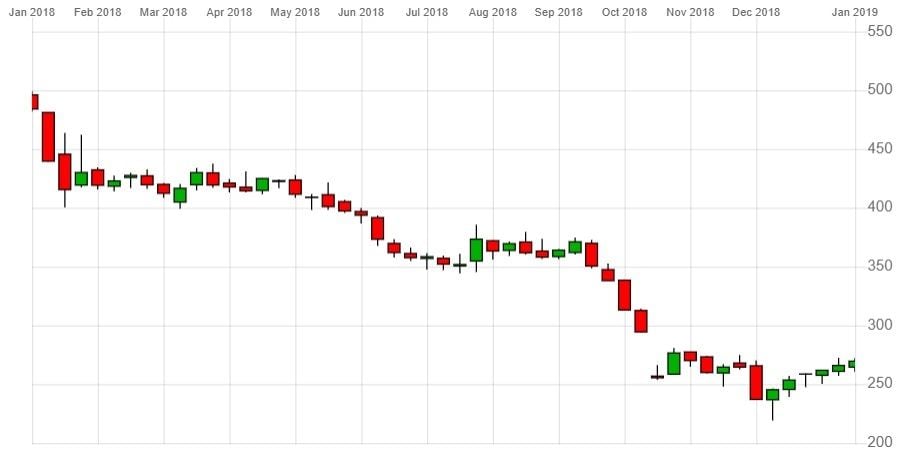 Powered by CMC Markets, as at 22 January 2019
The company ended 2018 down 40%, with share prices hitting a nine-year low of 224.85p on 11 December. However, the company has since been on a moderate uptick, having gained 20% by 18 January to reach 269.70p. This comes after the group also reported adjusted profit before tax had fallen to £478m from £521m last year. 
The treacherous trading conditions of the past four months makes life difficult for all asset management companies trying to predict the market. And rivals like Alliance Trust [ATST] have faced similar stock drops since the beginning of October, when the stock market struggled globally due to a wave of fears about slowing growth, trade wars and higher interest rates. Standard currently enjoys a price-to-earnings ratio of 9.6 and a high dividend yield of 8.01, The Alliance Trust, has an expensive P/E ratio of 55.44; Aviva, at the other end, is 11.78, the rating of which remains a strong buy generally. 
Standard says it is focused on improving performance in its Global Absolute Return Strategies (GARS) i.e. its attempt to coalesce dozens of different ideas that each individually have the propensity to make positive returns but has so far continued to hemorrhage funds - £10bn in 2017, £19bn in 2018. It will also continue to up its execution in emerging markets and global equities.
| | |
| --- | --- |
| Market cap | £6.65bn |
| PE Ratio (TTM) | 11.34 |
| EPS (TTM) | 23.60 |
Standard Life Aberdeen stock vitals, Yahoo finance, as at 22 January 2019
Ratings downgraded
In September, Moody's had already downgraded the firm's debt. Standard's half-year results revealed Assets Under Management and Administration (AUMA) from continuing operations had fallen by 2.6% year-on-year. The directors admitted, "net flows remain a challenge". 
Encouraging further investment while proving any kind of value in its own services appears to be the challenge for Standard, especially when S&P Composite 1500 Asset Management & Custody Banks is currently down 24.89%. And yet since Deutsche Bank's downgrading of the stock to hold, citing political uncertainty, Standard's stock has increased over 11%; however, the company's share price is currently 46.8% off its year-long high. 
Short interest is as high (0.6%) as it's been in two years; Numeric Investors LLC were the most recent to bet against the firm in December 2018, joining the likes of AQR Capital Management Firm LLC and GLG Partners LLP. 
Standard "well-placed" to deal with macroeconomic challenges
In Standard's half-year earnings report, the company admitted in its outlook: "Market conditions remain challenging, as macroeconomic and political uncertainties continue to affect investor sentiment. 
"These uncertainties are driving investors to look for innovative and outcome-orientated 'new active' investment solutions and these will continue to grow in importance in meeting the needs of both institutional and increasingly retail customers. 
"With our broad and diverse range of capabilities, Standard Life Aberdeen is well placed to take advantage of the opportunities and to deal with the challenges that these trends present."
"Market conditions remain challenging, as macroeconomic and political uncertainties continue to affect investor sentiment." - An excerpt from Standard Life Aberdeen's outlook statement
Brexit looms
The company admits Brexit-related costs have taken hold, citing "a negative £61m short-term fluctuation in investment return which was impacted by a widening of credit spreads, £38m of transaction and separation costs relating to the proposed sale to Phoenix and Brexit related costs of £12m." Though the same report says: "An established Group-wide programme remains in place to deliver solutions that, given the current backdrop of political uncertainty, will aim to address the consequences of a hard Brexit."
Looking ahead, although Brexit weighs heavy on the future, the company cites growth in its US capabilities in private markets, closed ended funds and exchange traded funds as reasons for optimism. It is also positive about the increased pace of innovation in 'new active' investment capabilities, pointing to "20 fund launches in H1 2018 compared to 22 across the whole of 2017. There is a strong pipeline of innovation, including more than 20 funds in the latter stages of development, across a broad range of asset classes, regions and target markets planned for delivery in H2 2018 and into 2019."
£12million
Value of Brexit-related costs quoted in Standard Life Aberdeen's outlook statement
The most recent news from the company has been a reshuffle among its investors, with two employees shifting to UK smaller companies, they have appointed Paul Pasquill to be Director of Investment while Douglas Flint was announced as the firm's new chair in October of last year, effective January 1, succeeding Gerry Grimstone.
Standard's full year financial report will be released 13 March, and the analysts' consensus on the stock remains one of caution, though at a cheap price (265p), investors may profit long-term if an uptrend continues.