Founded in 2009, Square [SQ] provides businesses with easy-to-use mobile payment and merchant services.
This year the San Francisco company's share price soared 127%, hitting an all-time high of $99.01 in September. It then crashed 30% in October after the double whammy of CFO Sarah Friar's announcement that she will leave the company next year, and the wider tech-led sell-off.
 
Despite this, the share price bounced back to around $76 at the start of November.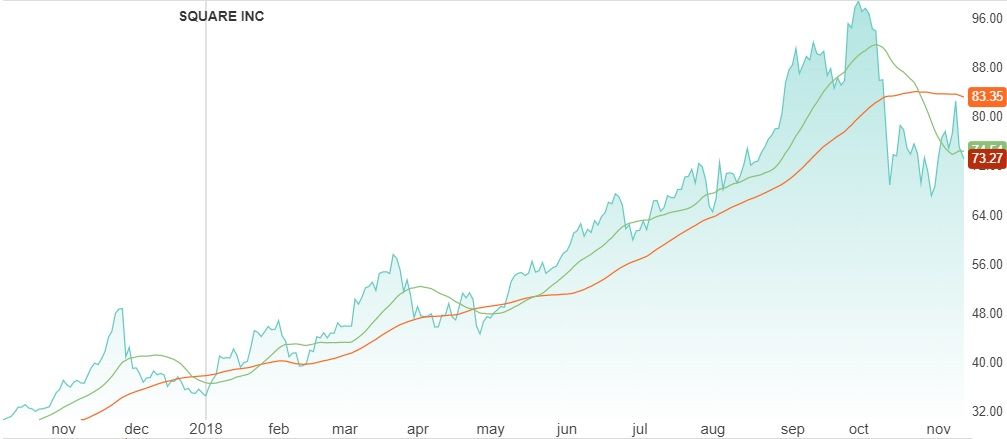 Square Inc. share price performance, NASDAQ interactive chart, as at 12 November 2018
What has been driving growth in Square?
Square has achieved recent growth through its focus on providing a better payment experience for its sellers and buyers. 
This quarter the company released its Solutions Partner Platform. By providing integrations with trusted third-parties through the platform, sellers are able to use e-commerce tools to win more business. At the same time the offering is more desirable to those tempted by rivals, such as PayPal [PYPL]. 
Square is also targeting high-worth 'large sellers' who individually generate over $125,000 in gross profit.  
In 2017, it launched high-end point-of-sale payment solution Square Register. This was followed by Square for Restaurants, which comes with the company's food delivery service, Caviar, out of the box. 
All are part of a strategy to build an ecosystem of subscription services and maximise revenue. In Q2, gross payment from these sellers was up 42% on the year, while subscription services like Caviar saw revenue grow by 127%. 
What happened with Square's earnings this quarter?
Last quarter's revenues came in at $817 million, an impressive 47.6% gain from the same time last year.
In Wednesday's Q3 earnings call, total revenue was $882.1 million, up an impressive 51% from last year's quarter. Adjusted earnings came in at 13 cents, above Wall Street forecasts of 11 cents. 
The company also recorded a $20 million quarterly profit, which Friar largely put down to the acquisition of Eventbrite [EB] going public last month.
Subscription revenues from the likes of Caviar also came out swinging at $166 million, a huge 155% increase on the same quarter last year. While GPV from large sellers encouragingly grew by 52%.
Despite these strong results, Square adjusted its Q4 forecast to $250-$255 million, having missed analyst expectations. Growth in transaction-based revenue also slowed to 29% this quarter, compared to the 31% growth seen last year. Both weighed on investors as the share price dropped 3.5% in after-hours trading.
| | |
| --- | --- |
| Total net revenue percentage change, Q3 YoY | +51% |
| Earnings per share (EPS) percentage change, Q3 YoY | +85.7% |
| Performance YTD | 111.3% |
| Market cap | $30.3bn |
Square Inc. stock vitals, Yahoo finance, as at 12 November 2018
Is there opportunity in Square's share price?
Square's recent move to speed up EMV transaction time from 8-13 seconds to just 2 seconds in the US has gone down well with restaurateurs as more diners split the bill on separate credit cards. If an international rollout happens then this could add to the bottom line.
Investors will also be looking to see if Square can take full advantage of the mobile payment market, which is set to grow a chunky CAGR of 33.8% to be worth $4.573 billion by 2023. Friar recently suggested Square could move in on traditional banking turf with its Cash app.
Who replaces talisman Friar at the payments company will be closely watched. During the earnings call CEO Jack Dorsey said finding a new CFO was "number one priority". 
However, the stock has its detractors. Back in May, Citron Research said Square was "a bunch of yawn businesses" and the share price has traded higher for "no reason" other than being caught up in the boom of SaaS stocks. 
Shares aren't exactly cheap either. Square trades at 113x forward earnings, making it expensive relative to its earning power. PayPal trades at a more modest 31x.
Investors will need to weigh these concerns up against Square's continual ability to attract large sellers and deal with any slowdown in growth.