Up to the start of May, 2019 was looking pretty good for Ocado [OCDO]. 
Even a catastrophic warehouse fire at its high-tech Hampshire distribution centre in February, which lasted over four days and put 400 jobs at risk, only caused a temporary dip in the company's share price, which dropped by 15% before recovering to 1,034p by the end of that month.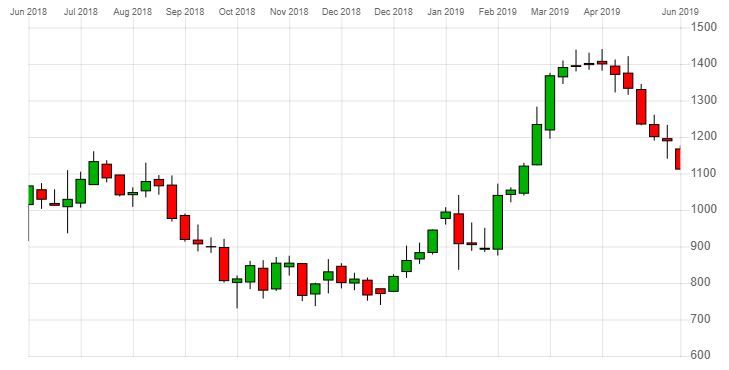 Ocado 1-year share price performance, CMC Markets, 10 June 2019
Indeed, the retail automation company still managed to raise its share price by over 70% in the first few months of the year on news that it had struck a major deal with Marks & Spencer [MKS].
But since hitting its 52-week high of 1,435p in April, Ocado is now witnessing some negative momentum.
Ocado's share price dip
News that Ocado's former retail partner Waitrose (with which it is still very much associated in the public's mind) had struck a deal with new delivery service Today Development Partners (TDP) – created by Ocado co-founder Jonathan Faiman – has been particularly troublesome.
While initial news of the deal, reported on 16 May, only sent Ocado's shares down by 1%, they continued to drop after Barclays Capital's James Anstead suggested TDP could be genuine competition for the online grocer and fulfilment provider. Anstead's comments arrived after TDP had just recruited Jon Hillary – one of Ocado's longest-serving employees. 
"Hillary was reportedly responsible for helping develop Ocado's logistics and automation processes, as well as designing and building its customer fulfilment centres," said Anstead. 
"Creating a viable competitor to Ocado is certainly a huge task, but this move gives TDP a credibility boost."
 
"Creating a viable competitor to Ocado is certainly a huge task, but this move gives TDP a credibility boost." - James Anstead, Barclays Capital
Earnings worries  
The new kid on the block is not the only concern for investors, however. Ocado's earnings performance is also a worry. 
Ocado posted a 20.7% drop in FY 2018 earnings and expects another decline this year as it pours cash into developing new technology and opening more warehouses. 
The online grocer said its EBITDA fell to £59.5m in the year to 2 December, from £75m a year previous, due to increased spending on its Ocado Smart Platform (OPS – a tech solution which allows Ocado's retail partners to manage fulfilment, logistics, e-commerce and marketing), the opening of a new customer fulfilment centre (CFC) in Erith, and the hiring of new tech staff. 
Elsewhere, total capital expenditure in 2018 came in at £213.8m, up from £160.3m in 2017.
| | |
| --- | --- |
| Market cap | $8.05bn |
| Operating margin (TTM) | -2.01% |
| EPS (TTM) | -6.90 |
| Quarterly revenue growth (YOY) | 7.90% |
Ocado share price vitals, Yahoo Finance, 10 June 2019
So far, the spending has been justified by Ocado execs who believe continued expansion plans will ultimately drive returns. Jefferies International, however, cut its rating for the firm to 'underperform' from 'hold'. 
While Jeffries praised Ocado for the value it had created for shareholders in the past 18 months, it also said that Ocado's valuation "now assumes an unequivocal commercial success of the OSP for its existing customers."
The firm also noted that its current share value prices in more than 150 future CFC wins, which it thinks "seems too optimistic".
A cut above the competition
Ocado is just one player affected by a wider slowdown in the UK's supermarket sector. By 29 May, chains such as Morrisons [MRW] and Sainsbury's [SBRY] dropped close to 12-month lows, according to research firm Kantar Worldpanel, while shares in Tesco also fell.
But when looking at sales percentages across one year, three years and five years, Ocado has seen a much higher and steadier sales percentage growth than competitors such as Sainsbury's and Morrisons. 
Ocado, Sainbsury's and Morrisons: how their sales percentage growth compares
| | | | |
| --- | --- | --- | --- |
|   | One year | Three years | Five years |
| Ocado | 14.75% | 17.07% | 16.26% |
| Sainsbury's | 11.56% | 3.07% | 3.30% |
| Morrisons | 2.74% | 3.23% | 0.06% |
Reuters, 10 June 2019
Simply Wall St suggests that Ocado is in fact in good financial health, with its operating cash sufficient to cover its debt. 
"OCDO's high cash coverage means that, although its debt levels are high, the company is able to utilise its borrowings efficiently in order to generate cash flow. Since there is also no concern around OCDO's liquidity needs, this may be its optimal capital structure for the time being," the firm says.