Netflix [NFLX] saw its share price fall 4.5% on Monday 16 – taking it to $345.26 – in what was the company's largest single-day decrease since April 12. As the week continued, the streaming company's price continued to fluctuate, before settling at $348.11 as of Monday 20. Such turbulence has led pundits to question: is the price right for Netflix? 
The numbers certainly support the theory that it could be a little bloated, with a P/E ratio of 126.53 (the S&P 500 P/E ratio average currently sits at 21.64).
Netflix's share price is now over 30,000 times higher than its 2002 opening price. But despite the strong argument on paper, two schools of thought have emerged on Netflix: those who see it as inherently overvalued (even if justifiably so), and those who simply want investors to accept Netflix's position as an unreachable market leader. 
Dan Blankenhorn openly identifies as the former. Writing in InvestorPlace on whether he would invest in Netflix, he said: "Not on your life. At its May 13 opening price of $352 per share, Netflix sells for more than 9 times last year's revenue, an eye-popping 123 times last year's earnings, and let's not talk about dividends because there may never be any.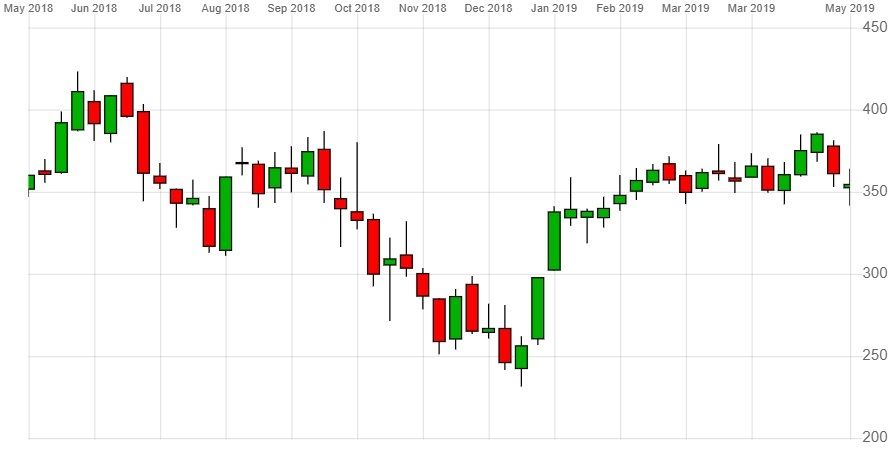 Netflix 1-year share price performance, CMC Markets, 22 May 2019
"The way to make money on Netflix is through capital gains. Those might still be handsome, but even bulls are forecasting they'll slow from here.
"Netflix is a product of the cloud revolution, which continues to consolidate whole industries into global entities. What it has most to fear are its cloud hosts, Alphabet and its YouTube service, Amazon.com and its Amazon Prime service, Apple its Apple TV. Netflix and the cloud czars represent the new entertainment universe. Wall Street knows this. It's why Netflix is now so fully valued."
With the share price as high as it is, Wall Street appears to already be pricing in even the most ambitious of Netflix's future projections – such as its current goal of amassing 90 million paid US subscribers (it currently has 60.2 million). With Netflix's PEG ratio at 2.2, suggesting that its P/E ratio of 126.53 is not in line with growth expectations, investors will be questioning whether the company's performance over the next five years will be able to justify the current stock value.
Market cap
$

154.89bn

PE ratio (TTM)
126.53
EPS (TTM)
2.80

Quarterly Earnings Growth

 

(YoY)

18.60%
Netflix share price, Yahoo finance, 22 May 2019
Netflix vs the contrarians 
However, the case in favour of going with the prevailing mood is a strong one, as Luce Emerson writes in InvestorPlace. "Sometimes, the best investment is the one that just goes with the trend. For all that contrarian investors have tried to explain that Netflix's valuation is stretched, that it's time is up, Netflix stock has continued higher.
"At the time of writing, valuations do look extreme at 135x earnings, but Netflix stock has run over those who have been caught short. Short-sellers may have very cogent theses and numerous reasons why Netflix stock is overvalued, but the price action over the past couple of years has put them in their place. The reality is that fighting the trend has been a losing proposition."
The international edge
Emerson also adds that international expansion is a key growth driver for the company, saying: "There is a belief that regional competition will eat Netflix for lunch but that just hasn't happened. Netflix has gotten in early and continuously iterated their platform. They've learned about content that plays well and content that doesn't in local markets. The result is that, from a long-term standpoint, it's very likely that international business eclipses the US business.
"With such a strong platform and compelling content, Netflix has been able to roll out price increases across the US, Brazil, Mexico and parts of Europe. It doesn't take a business school degree to know that pricing power is important and indicative of the durability of a brand."
"There is a belief that regional competition will eat Netflix for lunch but that just hasn't happened" - Luce Emerson, writer at InvestorPlace
Ahead of its Q2 report, Netflix plans to introduce a new top 10 list for its UK customers, which will tell viewers what's currently ranking well on the platform, with a view to rolling the feature out worldwide if successful. At present, Netflix currently does not communicate the success of each show. New features such as this are likely in response to increased competition from new and old(er) players – including the loss of licensed content to those competitors, such as Disney's announcement in February that it would cut ties with Netflix in order to distribute its library through its own streaming platform, Disney+. 
Whether or not these initiatives will continue to keep Netflix in its top spot remains to be seen. Subscriber growth has come to be seen by the market as the most significant marker of success for TV streaming businesses, and in this area Netflix has excelled. In Q1 it added 9.6 million new subscribers, beating not only analyst targets, but its own, too.