F
acebook's
[FB]
share price has been on a downward streak for a third consecutive week, reaching $180.70 at the close of business on Thursday. However, this decline has come off the back of a four-month rally for the tech giant, following the wider stock market's crash in December. 
The share price had been on a strong upwards climb, rising 49% in the first four months of this year to a high of $195.47 on 3 May. Since then, Facebook's share price has tumbled over 7% as it gets swept up in the wider pullback among tech stocks.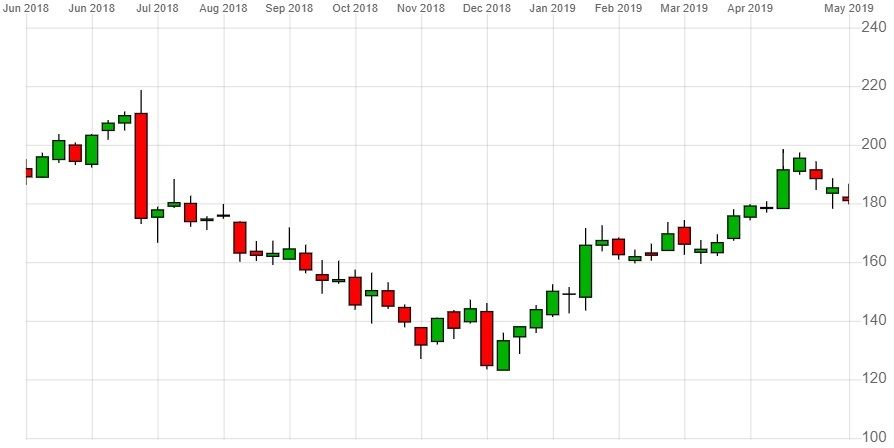 Facebook 1-year share price performance, CMC Markets, 28 May 2019
Technology investor Paul Meeks voiced concerns about a pullback at the end of April, telling CNBC he believed the rally in tech stocks had gone too far. He told the broadcaster his issue was not with the fundamentals of the businesses but with their "stretched valuations".
The tech-heavy Nasdaq's 23% surge since the December low came to a grinding halt when the US and China trade tensions escalated after the US Department of Commerce officially put Huawei on a trade blacklist. Like Facebook, the index has been on a downward journey since 3 May, when it hit a high of $8164.  
China is a huge growth market for most technology companies, which is why traders are concerned about the impact the trade war could have to revenue and earnings growth rates.   
Despite the pullback, the medium-term outlook for Facebook's stock remains bullish based on analysts' recommendations via Market Watch; it lists an average price target of $222.51, suggesting a rise of more than 20%.
Advertising still key to growth   
Although the recurring data breaches and rising privacy concerns have hurt Facebook's reputation, it appears it hasn't had the tangible impact that critics might have expected. In its recent Q1 results, released on 24 April, the company posted a 26% increase in advertising revenue, driven largely by an 8% year-on-year uptick in both daily and monthly active users.
Market cap
$

516.83bn

PE ratio (TTM)
26.87
EPS (TTM)
6.74

Operating Margin

 

(TTM)

38.64%
Facebook share price vitals, Yahoo finance, 28 May 2019
Mobile advertising revenue made up 93% of the $14.9bn in advertising revenue for the quarter, with the US and Canada showing the strongest regional growth. Facebook's CFO David Wehner said that the 32% increase in ad impressions was "primarily driven by ads on Instagram Stories, Instagram Feed and Facebook News Feed".
For Mark Zuckerberg, advertising is going to remain instrumental to bringing in revenue for the foreseeable future. The company is building a more private social platform with end-to-end encrypted interactions, particularly around payments and commerce, which the CEO believes will improve users' trust in the business. 
"We're going to build more tools for people to buy things directly through the platform," Zuckerberg told analysts. "As those products that we build help businesses convert better, it will be more valuable to them and therefore that will translate into higher bids for the advertising."
"As those products that we build help businesses convert better, it will be more valuable to them and therefore that will translate into higher bids for the advertising" - Facebook CEO, Mark Zuckerberg
Indeed, Facebook has been building out more commerce-related features such as Instagram Shop, which allows brands and 'influencers' to sell products directly through the app. 
With around 2.7 billion people using at least one of Facebook's products a month – WhatsApp, Instagram and Messenger – the company certainly has managed to diversify its growth drivers.           
Looking ahead, social media has proven itself to be far too efficient for businesses just to abandon it. Zuckerberg expects digital "town squares" like Facebook to always be important, which could make the stock's $184.38 50-day moving average very attractive to investors.