Facebook [FB] wouldn't be valued at $470bn if it weren't for the 2.3 billion people that use the platform. 
The tech giant has built its empire, which also includes WhatsApp and Instagram, based on user numbers through a phenomenon known as the 'network effect' – whereby as more people use a product, the more valuable it becomes to new adopters – but as the company continues to drown in bad news, a lagging in popularity in its eponymous platform is beginning to take a toll. 
Facebook is indeed feeling the backlash of negative user sentiment. Since 13 March when a prolonged outage affected all its apps, the stock fell 7.4% in the preceding four days, wiping nearly $37bn from its market share.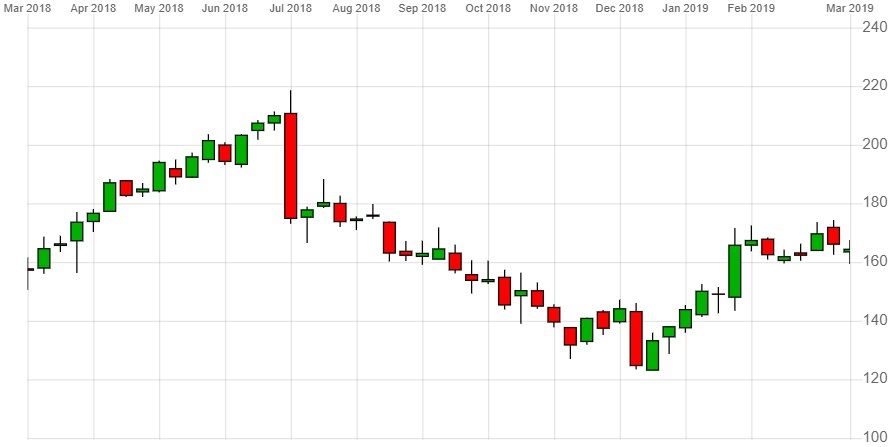 Facebook 1-year share price performance, CMC Markets, as at 29 March 2019
The past several days have also been tough for the social media company: as well as the 14-hour cross network outage, its chief product officer Chris Cox stepped down, a federal investigation was opened into its data-sharing partnerships with other companies and a new ad-boycott emerged following a live-streaming video of the mosque shooting in New Zealand. 
While Facebook's share price has managed to stage a turnaround from bad press in the past, any sign of fatigue in its most important metric – active users – would raise long-term concerns. 
For the moment daily active user growth is strong, growing 9% year-over-year to 1.52 billion in 2018 with monthly active users soaring to 2.32 billion in December. 
Despite the social media company's strong figures, analysts are beginning to take cautious stances on the stock. 
9%
Year-over-year active user growth
Needham & Co analyst Laura Martin – who's had a firm buy rating on the stock for the last three years – downgraded to hold on 18 March, citing the negative financial impact of the company's "strategic pivot" toward privacy with encrypted messaging and growing chance of regulation as major risks. 
Executive exodus 
While network effects can be good on value, the recent senior management departures suggest the impact could be tilting towards a downturn. 
As well as Cox leaving the company after 13 years, WhatsApp co-founder Jan Koum, Instagram co-founders Kevin Systrom and Mike Krieger, chief security officer Alex Stamos and chief communications officer Rachel Whetstone have all stepped down in recent times. 
"A negative network effect suggests that departures will continue, and since we believe that people are a key competitive advantage of FAANG companies, this implies accelerating value destruction until senior executive turnover ends," Martin wrote in a note to clients. "We prefer to move to the side lines until we see senior employee turnover stabilise."
Bank of America Merrill Lynch analyst Justin Post shared Martin's concerns, saying that the "impact of a more privacy centric platform could raise questions on three year growth". 
"A negative network effect suggests that departures will continue, and since we believe that people are a key competitive advantage of FAANG companies, this implies accelerating value destruction until senior executive turnover ends" - Needham & Co analyst Laura Martin
The bank altered its course to take a more cautious outlook as well and downgraded its price target on the stock from $205 to $187. 
 
Facebook's stock has risen 17% in the past three months with volume reaching 24,630,400 but has shed 4% over the past 12 months, making it the only FAANG stock to have lost ground over the past year.
Diversifying revenue streams 
Facebook owns the social media space. But as the mass of bad headlines continues to grow, its core business model is at risk of becoming unhinged. 
The company faces investigations from the Federal Trade Commission, the Securities Exchange Commission, the Justice Department's securities fraud unit as well as others, with governments calling for stricter regulations and a break with Facebook's WhatsApp and Instagram to create competition in the social media industry. 
Facebook, meanwhile, looks to be eyeing up new ways to retain market-beating returns. The company has been exploring ways of enabling shopping through Instagram and is even developing its own cryptocurrency to allow payments on WhatsApp. 
In addition, a 3,000-word article written by Mark Zuckerberg on 6 March went into more detail about plans to integrate its trio of apps into one encrypted network as part of a new direction to build products focused on privacy and control for its users.
Market cap
$

471.45bn

PE ratio (TTM)
21.82
EPS (TTM)
7.57

Return on Equity

 

(TTM)

27.91%
Facebook stock vitals, Yahoo finance, as at 29 March 2019
While some analysts argue the announcement is part of a strategy to explore new revenue streams and appease regulators, others say that the unification of its apps won't affect the advertising strategy that remains core to its growth. 
Thomas Husson, a senior analyst at Forrester, described the move as "Facebook entering a transition phase where it will continue to sell targeted ads on its public social networks, while inventing a new business model".
Nevertheless, the move towards end-to-end encryption has attracted fears from regulators who say that the system could make misinformation harder to collect. 
Ultimately, the "network effect" makes Facebook a natural near-monopoly and as it explores new ways to help sustain its dominance in the market, its business continues to have a chance at sustained growth.