The gaming industry is in a state of transformational change, as a shift allows tech incumbents beginning to build game streaming platforms enabling anyone to play any game on any device.
While Electronic Arts [EA] has embraced this trend with Project Atlas, a streaming platform that's similar to Google's [GOOGL] Stadia that builds on its subscription-based Origin Access service, the company is taking further action to ensure it addresses any challenges or opportunities ahead. 
"As we look across a changing world around us, it's clear that we must change with it," CEO Andrew Wilson wrote in a recent blog post. 
As part of that change, Wilson plans to cut 350 jobs from the 9,000-person company, joining industry peers Activision Blizzard [ATVI], ArenaNet [036570] and Telltale who have all made layoffs and studio closures recently due to declining earnings, diminishing product lines and the uncertain future of gaming. He also announced further restructuring across its marketing and publishing divisions.
"As we look across a changing world around us, it's clear that we must change with it" - CEO Andrew Wilson
In addition to organisational changes, Wilson also said that EA would begin "ramping down" its presence in Russia and Japan, despite Japan being the world's third largest gaming market. 
Michael Pachter, analyst at Wedbush, explains that the restructuring could be due to the video game giant's disappointing third quarter earnings. "EA delivered $4.39 last year and is looking at $3.85 this year—a difference of around $150 million," Pachter told Variety.
"EA's layoffs are less draconian than Activision's, and it's clear from the letter that they are trimming staff where they aren't getting the anticipated return—Russia and Japan."
The job cuts follow FireMonkeys' – EA's Australian development studio – round of layoffs in February. 
Fierce competition weighs down revenue   
Wilson's announcement comes at a time when the video game giant reported a difficult quarter in February, as revenue for the period came in at $1.61bn, missing analysts' estimates of $1.75bn. 
While earnings were relatively aligned with analysts' expectations of $1.94 per share, coming in at an underwhelming $1.95 per share. The dismaying performance caused EA to forecast net revenue to reach $4.87bn for the fiscal year 2019, which reflects an 8% drop from last year's $5.29bn.
Market cap
$

28.94bn

PE ratio (TTM)
21.03
EPS (TTM)
4.59

Quarterly Revenue Growth

 

(YoY)

11.10%
EA stock vitals, Yahoo finance, 16 April 2019
Despite the company launching 'Battlefield V' and 'Command & Conquer: Rivals' during the third quarter, Wilson acknowledged that EA did not perform as he had hoped, due to stiff competition from online games such as Tencent's [0700] 'Fortnite'. 
"The video game industry continues to grow through a year of intense competition and transformational change," he said.
However, EA could find some solace in its most recent game launches, such as 'Anthem' – an action role-playing game – which was ranked in third place in the Xbox Gameplay Chart just two days after it was released.  
Additionally, 'Apex Legends' – a free-to-play 'Battle Royale'-style game that was developed in conjunction with Respawn Entertainment – has performed particularly well since its release in February. 
The game, which rivals the popular 'Fortnite', surpassed more than one million concurrent players within the first 72 hours after its launch, now has more than 50 million players.
Morgan Stanley analyst Brian Nowak, who has a price target on EA's stock of $88, sees 'Apex Legends' as potentially worth $375m in revenue by 2020.
"While we are encouraged by the response the game has generated, we remain tactically cautious as EA's stock has been volatile over the past month (as low as $80 and as high as $107)," Nowak wrote in a note. "There is likely more volatility ahead as the market debates whether fiscal 2020 earnings per share will be $4.50 or over $5."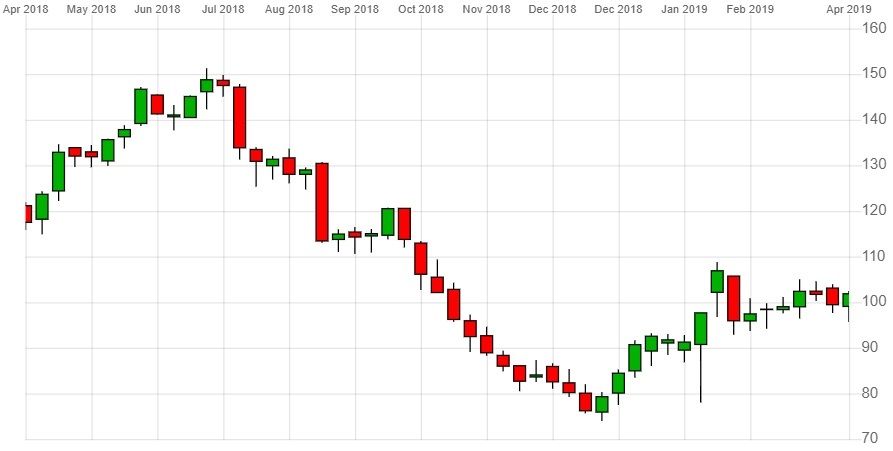 EA 1-year share price performance, CMC Markets, 16 April 2019
Apex Legends set to be key to growth
Since acquiring Respawn Entertainment for $455m back in 2017, EA's stock is up around 10% at $101. The development studio is behind popular games 'Infinity Ward' and the 'Call of Duty' franchise, and helped EA bring to market what could be its most successful game yet.  
'Apex Legends' has had the best launch month of any free-to-play game in history, having generated some $92m last month from in-game spending, which boosted the company's stock to a high of $106.84 on 15 February, as investors noted that revenue from the game wasn't included in its estimates. 
While the stock is down 34% from its all-time-high of $148.93, the company's market value of $29.2bn could be poised for a jump. Jefferies analyst Timothy O'Shea estimates that 'Apex Legends' could generate around $300m in revenue based on Fortnite's $2.4bn in revenue in 2018. 
34%
How far EA shares are off their all-time high
O'Shea, who has a price target of $90 on the stock, called it the "hottest new game in years" in a note to clients.   
EA and Respawn Entertainment also unveiled their new Star Wars action-adventure game, Star Wars Jedi: Fallen Order, on 13 April as part of the company's long-term arrangement with Disney [DIS] and Lucasfilm. 
While EA's share price hasn't quite hit its apex, the growing popularity of the company's slew of new games could be the new hope that investors needed.