BHP's share price rocketed over 12% in June. Driving this growth are iron ore prices hitting 5-year highs after a tightening of supply. But with supply fears easing and a possible reduction in demand, the miner's gains could soon come under threat.
For those holding the BHP [BHP] shares, it could be a case of selling before the iron ore boom comes to an end. And for those thinking of picking up BHP shares, it might be worth waiting for the dust to settle.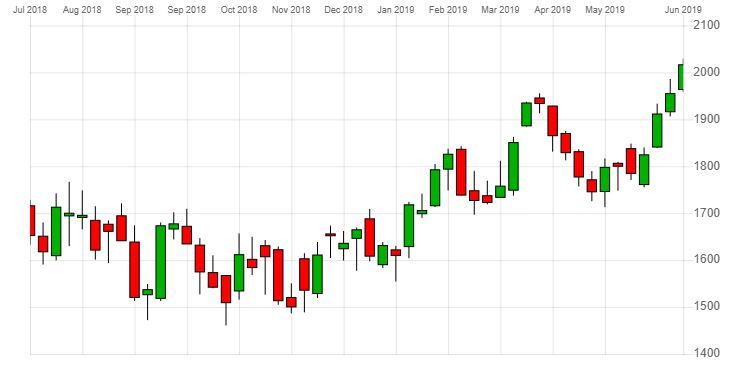 BHP 1-year share price performance, CMC Markets, 1 July 2019
What's driving iron ore prices?
Iron ore prices hit their highest levels for 5 years last month in a rally that's been underway since the start of the year. Triggering the soaring price was the tragic Brumadinho dam collapse at Vale SA's Brucutu site in January. In the aftermath the Bructtu site was forced to operate at a third of its capacity as safety checks were conducted. 
The net effect saw iron ore prices rise on fears that supply would tighten. A high was hit mid-June when the benchmark Australian ore touched $110.2 a tonne, according to an S&P Global Platts price assessment.
BHP has benefitted from these rising prices through its focus on four core commodities, one of which is iron ore.  It also means that the company has some of the lowest cost-bases for these commodities. This has led to an impressive $23.1 billion in underlying earnings for 2018, $8.9 billion of that coming from iron ore. Yet, this focus leaves BHP prone to any downturn in prices.
$23.1billion
BHP's underlying earnings from 2018
What headwinds does BHP face?
Benchmark prices might have eased recently, but they are still near $100 a tonne. China's record steel production has also driven up the price, with the country's stock piles of iron ore thought to be diminishing.
But Wednesday saw Vale reopen the Bructtu dam after winning an appeal court ruling. News of the ruling immediately sent Chinese iron ore futures down. Potentially adding to the pressure are output curbs on some of China's steelmaking hubs, lowering the demand for the commodity.
BHP is particularly exposed to any drop in prices having increased iron ore production to 290 million tonnes per year, to take advantage of the price boom.
How has BHP's stock performed?
BHP stock has rocketed as a result of the rise in iron ore prices. The share price is up 23.5% year-to-date and while this trails rival Rio Tinto's [RIO] 30% gains, BHP had a bumper June, up 12.1%.
The miner looks set to reward investors with an expected dividend yield of 3.84%. Estimates for earnings per share in 2019 are $3.8. This looks even better in 2020 when the payout is expected to rise 15% to $4.5 per share.
Yet, growth has come at a cost. Shares trade around 28x earnings right now. That's more than the ~8x earnings (TTM) Rio Tinto shares trade on. The price-to-book ratio is also higher than its rival, coming in at 210.61 compared to Rio Tinto's 183.32. All this could be pointing to an overvalued share price. 
| | |
| --- | --- |
| Market cap | $147.4bn |
| PE ratio (TTM) | 28.70 |
| EPS (TTM) | 2.05 |
| Quarterly earnings growth (YoY) | 86.80% |
BHP share price vitals, Yahoo Finance, 1 July 2019
What do the analysts think?
Back in March, Societe Generale cut its price target for BHP to 1,680p and downgraded its rating to "Neutral". This followed Goldman Sachs decision to downgrade its rating for BHP to "Neutral".
The two downgrades reflect the wider mood of analysts. Of the 25 tracking the stock on Reuters, the average rating is "Hold" with only 3 rating the stock either a "Buy" or "Strong buy".
It looks like traders might want to hold off picking up shares until the iron ore price boom cools down. BHP have some of the best cost-bases out there and are likely to outperform even when margins are more competitive.