Aviva's [AV] share price has floundered 25% over the past 12 months. Much of this was due to uncertainty over its vacant CEO post and a muted outlook for 2019. 
But with the CEO position now filled and rumours of an imminent shake-up to get things back on track, the current share price of around 404p could represent something of a bargain.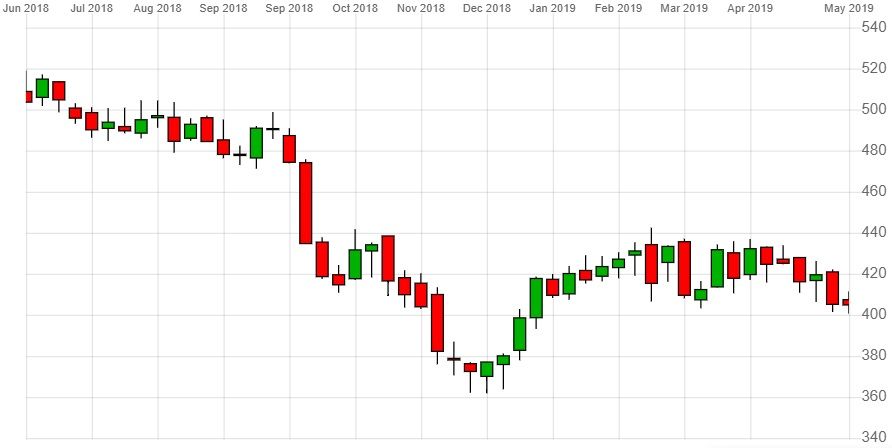 Aviva 1-year share price performance, CMC Markets, 03 June 2019
What makes Aviva's share price a bargain?
With a P/E ratio of 10.64 and a price to book value of just 0.87, Aviva's shares should be on all value investors' radars. For comparison, rival AXA has a much heftier trailing P/E ratio of 19.72.
When you compare Aviva's market value to its book value the stock looks undervalued relative to its true worth. Return on equity comes in at 8.98%, beating the industry average of 6.62%, but lower than the sector average of 16.17%. Still, Aviva's return is better than most of its competitors. RBS's ROE comes in at a measly -7.78, for example.
Market cap
£

15.76bn

PE ratio (TTM)
10.64
EPS (TTM)
37.80

Quarterly earnings growth

 

(YoY)

44.00%
Aviva share price vitals, Yahoo finance, 03 June 2019
The insurer also carries an attractive near 8% dividend yield. More good news for bargain hunters looking for income.
How's the share price performing?
Now could be the time for investors to grab a bargain. Shares are down 5.38% in the past month and over 25% off last year's high of 521p. The stock is also significantly outpaced by the FTSE 100, which is down just 4.85% over the same 1-year period. 
On Thursday, Aviva shares were trading 2.6% under its 52-week moving average, and a hefty 30% under its 52-week high.
However, year-to-date the stock is up 13%. Investors will be hoping this momentum can be maintained after a torrid December that saw most of the FTSE 100 tumble on Brexit worries.
Tulloch to transform strategy?
New CEO Maurice Tulloch could be about to shake up Aviva when he announces his business strategy on 6 June. According to the FT, Tulloch is considering splitting the UK operation in two. One based around life insurance; the other around non-insurance products, like car and home cover. Tulloch's thinking is that Aviva's business is still too complex and requires simplification.
Expectations are that he will announce steps to cut costs at the same time. The new CEO appears keen to rein in spending, saying at Aviva's annual meeting that the "cost to income ratio is higher than it ought to be."
"Cost to income ratio is higher than it ought to be." - CEO Maurice Tulloch
In a recent research note, Citi analyst James Shuck said that cutting costs by £200 million would add 5% to the share price.
While it's not clear that there will be any concrete cost-saving targets announced, any hints that cuts are in the offing should have a positive effect on the share price.
Is Aviva's stock a "buy"?
On Yahoo Finance!, out of the 15 analysts covering the stock, the average price target is 551.33p. This would represent a 35% upside if hit. It's worth noting that Aviva's current share price falls outside the low end of analyst expectations. The most pessimistic price target is 490p, which would represent a 20% return. Over on Reuters, analyst consensus is that the stock will "Outperform" this year.
The last upgrade for Aviva came in December, when RBC Capital upped the stock from "Outperform" to "Top Pick". While Shore Capital reaffirmed its "Hold" rating for the stock in May.
For investors looking for a bargain, the current share price could represent good value. But much will depend on whether shareholders take to Tulloch's proposed shake-up.