After Aviva's [AV] platform used by advisers to manage clients' investments and insurance went down for six days in January 2018, it continued to be beset by a slew of technical difficulties throughout the year. It resulted in a 37% decline in inflows to the platform. 
"The risk of customer service interruption is increased by the age and complexity of the Group's IT infrastructure, which at times during the first half of 2018 resulted in disruption to continuous service to our customers, while our UK long-term savings business also experienced some functionality issues during its update of its platform capability," Aviva said in its annual financial report.
Following the IT problems in early January 2018, Aviva's share price fell 26% through the year, closing 2018 at a 2.5-year low of 375.5p
But now, having fixed the problems and released a slew of updates, Aviva will be hoping to get back on track. 
Indeed, the stock has started 2019 with a rebound, gaining near 15% year-to-date. It does however have a considerable distance to make up to reach its one-year high of 552p, achieved on 21 May 2018.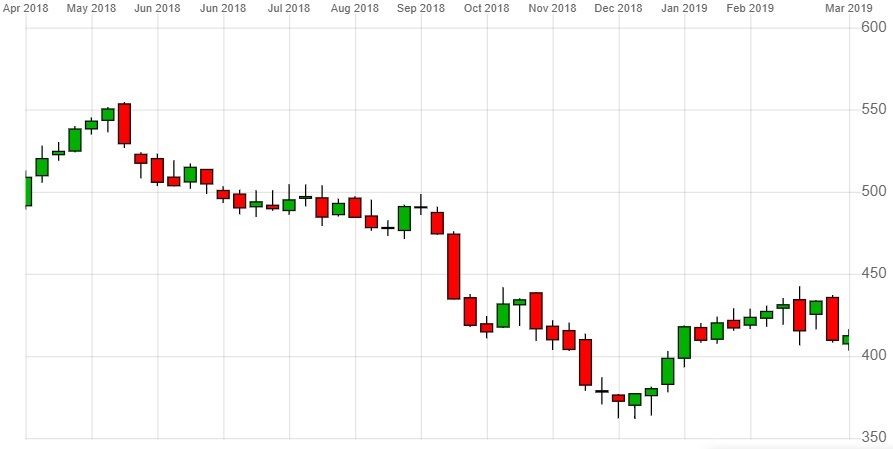 Aviva 1-year share price performance, CMC Markets, as at 3 April 2019
The only way is up?
Looking at the Aviva Life Protection System (ALPS) used by insurers, Mark Cracknell, head of protection distribution at Aviva unveiled a range of upgrades in March 2019. 
"We've been able to respond directly to what advisers have been telling us, in implementing this latest upgrade to our platform," Cracknell said. "The changes mean it's now quicker and easier for advisers to generate quotes and options for their clients, and to do business with us."
"The changes mean it's now quicker and easier for advisers to generate quotes and options for their clients, and to do business with us." - Mark Cracknell, head of protection distribution
Commentators have been quick to note that Aviva is stepping up its game across a range of its online services with praise being given for their simplicity and ease-of-use.
"While the protection industry still lags behind other financial services sectors in its utilisation of technology to improve the journey for both adviser and their client, there are now increasingly some bright spots in this area," said financial adviser Drewberry's head of protection advice Rob Harvey.  "This includes Aviva, particularly with its MyAviva customer portal as well."
Growth driver?
Aviva is praising the new updates and described them as, "the most significant set of improvements" it has made to the service.
In 2018, the Financial Conduct Authority [FCA] published a report on the intermediary platform sector. The findings showed the sector to be worth as much as £500bn. Meanwhile, many of the complaints included within the report about the current state of platforms are things that Aviva has moved to address. 
"The most significant set of improvements" - Aviva on the latest set of upgrades to its adviser platform
Issues of functionality and value were chief among market concerns, these are things that Aviva appears to be addressing, making it possible that the firm could gain a large slice of the half a trillion dollar pie.  
And in an effort to further streamline the process of mortgage advice, the firm alongside its subsidiary Sesame Bankhall Group have announced plans to invest £5m in a mortgage, protection and general insurance platform dubbed Acre.
Aviva's Founders Factory will develop the software, which once developed will use blockchain technology to combine all the parts of the process into one "record of transaction". 
Justus Brown, chief executive and founder of Acre Software and former Founders Factory chief product officer, said that the platform will "level the playing field for brokers".   
Value stock?
Additionally, Aviva's 7.27% dividend presents a good return for investors, while its stock is relatively cheap in comparison to other insurers and financial services. It has a solid P/E ratio of 11.3, while Aviva's last reported dividend stood at a healthy 20.75p.
Market cap
£

16.69bn

PE ratio (TTM)
11.28
EPS (TTM)
37.80

Enterprise value/EBITDA

-8.84
Aviva stock vitals, Yahoo finance, as at 3 April 2019
And after a promising start to 2019, Aviva will now be hoping that it can continue this solid momentum with higher revenues and an accompanying further rise in share price.