When ASOS [ASC] chief executive Nick Beighton showcased plans for a big US offensive in a Business Insider interview in January 2018, he was radiant about the opportunity to bring "the world's best fashion to the American twenty-something". ASOS's stock – the biggest on London's AIM by capitalization – had had a pretty good run, rising 116% in two years, and the sky was the limit for international expansion. 
Fast-forward to today, and it's a very different story. The stock that had effortlessly weathered shocks like the Brexit vote, and hit an all-time high of 7,630p in March 2018, lost 44% of its value through December following a profit warning, and closed the year at a paltry 2,800p. 2019 has so far been a mixed bag for the company: its stock recovered around 40% of its value by April, however interim profits were down 87%.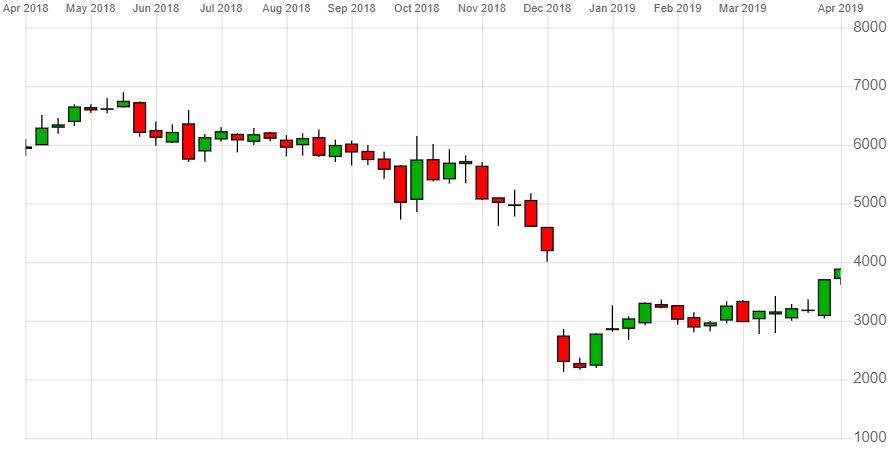 Asos 1-year share price performance, CMC Markets, 24 April 2019
What's gone wrong – and can ASOS go back to being one of Britain's most treasured retail success stories?
"Taxable errors"
The six months to February were, in Beighton's words, some "of the most challenging we've seen in many years". Although volume of sales was up, heavy discounting across the apparel retail sector left its sales value down. Meanwhile, the company had an underwhelming Black Friday in November, with Australian and Russian markets excluded from the event altogether, moves Beighton has since labelled "taxable errors".
"[Some] of the most challenging we've seen in many years" - Asos chief executive Nick Beighton on the six months to February 2019
On 4 April, ASOS announced changes to its returns policy, amid rumoured concerns that some customers are making a habit of purchasing items, wearing them once or twice and returning them for a refund. 
The company has now promised to blacklist user accounts it suspects of being "serial returners". The new policy has been well publicised; the next quarter will likely reveal whether the move led to more sustainable logistics for ASOS, or to more cautious shopping patterns.
The Atlanta snag
ASOS's international expansion strategy, key to Beighton's plans to grow the company, ran into problems in February, following the opening of its highly anticipated warehouse in Atlanta. 
Although the retailer has been selling to the US for years, the new fulfilment centre, which has capacity to handle 120 million order units, was intended to boost its presence in the country by cutting delivery times and allowing it to develop a US-specific stock catalogue.
When the warehouse opened, however, its 869 staff quickly found themselves overwhelmed. The company would later tell investors that sales rose more than 80% compared to the same period in 2017, forcing ASOS to add two, and later four, extra days to order delivery, as well as relying on its UK distribution centres to pick up the slack. The backlog took four weeks to clear, Beighton later told analysts, and an extra 700 staff have been added.
Market cap
£

3.31bn

PE ratio (TTM)
54.47
EPS (TTM)
72.50

Quarterly revenue growth

 

(YoY)

13.50%
Asos stock vitals, Yahoo finance, 24 April 2019
Of course, higher demand is a good thing – as long as supply can keep up. Having what Beighton called a "probably state-of-the-art" facility on US soil is a major asset for an online retailer. But Beighton wants to be methodical in how quickly the company ramps up production. Now that these growing pains are behind it, ASOS will roll out next-day delivery to major US cities, he told analysts this month, starting with Atlanta. But he specified: "We're planning to do next-day delivery … where we know there's a customer base already waiting or wanting that." Whether that gets expanded to elsewhere in the country will depend on the feedback ASOS gets. "It would be foolhardy to go next-day delivery everywhere in the US."
"It would be foolhardy to go next-day delivery everywhere in the US." - Asos chief executive Nick Beighton
The financials
Capital expenditure is expected to reduce from £200m in 2019 to £150m in 2020, as the company's "heavy investment phase" starts bearing fruit. On the cashflow front, ASOS reported a position of £38m net debt in February, down from £86m in August, but set to rise again to £50m by the end of 2019. Beyond that, Beighton promised a return to positive free cash flow by full-year 2020 "and each year thereafter".
Even with some cash finally back in ASOS's coffers, a payout to shareholders is unlikely. "ASOS has not historically paid a dividend, and we don't expect it to do so over the next 10 years as it continues to invest in growth," Morningstar analyst Jelena Sokolova wrote in February. That doesn't mean investors should grow disillusioned with its "growth story", according to Hargreaves Lansdown's Sophie Lund-Yates: "Its vast customer base, and growing international proposition, mean it should be able to prosper from here on in," she wrote in April.