Since the start of January, Activision Blizzard's [ATVI] stock has plummeted 39%, with the share price now trading 46% off its 52-week high.
Activision have faced a number of recent headwinds over the past 12 months. In February, the stock tanked 10% as it got caught in the cross-fire following disappointing Q1 results from rivals Electronic Arts [EA] and Take-Two Interactive [TTWO].  
Displeasure from hardened PC gamers over plans to turn its RPG Diablo franchise into a mobile game have also weighed on the stock. While Activision's flagship Call of Duty series has seen sales flag in recent years as players move to free-to-play titles like Fortnite.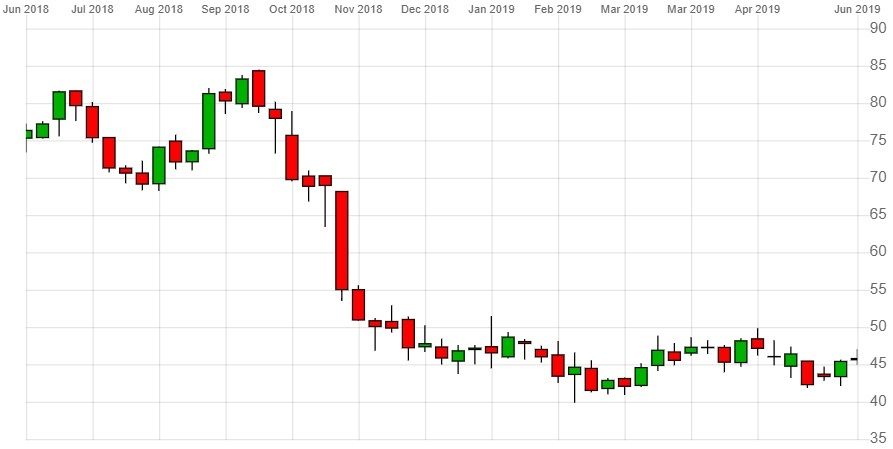 Activision 1-year share price performance, CMC Markets, 17 June 2019
But with huge opportunity in mobile gaming and esports, the share price could be about to rebound.
Growth in esports 
Activision moved quickly into the growing eSports market last year with the launch of their Overwatch League. The amount of money involved in the league is staggering. Activistion sold the first 12 spots on the league for $20 million each. The next 16 cost between $30 million and $65 million.
Like any sporting event, the real money is in sponsorship. Last year, broadcast revenues for Activision's Overwatch League broke $100 million. Between 2018 and 2020, the league will likely generate $1 billion for Activision. 
$1bn
Estimated revenue to be generated by Activision's Overwatch League between 2018 and 2020
Activision has now started the sales process for its Call of Duty eSports league, and reports suggest they has received strong interest. Rumour is that a place on the league will annually cost teams $20 million each. A figure that should add to Activision's top line this year, which will only be bolstered by sponsorship fees.
Mobile gaming boom catches Goldman's Sachs eye 
In May Goldman Sachs upgraded their rating for Activision from "Neutral" to "Buy". Goldman Sachs cited upcoming mobile titles Diablo Immortal and Call of Duty: Mobile as reason for optimism. Diablo Immortal, while much reviled by traditional fans, has the potential for huge monetisation opportunities. In the first quarter of 2019, Activision raked in $800 million in in-game purchases alone.
Activision has also developed the title with one eye on the South East Asia market, where mobile gaming is set to be worth $2.4 billion by 2021 according to analytics firm App Annie.
$800million
Value of Q1 2019 in-game purchases
Goldman Sachs underlined their endorsement by adding Activision to its much-watched Conviction Buy list, upping their price target to $54. Hitting this would represent a near 20% upside on today's share price. The endorsement saw the stock jump 28% at the end of May.
Has the stock bottomed out?
Focusing on established franchises like Call of Duty and Diablo could be a winning strategy for Activision in 2019. These games cost millions to produce and with gamers playing fewer games for longer, publishers like Activision needs to wring every dollar out of them to see growth. 
This focus has seen analysts pin an average price target of $53.15 on the stock, which would represent an 18% gain on the current share price.
Market cap
$

34.67bn

PE ratio (TTM)
19.85
EPS (TTM)
2.28

Quarterly Revenue Growth

 

(YoY)

-7.10%
Activision Blizzard stock vitals, Yahoo finance, 17 June 2019
However, investment bank Stephens lowered its price target to $52. Stephens analyst Jeff Cohen justified the cut, saying that while 2019 would be a "trough of earnings power" for Activision, trouble in the Call of Duty pipeline meant there was more risk to 2020's earnings.
Yet a 14-day RSI score of 53 signals that Activision's stock could be nearing overbought territory. Anything with an RSI of over 70 would indicate that a stock is overbought, with the potential for a reversal in the near future.
Bulls might be looking for the stock to go past $47.86, with this resistance level being tested several times over the past eight months. Support looks to be at $44.16, and anything below this level might trigger a sell off.