Business at International Consolidated Airlines Group [IAG] is steadily climbing in altitude. The holding company, which owns Iberia, British Airways and Aer Lingus as well as budget airlines Vueling and Level, has grown revenues by an average of 6.2% annually since its inception eight years ago, while EPS went from 6p in 2013 to 143p in 2018. 
For shareholders, however, it's been a bumpy ride. The group's Madrid- and London-listed stock has seen sharp drops over the past six months, most recently through March, when the share price fell 16% to a two-year low of 504p. Investors have been wary of what Brexit could mean for traffic between the UK and mainland Europe, their fears seemingly vindicated after both EasyJet [EZY] and Ryanair [RYA] warned of soft demand for the rest of 2019. IAG's stock trades at 7.7 times TTM earnings – exactly half that of the wider industry's average, according to Refinitiv.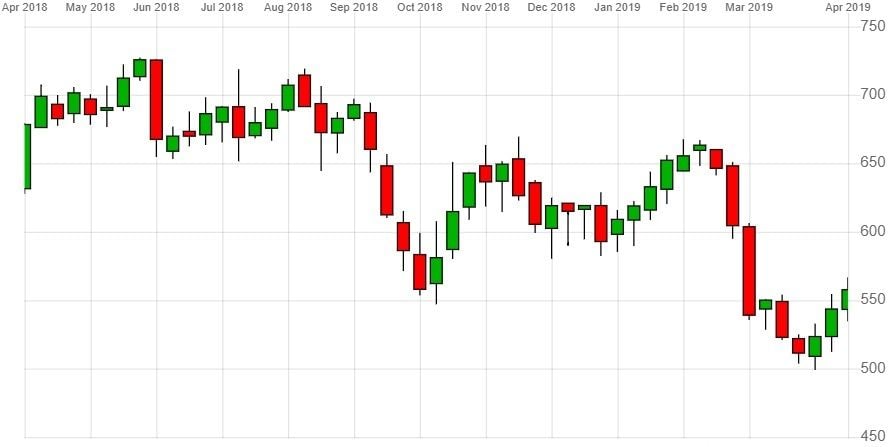 IAG 1-year share price performance, CMC Markets, 24 April 2019
And the latest extension for the UK-EU divorce, to October, has granted IAG some relief. The group now has an extra six months to convince customers and investors alike that its exposure to Brexit is manageable.
Brexit confidence
For the month of March, IAG reported a 5% year-on-year passenger increase on European routes, as would-be travellers between the UK and the continent rushed to complete their trip before 29 March, the original Brexit cut-off date. Now, investors hope the same will happen in the run-up to the newly agreed exit date of October, which leaves the spring and summer holiday periods in the clear, "even if a six-month extension hardly banishes the lingering uncertainty," as IG Group analyst Chris Beauchamp wrote after the extension was announced. The summer reprieve is also a boon to BA Holidays, IAG's trip booking arm, part of a non-flight business segment that saw revenues grow 18% last year.
Market cap
£

10.74bn

PE ratio (TTM)
3.38
EPS (TTM)
160.10

Return on equity

 

(TTM)

42.44%
IAG stock vitals, Yahoo finance, 24 April 2019
IAG's executives have repeatedly stated their belief that a last-minute agreement covering UK-EU air travel will be made, and that even in a no-deal scenario, contingency plans would ensure aircrafts are not grounded overnight. "Ultimately, we've seen nothing to suggest that there won't be a comprehensive air transport agreement reached at some point between the UK and the EU," CEO Willie Walsh told analysts in February's Q4 earnings call. He also pointed out the UK had already put in place bilateral agreements with the US, Canada and other non-EU countries to ensure continuity of air traffic outside the EU.
Ownership rules
IAG's optimism around Brexit may not have been well received in Brussels, where European Commissioner for Transport Violeta Bulc accused airlines of "gambling" on a comprehensive agreement being reached, in a Financial Times interview in March. "We … urge EU citizens and businesses to continue informing themselves about the consequences of a no-deal scenario," she told reporters in early April, before the October extension was agreed. "This is [a] serious [possibility], and we do need to be prepared."
"This is [a] serious [possibility], and we do need to be prepared." - European Commissioner for Transport Violeta Bulc on airlines' duty to prepare for a no-deal Brexit
For Spanish-registered, UK-headquartered IAG, the question of Brexit extends beyond cross-channel traffic. Only airlines majority-owned by European investors are allowed to fly between destinations inside the bloc – which accounts for a significant number of routes on all of IAG brand's networks. In February IAG's board announced a 47.5% cap on non-EU shareholding – however, it also said UK investors would not count towards the quota, for the moment.
The exemption was branded as "absurd" by Brussels. Meanwhile, the cap caused analyst firm MSCI to drop IAG's stock from several of its indices, due to rules stipulating individual stocks must have a certain number of shares available to non-EU investors.
Earnings outlook
IAG upped dividends 15% for 2018, to €0.31, and declared a special dividend of €0.35. Investors will see whether that trend will persist on 10 May, when Q1 results are released. IAG has forecast flat operating income for 2019 along with an increase in capital expenditure, which will result in lower free cashflow. But the group has a history of issuing returns to investors without much cash in the bank: it's been paying dividends since 2015, despite only achieving positive cash flow in 2017. 
15%
Dividends increase for 2018
For now, investors can use the Brexit delay to better make up their mind on IAG's position – and revel in the prospect that any decision on an interim dividend would come before October's divorce from the EU.