After seeing some early gains, International Consolidated Airlines Group's [IAG] share price is down 13% since the start of the year – a drop that was accelerated by the recent Ethiopia plane crash which has sent ripples through the industry. It is currently trading 16% below its 200-day moving average, continuing a downward trend from 2018, when the firm closed 5% down.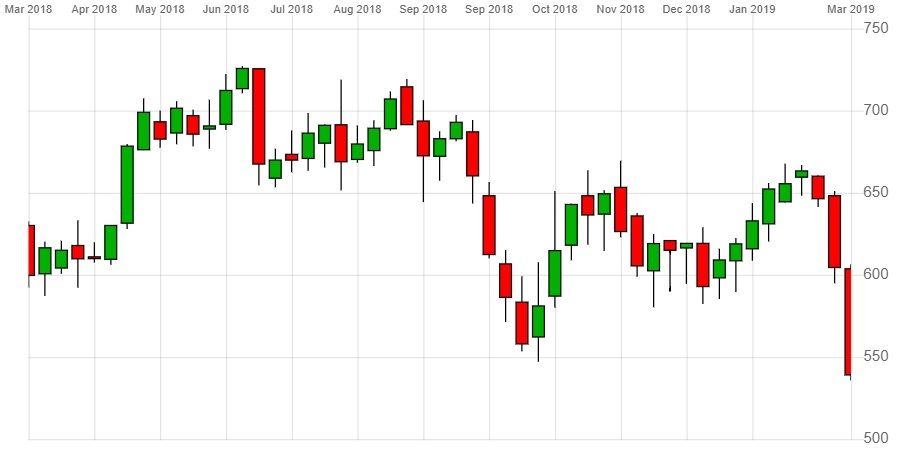 IAG 1-year share price performance, CMC Markets, as at 14 March 2019
This year has been littered with crises for airlines, the UK's Flybmi went bust, Norwegian Air [NAS] delivered a £270m loss (IAG had been eyeing a bid for the Scandinavian carrier earlier in the year) and Thomas Cook [TCG] is considering selling its airline business to raise cash.  
While the £11.17bn company has done well to not be fully consumed in the sector's struggles, IAG is not performing as well it could. 
For S&P Global's Erin Gibbs, the weakness in European airline stocks is an opportunity. "Valuations are really coming down and they actually have the higher growth… their [the airline stocks] estimated growth for this year and next has stayed remarkably stable," she told CNBC.
US competition 
On the other hand, stateside airline stocks are up an average up this year, with the US Global Jets ETF gaining 5%. Senior analyst at Leuthold Group, Kristen Perleberg, believes that these stocks could experience a further uptick as demand rises and the price of crude oil rebounds after bottoming out last year – it's currently up 20%.
"Stabilising fuel costs coupled with an improving supply/demand setting could be just what airline stocks need to take flight," Perleberg concludes. 
As a global airline, IAG has been enhancing its portfolio to the point where its geographical reach is growing at a steady pace. Airline capacity in Europe grew 5.8%, while it was up 4.7% in North America, 6.6% in Latin America, 1% in Africa and 7.9% in Asia Pacific.
Market cap
£

10.78bn

PE ratio (TTM)
3.40
EPS (TTM)
160.10

Quarterly revenue growth

 

(YoY)

11.60%
IAG stock vitals, Yahoo finance, as at 14 March 2019
Profits take off  
Despite rising fuel and carbon costs as well as air traffic control strikes threatening to hurt the company's profits, IAG has been defying the airline sector's pain, having announced an impressive special dividend on 4 March that sent its yield to 4.94%. 
The dividend hike was down to the company's strong 2018 results as CEO William Walsh attributed the growth to its ability to add capacity, as well as a sharp focus on costs and productivity, while still continuing to provide a diversified portfolio ranging from budget to high-end experiences. 
Operating profit rose to €655m in the fourth quarter (reaching €3.2bn for the year), up 16% from €550m in the same period last year.  
€655million
IAG's operating profit for Q4 2018
"This was a very good performance despite three significant challenges: fuel prices increasing 30%, considerable Air Traffic Control disruption and an adverse foreign exchange impact of €129m," Walsh said. 
Elsewhere within the company's books, adjusted earnings per share rose 15% to €117m, passenger revenues were up nearly 7% at €21.5bn, bringing its total revenue to €24.4bn for 2018. 
And although net debt is containable at a 111.74 debt to equity ratio, investors will be keen to see the company erase a substantial amount. 
15%
Increase in adjusted earnings per share for Q4
The company's share buyback programme is meanwhile helping build shareholder sentiment with €500m being returned in 2018 and more than €1.3bn through ordinary dividends of €615m and a special dividend of €700m – which is €260m more than it gave in 2017. 
"At current fuel prices and exchange rates, IAG expects its 2019 operating profit before exceptional items and impacts of IFRS16 to be in line with €3,230m reported in 2018," added Walsh. "Passenger unit revenue is expected to improve at constant currency and non-fuel unit cost is expected to be flat at constant currency."
Indeed, the airline industry is notorious for losses and bankruptcy. Warren Buffet once called airline stocks a "death trap" as surprise weather conditions, virus outbreaks, terrorism and general economic conditions all weigh heavily – but with a strong balance sheet and happy shareholders, IAG could be set for cruise control.