As the pressure to meet global climate targets continues to intensify, HSBC [HSBA] is strengthening its commitment to helping tackle climate change. 
The bank is the fifth largest in the world with $2.57tn in assets, and while the UK banking industry has been underperforming recently - the FTSE 350 Banks index lost 10% in the 12 months up to 29 March 2019 - HSBC has performed better, having lost just 6.3% in the same period.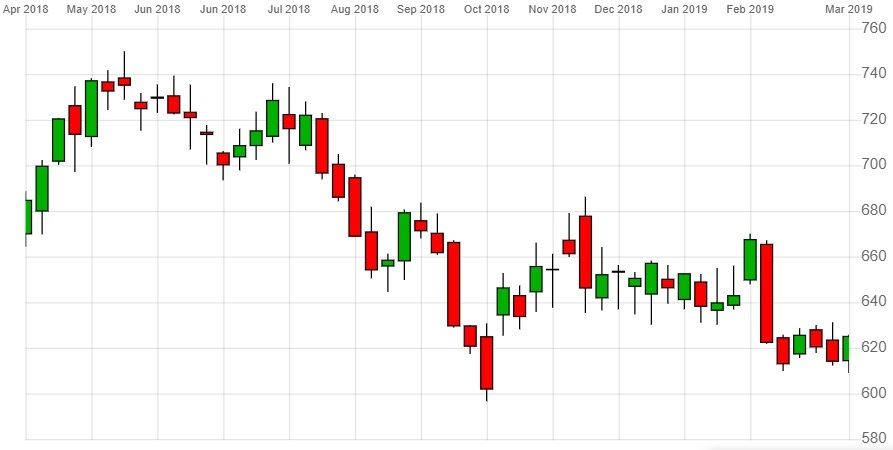 HSBC 1-year share price performance, CMC Markets, as at 1 April 2019
Being a market leader, the firm's public commitments to going green have helped large investors including its lending peers realise the financial benefits, with many starting to make significant investments in sustainable development.  
Last October 30 other firms joined HSBC in making commitments to help stop climate change, when the company announced that it would invest £250m of its pension scheme into renewable energy infrastructure for wind and solar in the UK. 
"Renewable energy infrastructure can provide attractive risk adjusted returns for investors seeking predictable cash flows derived from real assets over the long term," Russell Picot, chair of the trustee board at the HSBC bank pension trust, said.
£250million
The amount of its pension scheme HSBC will invest in UK renewable energy infrastructure
HSBC stops bankrolling coal 
A group of shareholders with large stakes in the bank wrote to HSBC's CEO John Flint on 6 March, urging him close a loophole in its energy policy that allows it to finance new coal powered plants in Bangladesh, Vietnam and Indonesia until 2023. 
The forceful investor action worked. On 20 March, HSBC, along with the UK's Standard Chartered [STAN] and France's Société Générale [SOGN] announced that they would stop providing capital for coal plants. 
HSBC has been powering parts of its business with renewable electricity since 2014 and, as it stands, 30% of its power is sourced from alternative energy. Its commitment to reaching 100% by 2030 could help make a big impact due to its presence in China, the largest emitter of carbon emissions in the world.  
100%
Targeted percentage of HSBC's power to be sourced from alternative energy, by 2030
Indeed, while the bank trades on the London stock exchange, it is a global operation and generates the bulk of its profit from Hong Kong and China, with 90% coming from Asia. 
Growth potential 
HSBC's improving financial outlook and new strategy to invest heavily in growth opportunities like renewable energy and transaction banking markets, is set to help it cut back costs and enjoy a growing demand for its services.  
For instance, the company saw revenues at its global liquidity and cash management business grow by 21% to almost $8.5bn last year, reflecting a revenue jump of 5% to $53.7bn. As for its headline measure, return on tangible equity was up from 6.8%in 2017 to 8.6%.
Market cap
£

127.54bn

PE ratio (TTM)
10.09
EPS (TTM)
63.00
Payout ratio
79.95%
HSBC stock vitals, Yahoo finance, as at 1 April 2019
Despite a challenging environment, HSBC have managed to continue to create value for shareholders by approving a fourth interim dividend of $0.21, bringing the total for 2018 to $0.51. 
In addition, the stock supports a big dividend yield of 10.52% thanks to large earnings per share, which comes in at 63 TTM.
While analysts predict a 1.8% rise in earnings in 2019, the company has forecast an increase of 5%, with long-term earnings looking strong. Flint also believes that the bank's return on tangible equity can reach more than 11% by 2020, based on its performance last year.  
"Despite more challenging market conditions at the end of the year and a weaker global economic outlook, we are committed to the targets we announced in June," he said. "We remain alert to the downside risks of the current economic environment, especially those relating to the UK economy, global trade tensions and the future path of interest rates." 
HSBC joins a growing number of businesses from around the world that are pledging millions to cut emissions. However, while the bank did boast a $100bn commitment to help stop climate change in 2017, it represents just 4% of their capital expenditure.